Fighting Back Against FOSTA: Reason Roundup
Plus: the FDA takes on nut milk and the IRS eases up on nonprofit donor rules.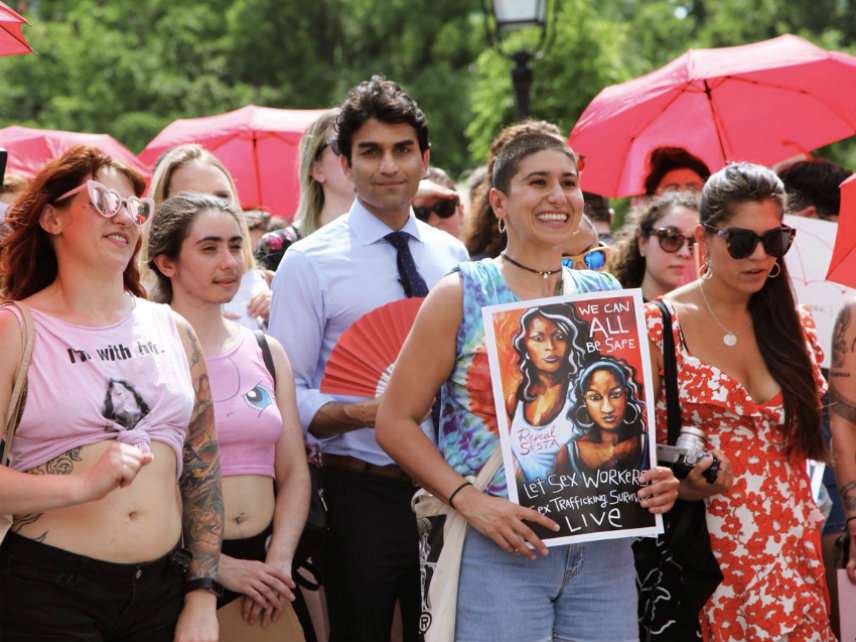 "FOSTA has had an entirely predictable chilling effect." The groups challenging the Allow States and Victims to Fight Online Sex Trafficking Act of 2017 (FOSTA) just filed a new motion in reply to the government's efforts to get a quick ruling in its favor. Tomorrow, they will appear before a federal court and seek to temporarily block FOSTA from being enforced.
Their motion urges the court not to trust Department of Justice (DOJ) assertions that folks "need not fear application of FOSTA's open-ended terms and draconian penalties." This "utterly ignores a history of Internet regulation that includes overly broad and unconstitutional efforts to regulate speech," argue lawyers for plaintiffs Woodhull Freedom Foundation, Human Rights Watch, massage therapist Eric Koszyk, sex worker rights activist Alex Andrews, and The Internet Archive (aka the WaybackMachine, a national treasure).
"FOSTA is even more extreme" than most attempts at online speech regulation, they say.
The new law—sold as a way to stop underage sex trafficking but in reality a federal ban on any online content that "facilitates" or "promotes" prostitution—took effect in April and "impos[es] more severe criminal penalties than ever, and pil[es] on redundant layers of potential civil liability while simultaneously stripping away immunities," states the new motion. "Although the Government suggests (repeatedly) that FOSTA reaches only speech that advertises illegal activity, the Act by its plain terms extends far more broadly."
Plaintiffs just filed an A+ reply in Woodhull v. Sessions: "This, in a nutshell, is #FOSTA's overbreadth problem: FOSTA's sweep is indeed 'vast,' but the government's constitutional latitude for imposing restrictions on speech is far more constrained." https://t.co/Er3yb7Edpt

— Alex Frell Levy (@alexflevy) July 18, 2018
Already, "FOSTA has had an entirely predictable chilling effect," says the new motion, "and as such it causes both injury-in-fact that gives Plaintiffs standing to challenge it, and First Amendment violations that constitute irreparable harm."
Read the whole thing on the Electronic Frontier Foundation's (EFF) site. EFF is one of several groups representing the plaintiffs in this case, Woodhull Freedom Foundation et al. v. United States, along with Daphne Keller, Walters Law Group, and the law firm of Davis Wright Tremaine.
The suit was first filed in June.
On Thursday, EFF will attempt to persuade a federal judge to temporarily block enforcement of FOSTA as the case plays out. "The hold is needed, in part, to allow plaintiff Woodhull Freedom Foundation, a sex worker advocacy group, to organize and publicize its annual conference, held August 2-5," said EFF in a press release.
The Woodhull Freedom Foundation along with other plaintiffs filed court papers today in their legal quest to win a preliminary injunction against the enforcement of #FOSTA.https://t.co/ElIxFMoUKA

— Woodhull Foundation (@WoodhullSFA) July 18, 2018
FREE MINDS
New rules for nonprofit donor info. The IRS is easing up on reporting requirements for nonprofits "that spend money to influence elections but are not required to disclose donors to the public—called 'dark money' groups by critics," note Michelle Ye Hee Lee and Jeff Stein at The Washington Post.
"The decision was immediately heralded by free-speech advocates who have long sought to protect donors' private information," write Lee and Stein. "But it was rebuked by those who want to reduce the role of money in politics, who claim it would make U.S. elections more susceptible to anonymous foreign donations."
Under the new Treasury Department rule, these groups are no longer required to disclose donor names and addresses in their federal tax filings.
FREE MARKETS
"An almond doesn't lactate, I will confess." That's U.S. Food and Drug Administration Commissioner Scott Gottlieb speaking at Politico's Pro Summit in D.C. yesterday. Gottlieb is lending support to a silly plan by dairy companies hoping to quash the popularity of almond milk and its ilk by banning these nut-based drinks from calling themselves milk. Gottlieb isn't going that far, but he did announce that he will introduce a new FDA guidance document that could put new limitations on nut-milk labeling.
Gizmodo is attempting to portray it as some sort of uniquely Trumpian "gift [bestowed] upon Big Dairy," but the crony politics behind dairy labeling knows no partisan bounds. Last year, Wisconsin Democratic Sen. Tammy Baldwin sponsored a similar proposal called the DAIRY PRIDE Act.
FOLLOW-UP
Trump goes all Jabberwacky on Russia response. President Trump has walked back his earlier statements on Russia, in which he said during a press conference that he couldn't see why people thought Russia had interfered in the election. "I don't see any reason why it would be Russia" were Trump's words then. But on Tuesday evening, the president told NBC News: "I said the word 'would' instead of 'wouldn't.'"
"The sentence should have been: 'I don't see any reason why it wouldn't be Russia,'" Trump continued. "Sort of a double negative. So you can put that in and I think that probably clarifies things."
But in predictable Trump fashion, this circular concession didn't sit well and Trump soon returned to being all in with the Russia positivity, tweeting early Wednesday morning that "the meeting with Russia may prove to be, in the long run, an even greater success" than his recent NATO meeting and "many positive things will come out of that meeting."
So many people at the higher ends of intelligence loved my press conference performance in Helsinki. Putin and I discussed many important subjects at our earlier meeting. We got along well which truly bothered many haters who wanted to see a boxing match. Big results will come!

— Donald J. Trump (@realDonaldTrump) July 18, 2018
QUICK HITS
Ideally, feminists engage in fewer drone assassinations, but, you know. https://t.co/iVwIfwRolK

— Lucy Steigerwald (@LucyStag) July 18, 2018
MGM Resorts International is counter-suing victims of the 2017 mass shooting in Las Vegas.
"Federal prosecutors say this is the first time a bitcoin-for-cash exchanger will be going to jail for such an act in the central district of California," Brian Doherty reports.
Agree or disagree?
I don't think the US media has ever been nuttier than they are right now. It would be comical if it wasn't so dangerous. They are harming the national psyche in a profound way

— Michael Tracey (@mtracey) July 18, 2018