Trump's Putin Summit Is Another Reminder He Prefers Dictators to Democratic Leaders
The president has a long history of admiration for authoritarians and strongmen.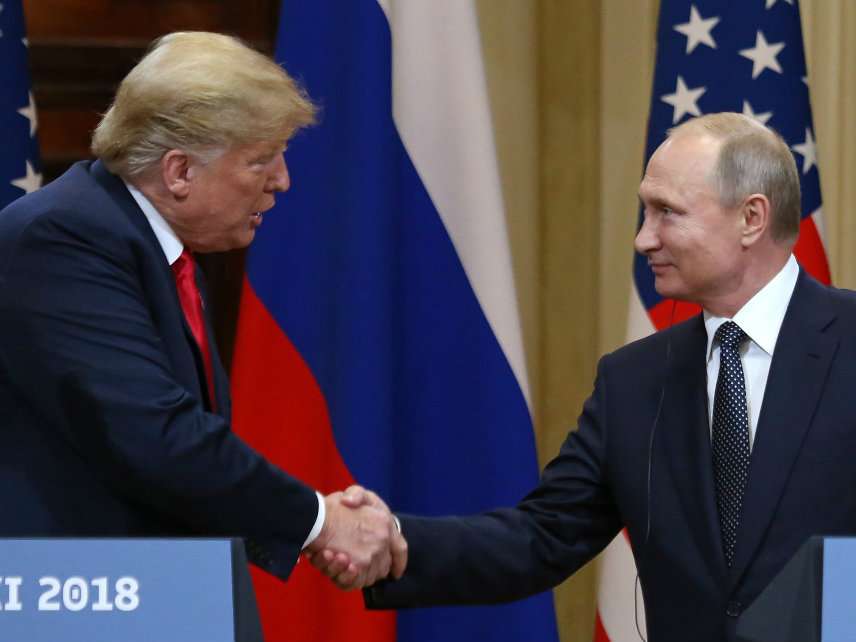 Among the most consistent characteristics of Donald Trump's worldview is his admiration for dictators, authoritarians, and political strongmen—not in spite of their most thuggish tactics, but because of them.
Trump often appears more comfortable in their company, and with their style of politics, than with the leaders of liberal democracies. This aspect of his personality was on display again today in his joint press conference with Russian leader Vladimir Putin.
At the press conference, Trump refused to acknowledge Russia's interference in the 2016 presidential election. That Russia interfered is now well-documented in both a report by Republican lawmakers and Special Counsel Robert Mueller's recent indictment against Russian military intelligence operatives. Allowing that Russia interfered in the election is not equivalent to saying that Russia's actions swung the election in favor of Trump, but the president cannot seem to distinguish between the two.
Putin has maintained that Russia did not make any attempt at interference, and Trump appears eager to agree. Asked today about Russia's actions, Trump said, "I don't see any reason why it would be Russia." Apparently last week's announcement by Rod Rosenstein, the U.S. deputy attorney general, that a group of Russian intelligence officers had been "charged with conspiring to hack into computers, steal documents and release those documents with the intent to interfere in the election" does not constitute any reason whatsoever. Trump effectively sided with Putin over the conclusions offered by officials in his own administration.
Trump did not merely deny an allegation that at this point is seriously contested only by the Russian government and its close allies. He also responded to a question about whether he holds the Russian government "accountable for anything in particular" by drawing an equivalence with his own country. "I hold both countries responsible. I think that the United States has been foolish. I think we've all been foolish."
This is far from the first time that Trump has responded to questions about Russia's corrupt and murderous practices by suggesting that there is no meaningful difference between the two countries. In an interview with Bill O'Reilly early last year, Trump shrugged off O'Reilly's description of Putin as "a killer."
"There are a lot of killers," Trump said. "We got a lot of killers. What, do you think our country's so innocent? Take a look at what we've done, too. We've made a lot of mistakes….So, a lot of killers around, believe me."
This was not a diplomatic posture, adopted for the sake of a particular negotiation. This was an interview with a friendly, high-profile, American television host just weeks after Trump was sworn in. It is hard to avoid the conclusion that the American president sincerely believes that there is no meaningful difference between the United States and Russia, a regime that regularly murders dissident journalists and which appears to have recently deployed a toxic nerve agent in an attempted assassination inside the U.K. America is not beyond reproach, but Trump's apparent inability to differentiate between the United States and murderous, blatantly authoritarian regimes is a worrisome sign about both the limitations of his judgment and his own affinity for autocratic power.
If anything, Trump's obsequiousness toward Putin suggests a kind of envy at the Russian leader's ability to exercise violent state power unchecked. Trump, who more than any other recent American president has made the press an enemy, and who has openly mused about curtailing freedom of the press to crack down on critics, seems to regard Putin as an equal. It is clear from Trump's recent conflicts with the G7, his inflammatory remarks about Britain, and his declaration that the European Union is a "foe," that that Trump does not reserve the same sort of esteem for leaders of liberal democratic nations that have long been U.S. allies.
As president, Trump's reverence for violent, nationalistic strongmen has been visible in his praise for President Rodrigo Duterte of the Philippines (specifically, Trump appears enthralled by the idea of extralegal killings targeting drug dealers) and his embrace of North Korea's Kim Jong Un, who reportedly executes those he dislikes—including some of his own officials—using an anti-aircraft gun.
That tendency was apparent long before Trump campaigned for political office: In a 1990 interview, Trump responded to the Chinese government's slaughter of student protesters by saying that "when the students poured into Tiananmen Square, the Chinese government almost blew it. Then they were vicious, they were horrible, but they put it down with strength. That shows you the power of strength. Our country is right now perceived as weak." Watching the U.S. president stand next to Putin, meekly accepting Russian propaganda over the conclusions of his own administration, I would argue that it is Trump who now looks weak.
As a leader, Trump has at times displayed his own authoritarian tendencies, encouraging violence at his campaign rallies and offering to pay the legal bills of those who harm protesters, even gesturing at the possibility of pulling broadcast licenses for media outlets that criticize his presidency. The consistent cruelty of his border policies suggest an indifference to politically caused suffering.
Still, for all his bluster, Trump has not governed as a violent despot. But the longer he remains president, the more clear it becomes that he admires and enjoys the company of those who do.