A Finnish Newspaper Tries to Remind Trump and Putin About Freedom of the Press
The paper has put up hundreds of billboards highlighting both leaders' "turbulent relations with the media."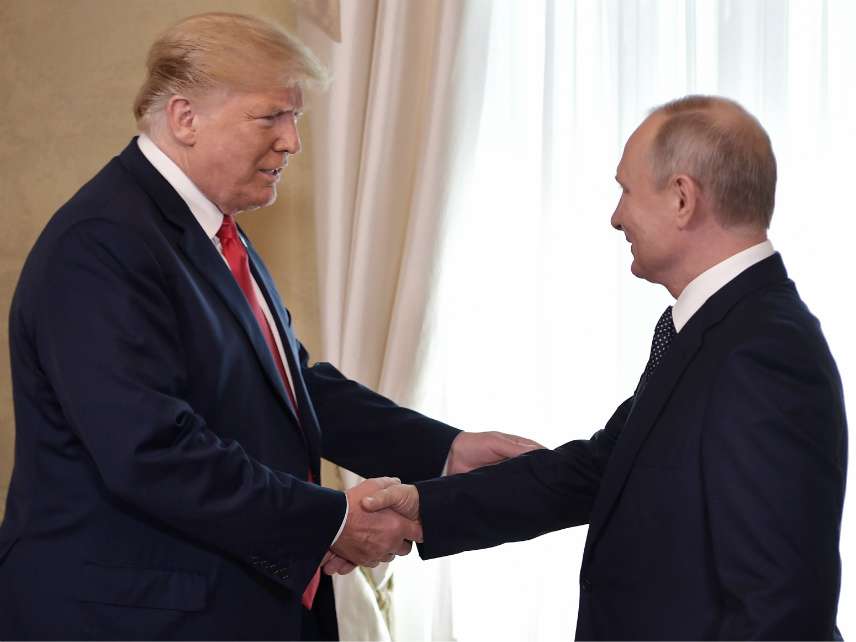 Finland's largest newspaper has put up almost 300 billboards criticizing U.S. President Donald Trump and Russian President Vladimir Putin's treatment of the press.
Helsingin Sanomat's billboards feature headlines from past stories that "highlight the presidents' turbulent relations with the media," according to a press release. The posters, which are in Russian and English, went up ahead of today's meeting between Trump and Putin in Helsinki. They were meant to be seen by both world leaders as they traveled from the airport to the meeting.
"Mr. President, welcome to the land of free press," one of the billboards reads, while another says, "Trump calls media enemy of the people." Other billboards criticized Putin, with one reading, "Russian reporter who criticized Putin gains asylum in Britain."
Kaius Niemi, editor-in-chief of Helsingin Sanomat, has said the newspaper wants to remind Trump and Putin about "the importance of free press" and show support for American and Russian journalists facing "ever toughening circumstances" in their respective countries. "The media shouldn't be the lapdog of any president or regime," he added.
That sentiment was evident in many of the billboards:
The @RealDonad_Trump is welcomed approprietly in Helsinki.#Helsinki2018 #HelsinkiSummit pic.twitter.com/LlMhHlhCgz

— Vitux (@Supervitux) July 16, 2018
Ad campaign in Helsinki for quality journalism and free press by the major newspaper Helsingin Sanomat. #thelandoffreepress #HelsinkiSummit2018 #Helsinki2018 #TrumpPutinSummit pic.twitter.com/89KJjzVTxh

— Keijo Kaarisade (@vihapuhepoliisi) July 15, 2018
Welcome to #thelandofthefreepress #Helsinki2018 pic.twitter.com/AtRQmDYHWv

— Markus Nieminen (@markusnieminen) July 15, 2018
As the newspaper notes in its press release, both Trump and Putin have had "contentious" relationships with the media. In Russia's case, contentious is an understatement. "Between draconian laws and website blocking, the pressure on independent media has grown steadily since Vladimir Putin's return to the Kremlin in 2012," the group says. Russia was ranked 148th out of 180 countries in the press freedom group Reporters Without Borders' 2018 World Press Freedom Index.
Even the U.S., which guarantees freedom of press under the First Amendment, was only ranked 45th in the index, down two spots from last year. Reporters Without Borders notes Trump's "attempt[s] to block White House access to multiple media outlets" and his "call[s] for revoking certain media outlets' broadcasting licenses."
Finland, where Trump and Putin met today, is ranked fourth on the index.