The Trump Administration Will Miss a Deadline to Return Separated Children
"The Trump administration looks like it will fail to reunite even half the children under 5 with their parents."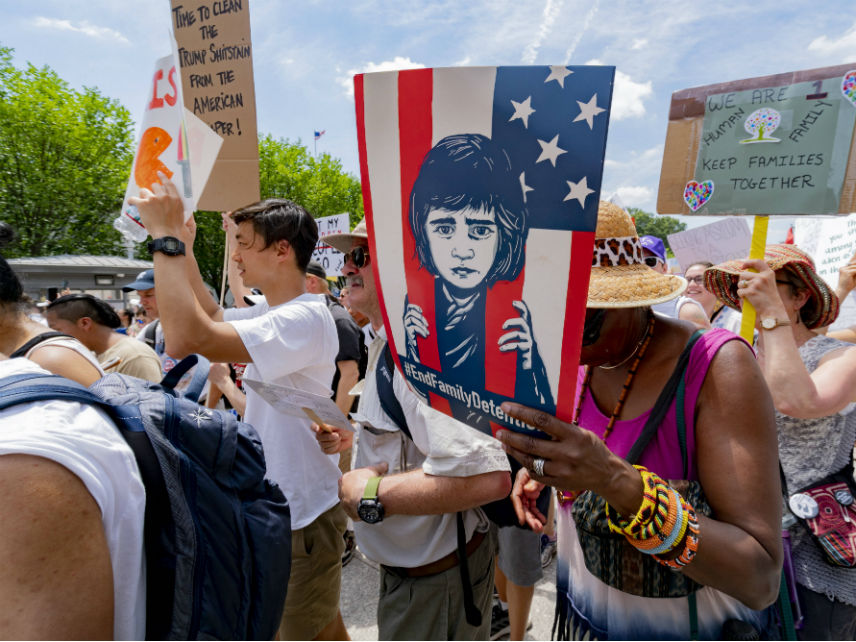 Already under fire for separating children from their parents at the Mexican border, the Trump administration has informed a federal judge that it will not fully meet today's deadline to reunite the families.
President Donald Trump signed an executive order last month promising to end the practice of child separation at the border. In the month leading up to the executive order alone, some 2,300 children were separated from their parents and placed in "cage-like juvenile detention facilities." Though the practice of separation will end, the prosecutions of adults suspected of residing in the United States illegally, which led to the separations in the first place, will continue.
About a week after Trump signed the order, U.S. District Judge Dana Sabraw of San Diego ordered that all children be returned within 30 days. The decision came in a preliminary injunction after the American Civil Liberties Union (ACLU) filed a lawsuit. Sabraw also gave the immigration authorities 14 days to reunite children under the age of 5 with their parents.
By Monday, Justice Department lawyer Sarah Fabian announced that the 14-day deadline would not be fully met. Fabian explained that of the 102 children under 5 who have been identified, only 54 of them—possibly 59—would be reunited with their families on time.
The government has reportedly struggled to offer exact information about the number of children separated from their parents. The ACLU claims that the government initially provided incomplete information about the children.
"It's extremely disappointing that the Trump administration looks like it will fail to reunite even half the children under 5 with their parents. These kids have already suffered so much because of this policy, and every extra day apart just adds to that pain," the ACLU's Lee Gelernt said in a statement.
Both Trump and Homeland Security Secretary Kirstjen Nielsen have attempted to argue that the separation policy was set in place to combat human trafficking. Despite the president's insistence that fraudulent family units make up a significant percentage of family crossings ("like nobody would believe"), The New York Times reports that such scams "make up less than 1 percent of the families apprehended at the border."
In addition to the reunification order, Sabraw issued a nationwide injunction to cease the separation policy, with an exception for parents who are either deemed unfit or do not wish to remain with their children. Authorities must also allow separated parents and children to contact each other via phone within 10 days, per the injunction.