Trump Supreme Court Pick Expected Today—On 14th Amendment Anniversary
Plus: Library group ditches Laura Ingalls Wilder, Trump takes on federal employee unions.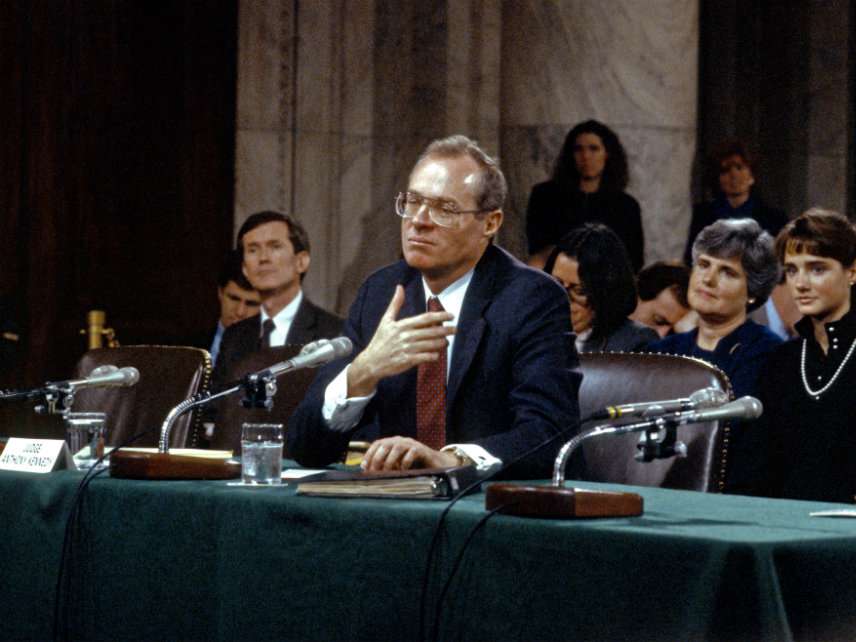 July 9, 2018, marks 150 years of the 14th Amendment. We're also expected to hear tonight from President Donald Trump about his nominee to replace Justice Anthony Kennedy on the U.S. Supreme Court.
"The convergence of these momentous events is appropriate," writes Jeffrey Rosen at The Atlantic. Kennedy, "more than anyone else in America, has defined the meaning of the Fourteenth Amendment for the past three decades."
(More on Kennedy's 14th Amendment legacy here. "We cannot forget that he was one of the five justices who joined the Supreme Court's decision to invalidate a key provision of the Voting Rights Act of 1965, setting the stage for massive voter suppression around the country," writes Sherrilyn Ifill at Politico. "This and other setbacks hurt….But even with his unpredictability on matters of race and equality, Justice Kennedy gave us a reason to hope. To make our arguments. To expect that he might be persuaded to realize the Constitution's promise.")
The Fourteenth Amendment—greenlit by a 23rd state (and thus cleared for adoption) on July 9, 1868—says that "all persons born or naturalized in the United States, and subject to the jurisdiction thereof, are citizens of the United States and of the State wherein they reside. No State shall make or enforce any law which shall abridge the privileges or immunities of citizens of the United States; nor shall any State deprive any person of life, liberty, or property, without due process of law; nor deny to any person within its jurisdiction the equal protection of the laws." It was passed to grant citizenship and equal protection to freed slaves in the aftermath of the Civil War (and three years after the 13th Amendment formally ended slavery).
Today marks the 150th anniversary of the 14th Amendment which was designed to give full citizenship to African Americans who had been formerly enslaved. #14thAmendment #CivilRights pic.twitter.com/LCBEtYETAT

— Legal Defense Fund (@NAACP_LDF) July 9, 2018
It's been at the center of a number of huge (and sometimes hotly contested) Supreme Court cases, including Plessy v. Ferguson (1896), Lochner v. New York (1905), Brown v. Board of Education (1954), Mapp v. Ohio (1961), Griswold v. Connecticut (1965), and Loving v. Virginia (1967).
"Today the Fourteenth Amendment stands among the most often cited and most litigated of constitutional provisions," writes American Bar Association President Linda Klein. It "has supported and inspired landmark civil rights legislation, including laws that bar discrimination in education, employment, and housing. Rarely does a Supreme Court term pass without a major ruling that has its roots in the Fourteenth Amendment, including recent decisions on such noteworthy topics as affirmative action and voting rights. The amendment's section on public debt has even been cited in debates over raising the federal debt ceiling."
"An even broader interpretation of the 14th Amendment may reshape American society in the 21st century," suggests historian and New School lecturer Amanda Brickell Bellows.
But the Fourteenth Amendment didn't have such an auspicious start at the Supreme Court. It was "originally intended to allow Congress and the courts to protect three fundamental values: racial equality, individual rights, and economic liberty," writes Rosen.
But the amendment was quickly eviscerated by the Court, and for nearly a century it protected economic liberty alone. Justice Kennedy embraced all three values of the Fourteenth Amendment, invoking it to protect reproductive autonomy and some forms of affirmative action, as well as to establish marriage equality, but also to limit federal economic regulations, such as the Affordable Care Act. His replacement will determine which vision of the amendment prevails for decades to come.
According to the White House rumor mill as reported through myriad publications, Trump's top picks are:
"Trump had a strong favorable reaction to Kethledge, while Barrett was seen as a less likely choice. The president's interview with her was only about 30 minutes—shorter than with the others," according to Bloomberg.
FREE MINDS
Library group disassociates from Laura Ingalls Wilder. Over the past six decades, 23 people have been awarded the American Library Association's prestigious Laura Ingalls Wilder award, which "recognizes authors and illustrators whose books have created a lasting contribution to children's literature."
But going forward, the award will no longer bear Wilder's name. The author of the Little House on the Prairie series, Wilder's work "holds a significant place in the history of children's literature and continues to be read today," said the ALA's Association for Library Service to Children Board (ALSC) in a statement.
Wilder's books are a product of her life experiences and perspective as a settler in America's 1800s. Her works reflect dated cultural attitudes toward Indigenous people and people of color that contradict modern acceptance, celebration, and understanding of diverse communities. ALSC works within the context of our society as a whole, where the conversations taking place inform our work and help us articulate our core values and support of diverse populations.
The late-June move has since sparked sympathy and indignation, along with a range of more nuanced grappling with Wilder's legacy.
FREE MARKETS
Federal employee unions vs. Trump. Executive orders issued in May will be implemented today, and are "likely to escalate tensions" between federal employee unions and the Trump administration. Though the rules are ostensibly "an effort to streamline a bloated bureaucracy and improve accountability within the federal workforce"—a cadre of some 2.1 million people—they're obviously being viewed with hostility by federal employee union officials. From The Washington Post:
The administration wants agencies to reopen collective bargaining agreements to reduce the on-duty time union representatives spend representing employees. Managers are directed to "monitor and carefully report" on the time and make the information publicly available. And agencies are directed to move swiftly to fire poor performers, renegotiating any contracts that allow for progressive discipline. The conflict appears headed for a showdown, either in federal court, where the unions have filed numerous lawsuits challenging the orders, or in Congress. The administration and the unions have courted Capitol Hill allies, with Republicans supporting Trump's tactics and Democrats backing the unions, a key constituency.
DOJ Racks Up 90% Failure Rate In Inauguration Protest Prosecutions, Dismisses Final Defendants https://t.co/DD2jdIxmo7

— AMERICA'S LOUDEST PATRIOT (@TimCushing) July 9, 2018
No hockey, no bikes, no chalk drawings, you name it: This B.C. neighbourhood has declared a war on fun https://t.co/Zxkly7RnEC pic.twitter.com/7mfa2eK65I

— Ottawa Citizen (@OttawaCitizen) July 9, 2018