Trump Voters Stand by Their Man as He Wrecks Their Jobs
In Poplar Bluff, Missouri, support for Trump's tariffs is about tribalism more than anything else. That's dangerous and scary.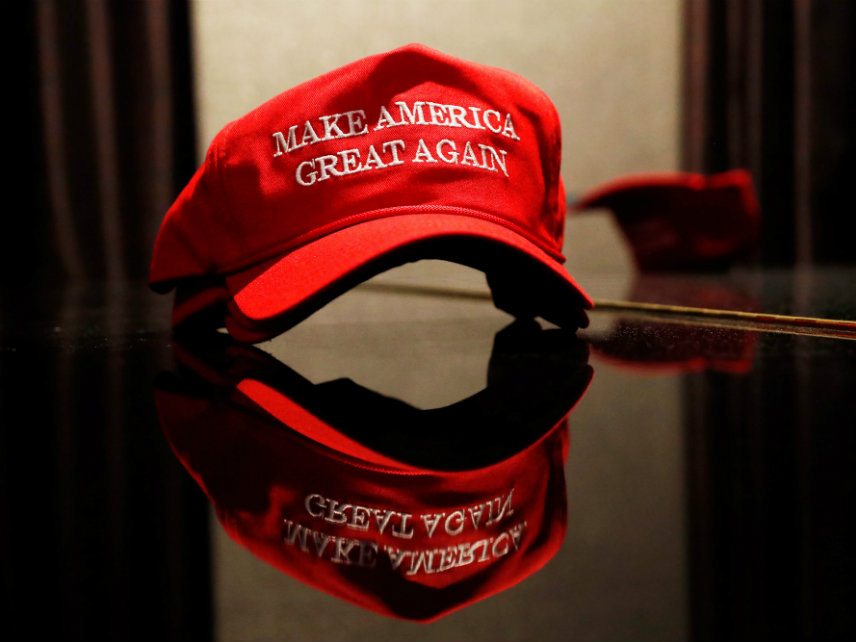 His supporters were so enamored with him, then-candidate Donald Trump claimed in January 2016, that "I could stand in the middle of 5th Avenue and shoot somebody and I wouldn't lose voters."
Thankfully, the president isn't shooting anyone in the street. But Trump's theory about his supporters' enduring love is being put the to test in a southern Missouri town where the White House's trade policy is killing jobs.
And the crazy thing is, Trump might be right—so far, at least.
The Kansas City Star dispatched a reporter to Poplar Bluff, home to America's largest manufacturer of nails, to find out how the steel tariffs were affecting Trump-supporting residents. Trump won 79 percent of the vote in Butler County, where Poplar Bluff is located. But the town of 17,000 could be decimated by the closure of the Mid Continent Nail Corporation, whose owners have warned that they may have to lay off hundreds of workers or even close their doors entirely as Trump's tariffs increase the price of steel—a rather fundamental fixed cost when you're in the business of making steel nails.
"This company, I think, couldn't be a better example of the kind of damage that's being done to America's manufacturing jobs as a result of this extremely misguided policy," company spokesman James Glassman told CNN last week.
Yet the Star's reporter found residents who would "never hold the loss of those jobs against Trump" even as they acknowledge that his trade policies could cause serious problems not only for the workers at Mid Continent but for the town and region as a whole. Even though tariffs are "going to drive up the cost of everything, people are still going to stand behind him," a chef named Eric Turner tells the Star.
And then there is this telling, and slightly terrifying, passage:
Sean [Foust] said if his friends who work there do lose their jobs, "I don't think it will turn them" against the president, even if "on the surface, it's going to look bad." Why is that?

Mostly, tribalism. "There's nothing he could do," the son said, to alienate Republicans. And the same holds true for Democrats, since "everyone's so set in their ways."…

Nearby in the downtown parking lot, in between the train tracks and the farmers market, a man wearing a shirt emblazoned with a red, white and blue peace sign, who only gave his first name, John, said he's "pretty worried" since two of his friends have already been laid off. But more important to him is that "there were so many illegals in the area taking jobs away." And Trump "is better than the Muslim we had in the White House." For him, a real threat to jobs is less frightening than an imagined one.
Could tribalism—or Trump's cult of personality—be such a powerful force in national politics that it overturns one of the oldest rules in the political book: that people vote with their wallets? Polls continue to suggest that Republican voters mostly support Trump's tariff agenda, even as analysis after analysis shows that the costs of the tariffs (and of the reciprocal tariffs launched by China and Europe) will overwhelmingly hit manufacturing and farming jobs—which is to say, jobs where Republicans and Trump supporters are over-represented.
Those polls, in turn, decrease the likelihood that Republicans in Congress will step up to stop Trump's trade agenda.
That people often vote against what seems to be in their own self-interest is not new. From Kansas to the West Side of Manhattan, it is a phenomenon that has been the subject of many a think-piece. There's probably something good—or at least vaguely noble—in the idea that voters can set aside pure self-interest to support what they see as policies aimed at the greater good, even if we might disagree, strongly, about what that greater good is.
When it comes to tariffs, though, it's not at all clear what greater good is being achieved with the sacrifice of jobs in places like Poplar Bluff. The Trump administration has not outlined a clear plan for what it is trying to accomplish. Officials in China, the nominal target of Trump's bellicose trade policies, are "absolutely confused" about what the Trump administration wants in terms of concessions, Politico reported last month. It is, of course, difficult to reach an agreement when neither side seems to know what the other side wants.
And it's not like people in Poplar Bluff have a lot going for them. Median household income is just above $30,000, and more than a quarter of the town's population lives below the poverty line. Butler County, where Poplar Bluff is located, has one of the highest unemployment rates in the state. One in seven residents work in manufacturing jobs, including the 500 or so employed by Mid Continent Nail Corporation. Who knows how many other non-manufacturing jobs are supported by the existence of a large business like that, and could be lost if it shuts down.
Mid Continent is one of thousands of companies to ask the Commerce Department for a special waiver that will allow it to avoid paying the higher taxes created by Trump's tariffs. Without the waiver, the 60 employees laid off in June could soon have company. Another 200 will be fired by the end of this month unless things change quickly, company executives tell U.S. News and World Report.
All of which leaves the impression that support for Trump's tariffs is not something generated by a sense of a greater good. It's not about voters agreeing to take a hit now because they understand it is necessary for something beneficial down the road. It seems to be, mostly, about tribalism. About the fact that our guy is "better than the Muslim we had in the White House," even if his policies cost my job.
At least that's how it seems for now. Once more jobs are actually lost, and perhaps once it becomes clear that the tariffs aren't accomplishing whatever goals Trump has, perhaps that will change. The partisan hatred might not go away, but maybe voters will stay home.
Until then, parts of so-called Trump country seem to be fine with their man destroying their jobs to own the libs.