Copyright Infringement of 'Sexier' Statue of Liberty Costs Postal Service $3.5 Million
The Post Office must pay $3.5 million for using a "fresh-faced," "sexier" Statue of Liberty replica on a stamp.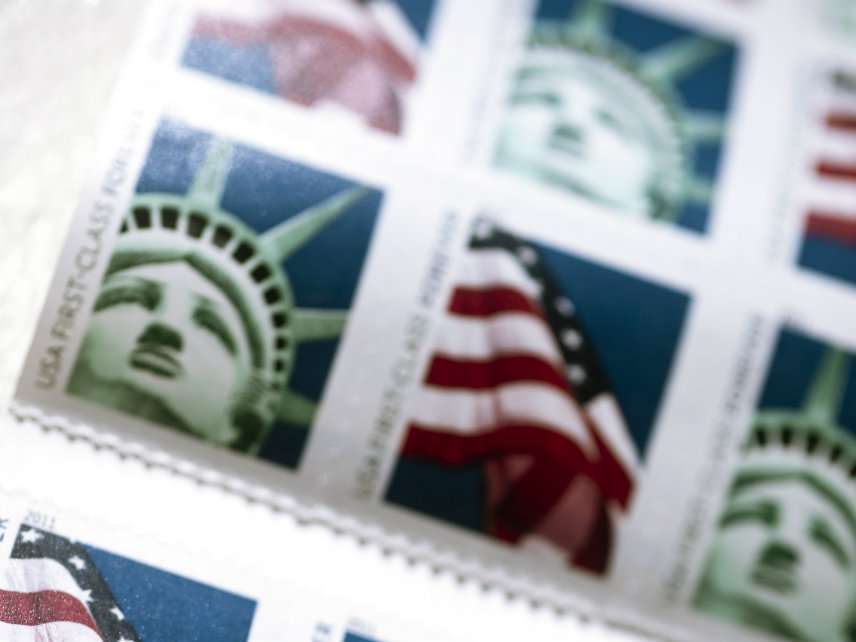 The United States Postal Service (USPS) is on the hook for $3.5 million because it put the wrong Statue of Liberty on a stamp.
In late 2010, the Post Office released a "Forever" stamp that featured a photograph of the Statue of Liberty. But the stamp didn't depict the famous landmark in New York City. The image came from a photo of a Statue of Liberty replica outside New York-New York, a casino-resort in Las Vegas.
The USPS didn't find out about the mix-up until three months after it issued the stamp—and because the stamp was popular, the agency didn't withdraw it even then. The government kept printing the stamps until 2014, by which point 4.9 billion of them had been sold.
But in 2013, the sculptor who created the replica, Robert Davidson, sued the Postal Service for copyright infringement. Last week, Judge Eric Bruggink of the U.S. Court of Federal Claims ruled in Davidson's favor, awarding him $3.5 million in damages.
Davidson's lawsuit argued that his replica was different enough from New York's Statue of Liberty that it should be considered an original work. The replica "brought a new face to the iconic statue—a face which audiences found appeared more 'fresh-faced,' 'sultry' and even 'sexier' than the original located in New York," the suit said.
Bruggink agreed. "The portion used was entirely of what we consider to have been the original work contributed by Mr. Davidson," the judge wrote. "The government's only real defense is that its use did not particularly harm plaintiff's business as an industrial sculptor. That may be true, but we also note that it certainly did not benefit him. The Postal Service offered neither public attribution nor apology."
Not only did the Postal Service not apologize to Davidson, but it actively attempted to sell stamps off the error. "We really like the image and are thrilled that people have noticed in a sense," a USPS spokesperson told CNN in 2011. "It's something that people really like. If you ask people in Vegas, they're saying, 'Hey, That's great. That's wonderful.' It's certainly injected some excitement into our stamp program." In 2013 a USPS spokesperson told The Washington Post that the Post Office "would have selected this photograph anyway," even had it been aware of the error from the start.
The agency couldn't have it both ways. The USPS stated in public that the stamp's originality made it special, while the agency's lawyers argued that the Vegas replica was no different than the original. It's no surprise that Davidson won his suit.