Conservatives Bid Scott Pruitt a Fond Farewell: Reason Roundup
Plus: a Cornell sexual misconduct case that proves Title IX is a catch-22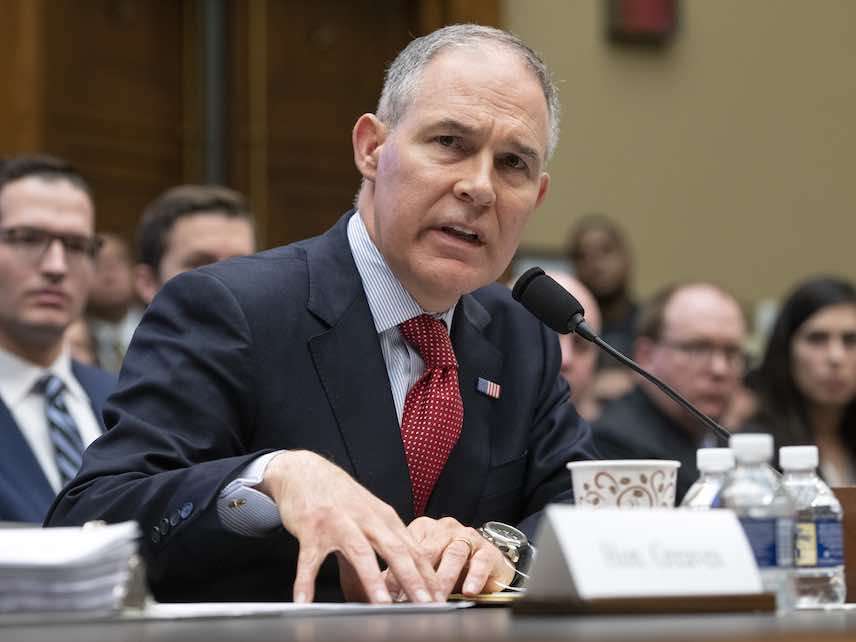 Embattled Environmental Protection Agency chief Scott Pruitt is out. President Donald Trump accepted his resignation Thursday.
Pruitt stood accused of a litany of petty abuses of power: wasting public dollars on lavish trips, renting a condo from a lobbyist, using his position to find a job for his wife, making his aides pay for stuff, holding off-the-books meetings. According to CNN,
Pruitt left EPA having faced more than a dozen inquiries or reviews into his practices at the agency….A spokesman for the EPA's Office of Inspector General told CNN that ongoing or pending reviews of Pruitt will continue, even though he has resigned.

"Any ongoing or pending OIG reviews related to the Administrator and/or his team will continue—regardless of the Administrator's resignation," the spokesman said.
Pruitt was a committed deregulator, though, and had worked to undo the Obama administration's aggressive approach on climate change. Many conservatives were sad to see him go:
Lesson to other Trump officials from Pruitt resignation: Give the left/media/organized greens any molehill and they will turn it into K2. Most of the accusations were overwrought, but the barrage was overwhelming. Let's hope an equally reformist successor denies them a repeat.

— Kimberley Strassel (@KimStrassel) July 5, 2018
Scott Pruitt is a good friend and a very good man, caricatured by left and MSM. I hope he sets to work on a memoir ASAP and deals out a tenth of what he took. He's a man of great faith and perseverance so he probably won't, but the attacks on his family were unconscionable. https://t.co/Ob69m6fctg

— Hugh Hewitt (@hughhewitt) July 5, 2018
'The permanent progressive state finally ran Scott Pruitt out of the Environmental Protection Agency on Thursday, and the tragedy is that Mr. Pruitt gave his enemies so much ammunition.' https://t.co/EVrTRIFtHC via @WSJOpinion

— Mollie (@MZHemingway) July 6, 2018
Conservative commentator S.E. Cupp disagreed, writing, "Pruitt is not a hill to die on. He was graft personified. I talk to his ex-staffers, more will come out and it will be awful. Save your powder for other battles. He was a despicable abuse of power that no conservative should defend."
FREE MINDS
Nineteen Cornell University law professors have sent a letter to the administration imploring them to end a Title IX investigation into student Yogesh Patil and let him graduate. (Title IX is the federal state understood by the Education Department to require schools to adjudicate sexual misconduct.) An unnamed female student—"LA"—accused Patil of "retaliation" because he defended the reputation of his advisor, Professor Mukund Vengalattore, whom LA had accused of sexual harassment.
Patil operates a website that compiled information about LA's Title IX case against Vengalattore, according to The Cornell Daily Sun. If anyone is guilty of retaliation, it's LA, who retaliated against Patil for defending the professor, writes Cornell Law Professor Kevin Clermont:
All the website did was publicly discuss a case of immense academic importance. Yogesh's involvement comprised only "good faith actions" to question Cornell's treatment of his professor and to pursue his own professional self-interest so impacted by Cornell's actions against his lab. Restrained speech of this sort should not be deemed suppressible by a university.

If there was retaliation in this sequence, it was the complaint made by her against Yogesh, retaliating for his actively supporting his professor's case against Cornell, for being an honest witness against the complainant during the investigations into her allegations against the professor, and for having lodged complaints against her with Cornell's Judicial Administrator and other University officials as well as with the federal Office of Civil Rights. The circumstances of her new complaint are suspicious: After waiting months or years, she filed on May 23, 2018. Yogesh's parents and brother were en route from India and Australia to see him graduate. At the last moment, he learned that Cornell, without investigation, was automatically withholding his degree in response to her mere filing of the complaint. Indeed, there is the injustice: the automatic withholding of a degree based on a complainant's say-so.
This is another example of a troubling aspect of Title IX investigations: Criticizing Title IX is frequently held to constitute a violation of the underlying policy.
FREE MARKETS
Trump's massive tariffs on Chinese goods went into effect this morning. China has already retaliated. The results could be catastrophic for the economy, reports The New York Times:
The escalation of the trade war from threat to reality is expected to ripple through global supply chains, raise costs for businesses and consumers and roil global stock markets, which have been volatile in anticipation of a prolonged trade fight between the United States and almost everyone else.

On Thursday, President Trump showed no signs of backing down from his fight, saying aboard Air Force One that the first wave of tariffs on $34 billion in goods would quickly be followed by levies on another $16 billion of Chinese products. And Mr. Trump continued to threaten Beijing with escalating tariffs on as much as $450 billion worth of Chinese goods.

For now, it is unclear how—or whether—the trade war might conclude. Mr. Trump's threats have been met with vows from China to retaliate, a stalemate that will require one side to blink first in order to avoid a protracted fight. With no official talks scheduled between the two countries, and disagreements within the Trump administration about how best to proceed, a quick resolution seems increasingly unlikely.
No one knows exactly what Trump hopes to achieve with all this. Tanking the economy is one of the surest ways to doom his reelection chances.
QUICK HITS
Ed Schulz, the former MSNBC news anchor and current host of a program on Russia Today, has died:
Depending on your politics, you'll remember Ed Schultz for one reason or another. But I'll never forget his show's artfully crafted, hilariously bizarre polls: pic.twitter.com/4GmgH8mPRL

— Andrew Kirell (@AndrewKirell) July 5, 2018