Good Riddance to Trump's Border Bouncer
"If you're in this country illegally and you committed a crime by entering this country, you should be uncomfortable."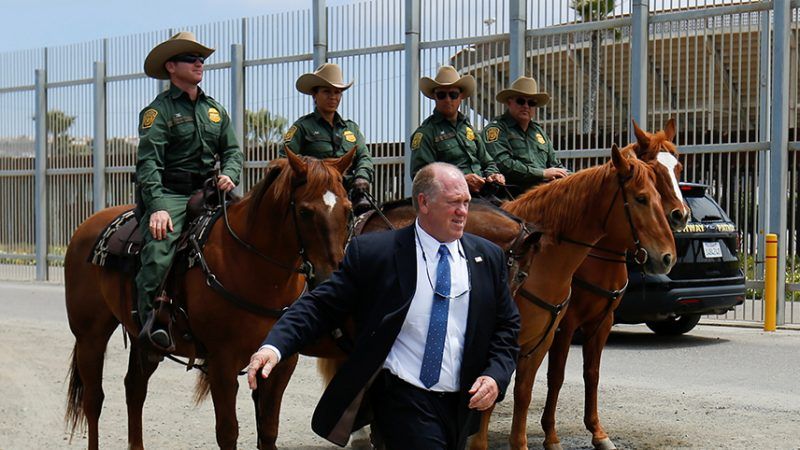 (Mike Blake/Reuters/Newscom)
June will see the end of U.S. Immigration and Customs Enforcement (ICE) Acting Director Tom Homan's brief but controversial tenure heading the agency. Homan is the chief architect, among other things, of the administration's policy of taking kids from their border-jumping parents. The main reason he is quitting is that lawmakers were planning to use his confirmation hearings to air his record.
Homan, who started as a border patrol agent in 1985, was White House Chief of Staff John Kelly's choice to run the agency because Homan is a true believer in President Trump's immigration agenda. He informed Congress last year that he intended to go after anyone in the country without authorization, not just those who have committed a serious crime while here. "If you're in this country illegally and you committed a crime by entering this country, you should be uncomfortable," he noted. "You should look over your shoulder, and you need to be worried."
True to his word, Homan developed a two-pronged "zero tolerance" policy. One prong is focused on border enforcement and the other on "interior" enforcement—that is, targeting those who are already settled within the country.
To advance the first prong, Homan advocated family separation at the Department of Homeland Security (DHS), ICE's umbrella agency. Between last fall and this spring, The New York Times found 700 verifiable cases of children being transferred to different detention camps from their parents, sometimes across the country. A hundred of those children were under the age of 4. One was an 18-month-old toddler.
As for the second prong, overall arrests jumped 40 percent in Trump's first 100 days because of Homan's aggressive approach. And 26 percent of those arrested had no criminal record—even by an inflated definition that counts minor misdemeanors—up from 13 percent in 2016. Homan has sent agents into sanctuary cities specifically to send a message that aliens are not safe anywhere. He compared Oakland, California, Mayor Libby Schaaf to a "gang" member for warning residents of an impending ICE raid. His claim that because of her more than 800 criminals avoided capture was so exaggerated that San Francisco's ICE spokesman quit rather than peddle it.