Come to FreedomFest, Featuring the Reason Media Awards, July 11-14
The nation's only magazine of "Free Minds and Free Markets" is celebrating its 50th anniversary in Las Vegas next week. Come. On. Out.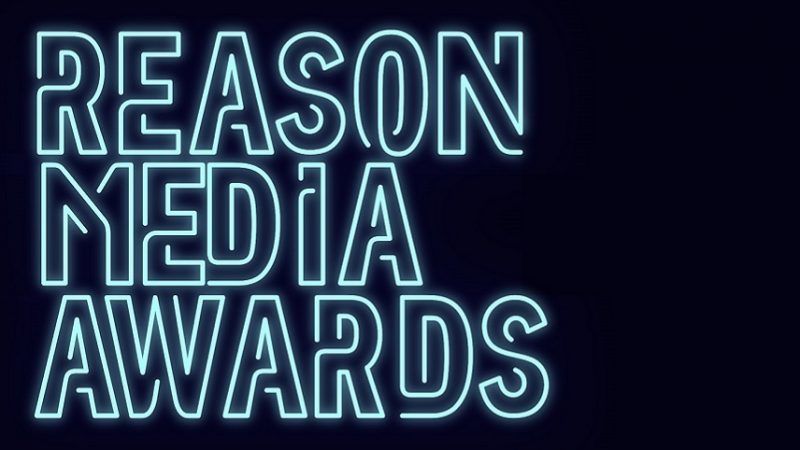 Reason turns 50 this year, and one of our first mega-celebrations takes place next Wednesday through Saturday in Las Vegas at FreedomFest, the largest annual gathering of libertarians.
After three days of peace, love, and monetary policy, the event will be capped by a special Saturday gala dinner during which we'll hand out our Reason Media Awards (RMAs). During the last four years, the RMAs have become a don't-miss event in New York, and we're going even bigger in Vegas. I'll dish on the awards finalists and dinner details in a moment, but first take a look at the two days of special Reason panels that will take place on Friday and Saturday at FreedomFest.
They include:
Where We Are Winning I: Guns, Drugs, Biotech, Lifestyle

Reason celebrates its 50th anniversary by looking at areas in which the libertarian perspective has not only survived but flourished. Matt Welch leads a discussion with Ronald Bailey, Nick Gillespie, and Jacob Sullum about movement triumphs of the last half-century.

Where We Are Winning II: Pensions, Policy, Criminal Justice Reform

Reason Foundation analysts Adrian Moore and Lisa Snell detail the policy wins they and their colleagues have scored since 1968 and explain why the future looks bright for continued reform in areas ranging from public-sector pensions to school choice to criminal-justice and regulatory reform. Moderated by Nick Gillespie.

Where We Are Heading: Sex, Drugs, and Bitcoin

Katherine Mangu-Ward leads a discussion with Ron Bailey, Jacob Sullum, and Jim Epstein about how biotechnology and human enhancement, the legalization of everything, and new forms of cryptocurrency and other forms of permissionless expression and markets will help create a world that is fairer, freer, and more innovative.

Reason Foundation

Libertarianism for the 21st Century

Nick Gillespie, Katherine Mangu-Ward, and Matt Welch document how much freer the world has become since Reason launched in 1968 and explore how libertarian thought and action must change to become the dominant force in the coming half-century.

Robert Poole, a Life in Liberty

No individual has done more to reshape the policy and libertarian landscape during the last 50 years than Bob Poole of Reason. In a freewheeling and wide-ranging conversation with Nick Gillespie, Poole discusses triumphs, failures, and his vision for a future rich in market-driven reforms.

Reaching Young People

Seventy percent of people under 30 are not engaged in politics. Of the 30 percent who are, just 20 percent approve of the Republican Party and 40 percent of the Democrats. Katherine Mangu-Ward, Paul Detrick, and Nick Gillespie reveal the key issues Millennials and Gen Z care about, where to find them online, and how to create the next generation of libertarian activists. The three finalists for the Young Voices Award (see below), given to writers under 30, will also appear.

Reason Editors: Ask Us Anything (and We Mean ANYTHING)

Matt Welch, Katherine Mangu-Ward, Ron Bailey, Jacob Sullum, and Nick Gillespie take any and all questions about their time at Reason and the issues they see as absolutely vital to a flourishing country. Not for the faint of heart.
And then there's the Reason Media Awards, which take place on Saturday night. You can buy tickets for this kick-ass event separately or as part of a FreedomFest package. Go here for special Reason pricing.
During the awards show, we'll be handing out the Bastiat Prize, which is awarded to writers who best explain the importance of freedom with originality, wit, and eloquence. The winner will receive $10,000, the runner-up will earn $5,000, and the third-place prize is $1,000. The five finalists are:
We will also give out the Reason Video Prize, which honors short-form films and videos that explore, investigate, and enrich our appreciation of the libertarian beliefs in individual rights, limited government, and human possibilities. The winner will receive $5,000, second place gets $2,500, and third place takes home $1,000. These are the finalists: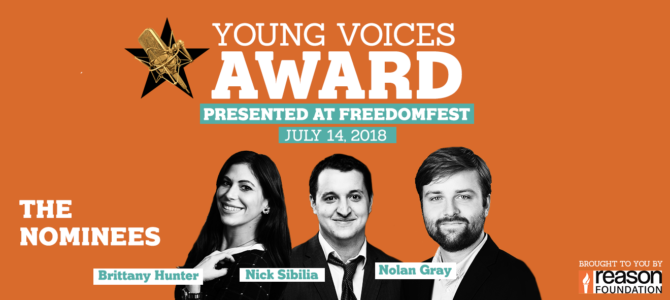 And then there's the Young Voices Award, which honors excellence in writing and policy work done by someone under 30. A $2,500 grand prize will be given to one of the following three writers and policy analysts under 30:
Nick Sibilla, Institute for Justice
Brittany Hunter, Foundation for Economic Education
Nolan Gray, Market Urbanism
The biggest award of the evening is the Lanny Friedlander Prize, which is named for the founder of Reason and honors an individual or group that has created a publication, medium, or distribution platform that expands human freedom by increasing our ability to express ourselves, engage in debate, and generate new ways of understanding the power of "Free Minds and Free Markets." Previous winners include Jane Metcalfe and Louis Rossetto, the co-founders of Wired; Glenn Greenwald, the co-founder of The Intercept; and John Stossel of ABC News, Fox Business, and, since 2017, Reason. This year's recipient is Steve Forbes, the publishing magnate who was among the first people to seize upon the power of the internet as a publishing medium.
In addition to all this, Reason will be having pop-up meet-and-greets at our booth in the exhibition hall, where staffers, finalists, and high-profile guests will be stopping by for impromptu debates, policy slams, and Q&As. We'll also be taping live Reason Podcasts, including no-holds-barred conversation among Katherine Mangu-Ward, Matt Welch, Jacob Sullum, Ronald Bailey, me, and more.
FreedomFest has lots to offer on top of this: dozens of panels, hundreds of speakers, and 2,000 like-minded souls engaging with each other at Bally's Paris in Las Vegas. Go here now for ticket information. If you've got questions that can't be answered online, call Jennifer at 310-391-2254. If you register at the FreedomFest site, use discount code REASON1 to get $100 off regular fee.