Trump Administration Rescinds Obama-Era Guidance That Encouraged Schools to Consider Race in Admissions
Good riddance.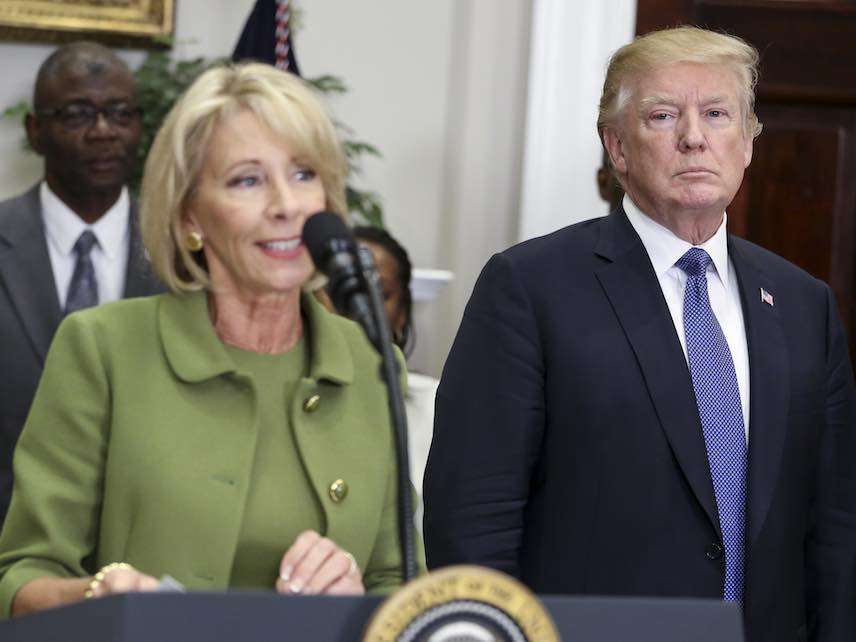 President Donald Trump's Justice Department plans to roll back a pair of Obama-era affirmative action decrees that pushed colleges to consider race as a factor in admissions.
The new guidance, which discourages race-based admissions, will essentially reconstitute the approach the federal government took under George W. Bush. The Bush administration had sternly reminded schools that they could consider race in admissions only if they had absolutely no other method of achieving diverse classrooms. This was consistent with Supreme Court precedent that has permitted affirmative action but narrowly limited its use.
But Barack Obama's administration, in 2011 and 2016, issued recommendations that encouraged schools to think of diversity as a compelling state interest and to embrace race-based admissions as a tool to achieve it. This wasn't necssarily at odds with Court precedent, but it very well could have sent a message to schools that diversity at all costs was the top priority.
The Trump administration's decision was first reported by The Wall Street Journal. The Justice Department—which had been tasked with "re-evaluating" past policies that were considered legally suspect, according to The New York Times—is taking the lead here, though the decision impacts the Education Department. A spokesperson for the Education Department has confirmed to me that the administration is returning to the Bush-era position, per the new guidance.
In a statement to Reason, Education Secretary Betsy DeVos said,"the Supreme Court has determined what affirmative action policies are constitutional, and the Court's written decisions are the best guide for navigating this complex issue. Schools should continue to offer equal opportunities for all students while abiding by the law."
Progressives will see this move as a deliberate attempt to weaken affirmative action at a time when race-based admissions policies are coming under serious scrutiny. Asian students who say they were denied admission to Harvard because its policies discriminate against them on the basis of skin color have sued the university. That lawsuit recently forced Harvard to pull back the curtain with respect to its admissions information, revealing that officials consistently underrated Asian applicants on subjective criteria like "personality," even though Asians tend to outperform other applicants in virtually every respect.
The Harvard lawsuit is really just making an uncomfortable truth more obvious: When admissions officials discriminate in favor of one racial group, they must discriminate against other racial groups. This is wrong and legally suspect. It's an issue a post-Kennedy Supreme Court should certainly revisit. In the meantime, the Justice and Education departments deserve commendation for distancing themselves from a policy that is racially discriminatory to its core. Good riddance.
Update: DeVos's statement has been added to this post.