Mexico Just Elected a New President. Is He the Left-Wing Version of Trump?
Andrés Manuel López Obrador's populist campaign promised to tackle corruption, impose price controls, and rewrite NAFTA.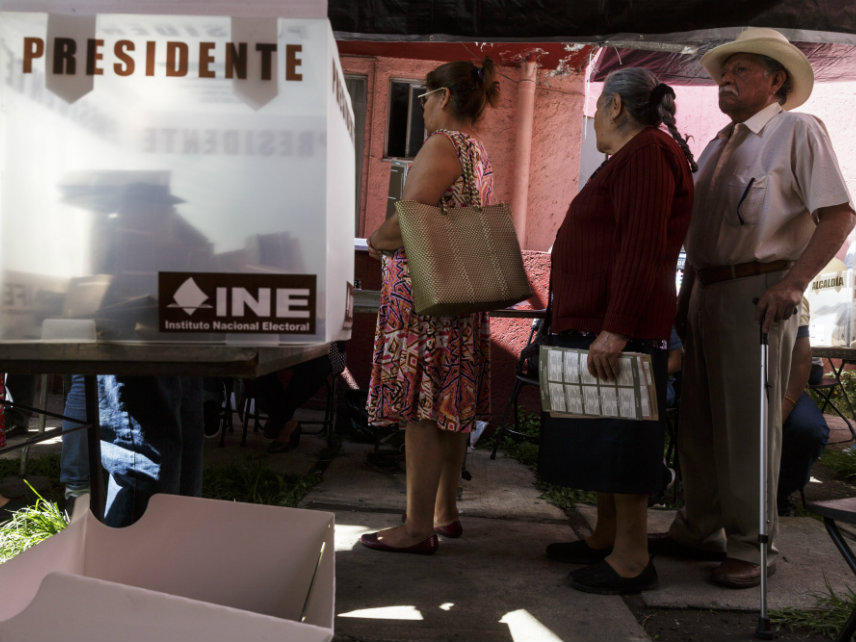 Mexicans elected a populist president yesterday. Andrés Manuel López Obrador—nicknamed "AMLO"—defeated the country's two major parties with promises to clean up corruption and to impose greater government control over the economy, to stop what he sees as the fleecing of Mexico's domestic interests by free trade agreements. He is short on concrete policy proposals and has shown authoritarian tendencies.
Despite all that, López Obrador is unlikely to be a close friend to U.S. President Donald Trump. About the only thing they might agree on is blowing up the North American Free Trade Agreement (NAFTA).
Indeed, López Obrador published a book last year, titled Oye, Trump! ("Listen Up, Trump!"), that reprints a series of speeches he gave to Spanish-speaking communities in the United States after Trump's 2016 election. He's been sharply critical of Trump's hardline stance on immigration, and he has condemned the much-ballyhooed plans for a stronger border wall, promising supporters in a speech last week that Mexico will "never be the piñata of any foreign government."
But almost everyone has something negative to say about Trump. More worrying are the similarities between López Obrador and Hugo Chavez, who ruled Venezuela from 1999 through 2013 and pushed the once-prosperous nation onto the path of its current socialist nightmare.
López Obrador has called for the nationalization of Mexico's oil industries (although he has contradicted himself on that claim) and has promised to impose price controls on gasoline. Investment banks such as Citigroup have warned that his election means uncertainty in "monetary, fiscal, and commercial policy."
"Nobody knows exactly what to expect from an AMLO administration. His proposals are a collection of notions with few details and plenty of contradictions," write Juan Carlos Hidalgo and Ian Vasquez, two Latin America policy experts at the libertarian Cato Institute.
Beyond concerns over López Obrador's plan to reshape Mexico's energy industries, they point to his call for agricultural self-sufficiency. While that message has played well with farmers across Mexico, achieving that goal would likely require tearing up NAFTA and would increase the cost of living for many Mexicans.
"With protectionists at the helm in its two biggest member states, NAFTA could well collapse," The Economist foreshadows.
We will soon find out. López Obrador, a former mayor of Mexico City who had ran two unsuccessful campaigns for president in 2006 and 2012, won easily on Sunday. Running for a third party that he founded, López Obrador finished more than 10 percentage points ahead of the candidates from Mexico's two largest parties, the National Action Party and the Institutional Revolutionary Party—that have shared power in Mexico since the country became a full-fledged multi-party democracy in 2000.
It's not much of a surprise that a populist message would succeed in Mexico. The country is famous for its high levels of political corruption, and it has weak democratic institutions. It's hard to overstate how badly the current crop of cronies have handled Mexico. Transparency International ranks Mexico 95th out of 167 countries for corruption—23 spots behind El Salvador and 39 spots behind Cuba.
"Overcharges by the country's telecommunications monopoly are estimated to cost 2 percent of Mexico's total economic output. That monopoly earns profits almost double those of its U.S. and Canadian counterparts," David Frum wrote in a 2016 piece for The Atlantic. "Unsurprisingly, the monopoly's owner, Carlos Slim, ranks among the world's richest men."
Elba Esther Gordillo, the "president for life" of Mexico's national teachers union, was busted in 2013 for spending the equivalent of $2.1 million in public funds at a Neiman Marcus store in San Diego, California, and using other union funds on plastic surgery. The wife of Mexico's outgoing—and deeply unpopular—current president was busted in 2016 for living in a condo owned by a company that contracts with her husband's government. The reporter who broke that story quickly lost her job.
As elsewhere in America and Europe, Mexico's turn toward a populist president with half-formed economic ideas is at least partially the fault of previous leaders, who have allowed corruption to take root and have not made a compelling political case for free trade, despite all the good it has done. This isn't the first time that voters, feeling like they want to burn everything down, have turned to a politician like López Obrador.
"No one can blame Mexicans for being under the impression that they have little to lose by voting for a firebrand populist," write Hidalgo and Vasquez. "But this is a miscalculation that we have seen in other Latin American nations, and one that has terrible long-term consequences."