D.C.'s 'Families Belong Together' March More About Midterms Than Migrants
What was billed as a single-issue protest felt more like a Democratic get-out-the-vote drive.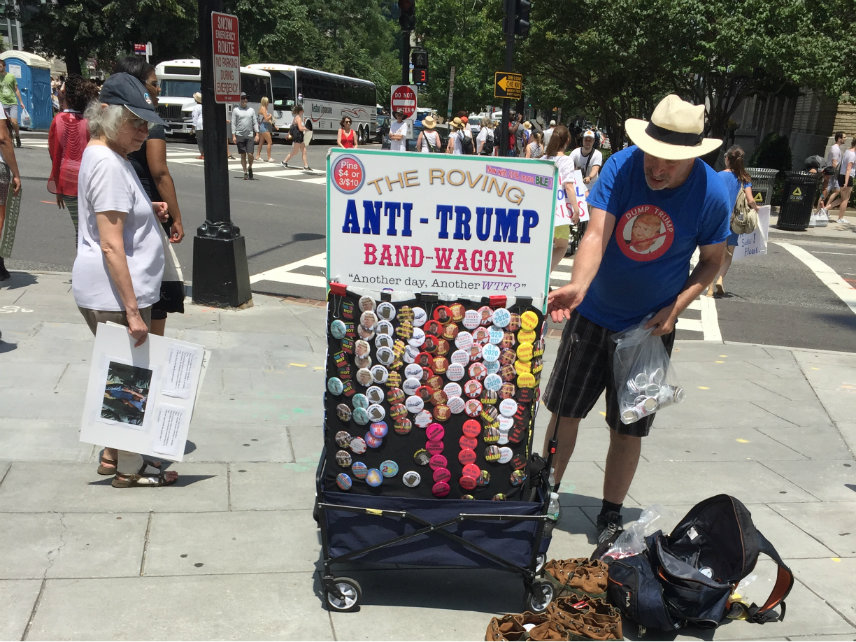 It was a day of of mixed emotions and mixed messages at D.C.'s Families Belong Together demonstration, one of several hundred rallies held around the country today to protest the Trump administration's practice of separating immigrant families detained at the U.S.-Mexico border.
Thousands of demonstrators poured into Lafayette Park, right outside the White House, to chant, sing, and listen to a slate of speakers organized by a coalition of labor groups, civil liberties organizations, and progressive campaign outfits.
Most were clearly shocked and horrified by the separation of families at the border. For some, the issue had a personal resonance. Dina Potter, for example, tells Reason she immigrated to America with her mother from Guatemala when she was just 12 years old.
"I could easily have been one of the DACA kids," says Potter, who suggests the roots of our current immigration woes can be found in U.S. interventions that have destabilized her home country. "I could easily be one of those folks who just showed up at the border seeking asylum. They come here seeking a safer way of life, and to have their children ripped from their arms is unconscionable."
Most attendees, however, seemed to think the problems they were protesting began and ended with Trump.
"We need to get this administration out. We need to abolish ICE. We need to go back to the immigration policies we had before," said Jane Ellis, a recent immigrant from the U.K. who received her citizenship on June 12.
Alongside the official "Keep Family Together" posters and homemade "Abolish ICE" placards were pride flags, pro-choice signs, and a ton of "Trump = Nazi" posters.
Many demonstrators wore March for Our Lives shirts, Fight for $15 tees, and paraphernalia bearing the slogan "Nasty Woman." Union swag was everywhere, as were Black Lives Matter shirts and signs. Other protestors waved AFL-CIO placards saying "Solidarity Forever!"
A block north of the rally was a man selling political buttons from an "Anti-Trump bandwagon" cart. He said his "Mueller Time" buttons done up in Miller Lite font were selling the best, followed by those bearing a picture of Trump surrounded by bricks with the inscription "Better to Build This Wall."
Elsewhere, demonstrators' attitudes were almost festive.
Scores of college-aged attendees showed up carrying both protest signs and iced coffees, chatting happily and snapping group photos. Hundreds of people took a break from listening to speeches about the specter of white nationalism to dance around a fire truck that was shooting its hoses in the air. Naturally, there was a drum circle.
This mix of rage about family separations, standard progressive rallying cries, and pure entertainment was replicated onstage. One speaker, a child of illegal immigrants, spoke of how her community lived in fear of law enforcement every day. Another speaker condemned Trump for pitting workers against each other as he took away their food stamps and dismantled their health care. One Protestant clergywoman spent several minutes accusing the current Supreme Court of racism. Musical acts performed in between speakers. One man led the audience in singing a lullaby.
Few immigration-policy specifics crept into the pronouncements. That the family separations needed to stop was clear. Everything else was a bit of a blur. Almost without fail, the speakers urged the assembled crowd to show up to the polls in November, with repeated, enthusiastic chants of "vote them out! Vote them out!"
Driving turnout in November was clearly a primary goal of the rally organizers. Their website asks attendees to "RSVP" for the rallies by giving their name, email, and zip code (all useful data points to have with a midterm election on the horizon).
At one point a speaker asked attendees to let Congress know how they feel by texting "families" to a number they flashed up on electronic screens. How this would let Congress know much of anything was beyond me, but it's a great way to harvest phone numbers.
I'm not suggesting the organizers were insincere. Everyone who spoke with Reason expressed a desire for more open, liberal immigration policies. But the consensus seemed that this could be achieved solely by booting Republicans out of office.
There was almost no recognition of the role the Obama administration played in building the border-enforcement apparatus or in deporting record numbers of immigrants, nor any disappointment or irritation for Democrats who failed to prioritize immigration reform when they controlled Congress and the White House.
This inability to hold their own side accountable will no doubt leave many of today's demonstrators disappointed when and if power changes hands again.