Saudi Woman Rapper Drops the Mic on Driving Ban Repeal
Leesa buckles her seatbelt across her abaya to celebrate the end of the female driving ban.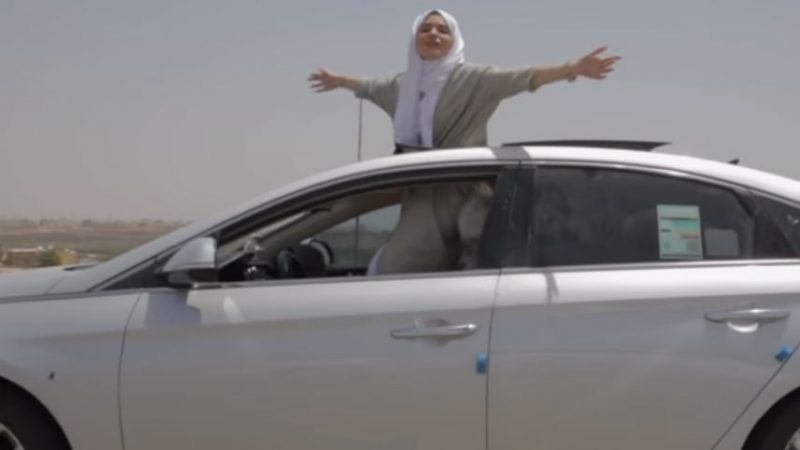 (Screenshot via YouTube/ Leesa A)
After Saudi Arabia's June decision to lift the driving ban against women, at least one is celebrating her new freedom with the power of song.
A rapper named Leesa created a music video for a song titled "We Are Driving." The video features Leesa driving behind the wheel of a car telling audiences, "today I can serve [drive] myself." Other lyrics include "I don't need anyone to take me" and "I put the seatbelt over my abaya," the name for the robe worn by Saudi women when they appear in public. She also leaves a warning for her passengers not to slam the door, threatening to tie them up with her seatbelt if they're too rough with her car.
The video has received tens of thousands of likes on her Instagram page. Others compared the themes in Leesa's music video with the once-controversial 2012 music video for "Bad Girls" by M.I.A., which highlights women behind the steering wheel while men perceived to be Arab look on. When asked why she shot the music video in Morrocco, M.I.A. explained that she "didn't want to go to jail."
While Leesa raps in celebration, other women have chosen to take advantage of industries that they were once unable to access. According to Time, Ohoud Al Arifi became the first woman in the country to drive for Uber, just hours after the ban went into effect. Al Arifi previously obtained her driver's license in California and also works as Uber's marketing manager for Saudi Arabia. Al Arifi said that her first rider was a woman who was inspired to ask how she might become an Uber driver as well.
Not every Saudi woman is benefitting from the change. Several activists who fought the ban remain in government detention. One such detainee is Loujain al-Hathloul, who was arrested in 2014 after she attempted to drive herself in her own vehicle across the border from the United Arab Emirates to Saudi Arabia. Al-Hathloul was also arrested in 2017 and again in March 2018 after she and other activists defied the driving ban.