'Only One Person' Wants This Insane, Budgetless Military Parade
Pentagon officials are dragging their feet as they begin planning the military parade ordered by President Trump.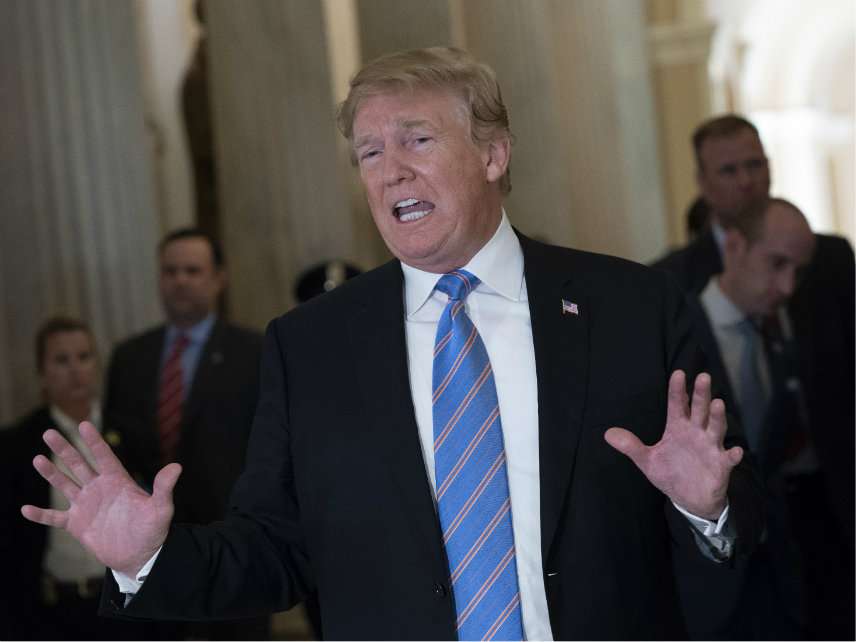 Despite a lack of enthusiasm from some White House and Pentagon officials, the Department of Defense has begun planning a military parade ordered by President Donald Trump, according to NBC News.
The parade does not yet have a budget, but officials have set a date (November 10, though it was originally planned for November 11) and proposed a route. They think it should start at the Capitol Building in Washington, D.C., and stop at the National Mall.
Trump proposed putting on a military parade last September during a meeting with French President Emmanuel Macron at the United Nations General Assembly. In July, Trump attended France's annual Bastille Day parade, and he was impressed.
"I was your guest at Bastille Day, and it was one of the greatest parades I've ever seen," Trump told Macron in September. "It was two hours on the button, and it was military might and, I think, a tremendous thing for France and the spirit of France." He also said he would like the United States to "top" France's parade.
In February, Trump put his words into action, officially directing Defense Secretary James Mattis to begin planning for such a parade in Washington. But ever since March, when a Pentagon memo revealed some details about the parade, there hasn't been much information forthcoming about the impending pomp and circumstance. That's because the military has had "more pressing" matters to deal with, NBC reported, citing a senior defense official.
Now the Pentagon has turned its attention to planning the parade, but that doesn't mean officials are excited about it. "There is only one person who wants this parade," a senior U.S. official told NBC. That one person, of course, is Trump.
Aside from a general lack of interest among officials, the parade faces another major hurdle: It's not clear where the money is going to come from, as neither the Pentagon nor the White House has set aside any funds for the event, which Office of Management and Budget Director Mick Mulvaney estimated could cost between $10 million and $30 million.
Some of the money is sure to come from the Defense Department's training budget, but that doesn't answer the question of who will pay the Secret Service agents and police officers providing security, or who will pay for the parade's setup.
According to a National Security Council spokesperson, "the Department of Defense will provide options to the White House for a decision." But even if the Trump administration can figure out who's going to foot the bill, that doesn't take away from the fact that the parade itself is seen by many as a waste of money.
"A parade of this kind would represent a significant waste of tax dollars. At a time when Congress is wrestling with how best to recapitalize our military and better protect the force after 17 years of war in Afghanistan and Iraq, resources should be deployed to enhance military readiness and warfighting, not wasted on such a pointless display," Rep. Ruben Gallego (D–Ariz.), a Marine veteran, said in a statement in February. "No one in the world doubts the strength of our military or the professionalism of our men and women in uniform. A parade will not alter that perception. Instead, it will likely prompt ridicule from our friends and foes alike."
Rep. Justin Amash (R–Mich.) used the parade to criticize the American military's involvement in foreign wars. "I'm all for a parade if it's to celebrate bringing our young men and women home from these unauthorized wars overseas," Amash tweeted.
In February, a poll of Military Times readers showed that 87 percent of respondents opposed the idea of the military parade.