Feds Show Up at ICE Whistleblower's CBS Interview
Former spokesperson James Schwab received a unexpected house call from federal agents after saying ICE forced him to lie about immigration raids in Oakland.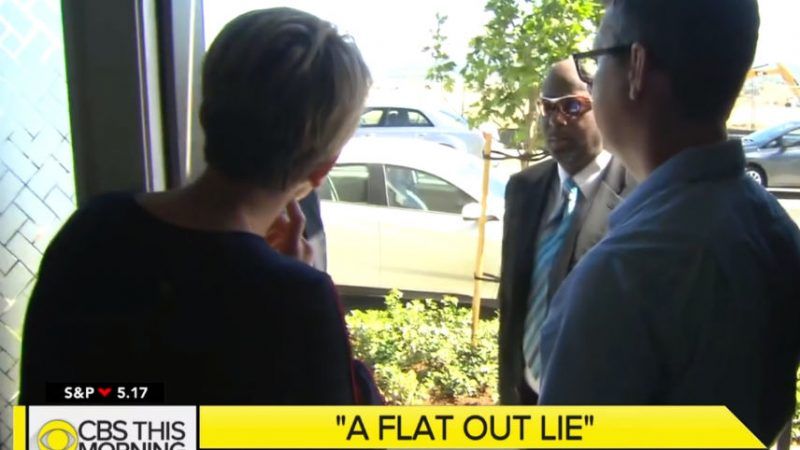 (Screenshot via CBS News)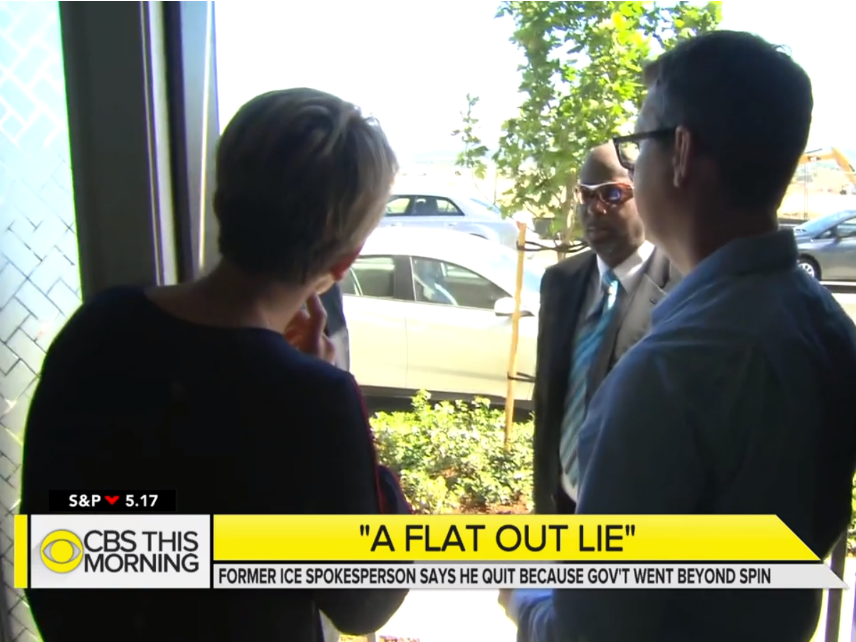 A Wednesday interview between James Schwab, the former Immigration and Customs Enforcement (ICE) spokesperson-turned-whistleblower, and CBS News' Jamie Yuccas was interrupted by the arrival of federal agents. According to CBS News, which caught the visit on camera, the guests identified themselves as agents with the Department of Homeland Security Inspector General's Office and questioned Schwab about the events that ultimately led to his resignation.
Schwab resigned from his position in March after strongly disagreeing with Attorney General Jeff Sessions' media campaign against Oakland, California, Mayor Libby Schaaf. In February, Schaaf warned immigrants in her city of upcoming ICE raids. She later released a statement regarding the "law-abiding immigrants and families who deserve to live free from the constant threat of arrest and deportation" and believed it to be her "duty and moral obligation as Mayor to give those families fair warning when that threat appears imminent."
The raids resulted in the arrest of 232 immigrants out of 1,000 possible targets. As Schwab explained in his CBS interview, the arrest results were actually "16 percent higher" than ICE's estimates. Despite this, Sessions claimed in March that Schaaf was personally responsible for "needlessly [endangering] the lives of our law enforcement officers to promote a radical open-borders agenda." The attorney general said the warning led to ICE's failure to make an additional 800 arrests, classifying the unarrested as "800 wanted criminals that are at large."
Schwab told Yuccas that the statement was "completely false" and said it made him "extremely uncomfortable." He once argued in March "We were never going to pick up that many people. To say that 100 percent are dangerous criminals on the street, or that those people weren't picked up because of the misguided actions of the mayor, is just wrong." When presented with opportunities to clarify, Schwab said that his Washington, D.C., higher-ups instructed him not to dispute Sessions.
"I could not fathom staying at an organization that was OK with lying to the American public. I hate that. In 17 years in the military, at the Department of Defense as a civilian, at NASA, and now at Homeland Security, I have never been asked to lie. I have never been asked to perpetuate a lie, which is the same as lying," he said, speaking of the eventual decision to resign.
As Schwab and Yuccas were conversing, two men dressed in suits knocked on the door. The men, who introduced themselves as federal agents, told Yuccas their visit was confidential. Following the visit, Schwab revealed that he was asked about Schaaf's leak. Schwab maintained that he neither met nor contacted the mayor.
Schwab said the interaction as "intimidation." He then reaffirmed his decision to speak up and empower others in the federal government facing similar dilemmas.