Civility, Culture War, and Cake Gives Way to Libertarian Squabbling: Reason Roundup
Plus: The FDA approves a cannabidiol-based drug and The Intercept explores the NSA's secret spy hubs.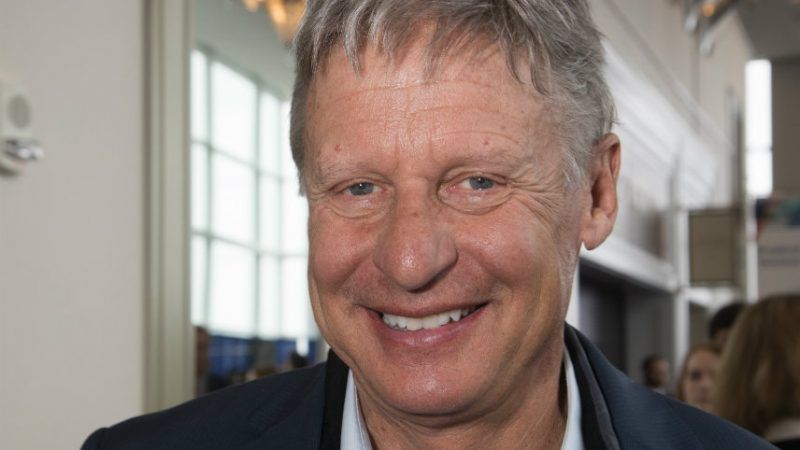 (Jeff Malet Photography/Newscom)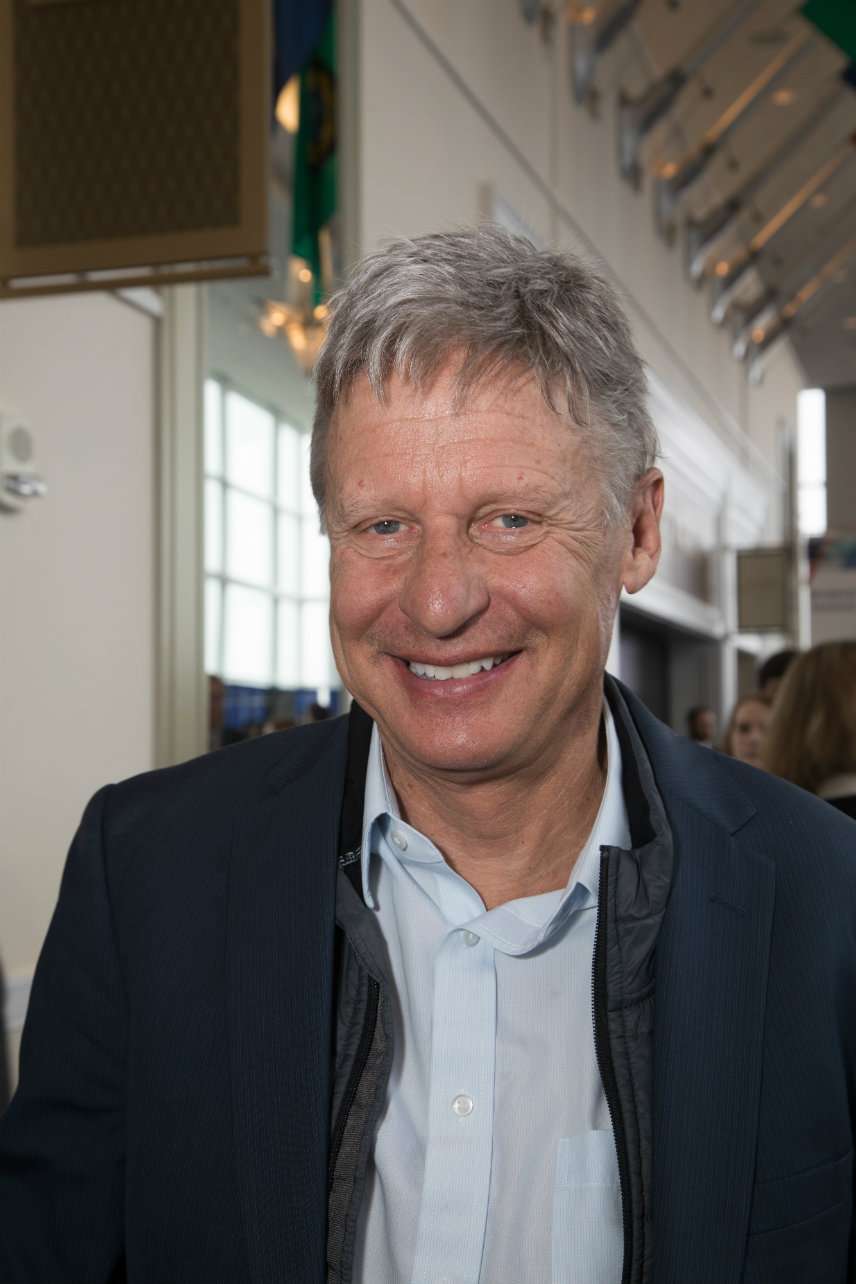 Gary Johnson, democracy criticized in wake of RedHenGate. We're entering day three of this week's debate over Donald Trump, civility, and free association. Already, plenty of us at Reason have weighed in, and there's not much meat left to dissect with regard to the particulars of White House Press Secretary Sarah Huckabee Sanders being asked to leave the Red Hen restaurant in Lexington, Virginia. However, the incident has spawned some interesting kerfluffles that are worth highlighting before we (hopefully) all move on soon.
Hanging over this latest culture-war spectacle is the recent Masterpiece Cakeshop case, in which the U.S. Supreme Court sided with a baker who refused to decorate a wedding cake for a same-sex celebration.
During the 2016 election, Libertarian Party presidential candidate Gary Johnson came under some fire for refusing to unequivocally denounce those who would force bakers to comply with creating cakes they're ethically opposed to (after candidate Austin Peterson proposed a hypothetical Jewish baker who refused to decorate a Nazi cake). And libertarian-leaning Rep. Thomas Massie (R-Ky.) isn't ready to let it go.
Agree. And the right of a baker not to design, bake, and deliver a wedding cake. Which is why the Johnson/Weld ticket was never really a libertarian ticket. https://t.co/2SQddf02be

— Thomas Massie (@RepThomasMassie) June 25, 2018
Massie's Monday tweet garnered a lot of libertarian love—but also some pushback from fellow travelers:
Agreed https://t.co/LH3uVnLyBQ

— John Stossel (@JohnStossel) June 26, 2018
Oh, come on. They weren't libertarian because of one issue? No candidate ever agreed with me on 100% of the issues.

— David Boaz (@David_Boaz) June 26, 2018
Quite a few commenters suggested that Massie's support for Donald Trump disqualified his disses of Johnson from serious consideration, while others metaphorically rolled their eyes over Massie's all-or-nothing approach to the Libertarian ticket.
You supported Donald Trump. https://t.co/K3FX3DnblR

— Josh Guckert (@JoshGuckert) June 25, 2018
There's nothing more mind-numbing to me than libertarian purity-testing. Johnson/Weld could just as easily turn around and say Massie is not "really a libertarian" for not supporting open borders or full legalization of all drugs. https://t.co/4xgadiwG4j

— Alex Muresianu (@ahardtospell) June 26, 2018
Johnson may have been far from a perfect Libertarian candidate, but let's not forget who he was up against in the LP:
Whale fucking. No joke. Each year, on Feb 1st, in the Molokai Channel, a few men compete in the world's only whale fucking contest. Humpback whales are easy to fuck- for a second or less. World record: 31 seconds. I competed once. Almost got my ribs crushed. Stick with Ostriches.

— John McAfee (@officialmcafee) June 24, 2018
Outside of libertarian world, the debate has turned to whether this whole incident represents a crisis of civility or democracy (almost everyone is sure that it represents a crisis of something).
Michelle Goldberg at The New York Times and many other prominent media figures have started suggesting that Sanders getting the boot from a dining establishment showcases how dystopian our nation has become, how uniquely precarious our republic's position. Thankfully, some folks with less hysterical historical ignorance have also entered the debate:
Oh, for the quiet civility of "Hey, hey, LBJ, how many kids did you kill today?" and "Up against the wall, motherfucker!" https://t.co/Chcxgh02xT

— Jesse Walker (@notjessewalker) June 26, 2018
This is a lie. Both the Civil Rights & Anti-War mvmts were met w/ significant violence by opponents. Many people were killed. This nation also had a Civil War over slavery 150 years ago. Don't trust these ahistorical narratives about a more civil past or the people promoting them https://t.co/BEOo9SmnCE

— Bree Newsome (@BreeNewsome) June 26, 2018
Other than the domestic terrorism, the riots, the leaders being assassinated, and people accusing each other of being traitors, murderers, pigs and commies, this is exactly right. https://t.co/nu4sWXKoh7

— David Harsanyi (@davidharsanyi) June 26, 2018
FREE MINDS
The NSA's secret spy hubs. The Intercept "has identified an AT&T facility containing networking equipment that transports large quantities of internet traffic across the United States and the world" in each of eight major American cities. Tucked away in Atlanta, Chicago, Dallas, Los Angeles, New York City, San Francisco, Seattle, and Washington, D.C., these facilities "are central to an NSA spying initiative that has for years monitored billions of emails, phone calls, and online chats passing across U.S. territory."
"The NSA considers AT&T to be one of its most trusted partners," The Intercept reports. Their collaboration has lasted for decades. And yet…
Little known, however, is that its scope is not restricted to AT&T's customers. According to the NSA's documents, it values AT&T not only because it "has access to information that transits the nation," but also because it maintains unique relationships with other phone and internet providers. The NSA exploits these relationships for surveillance purposes, commandeering AT&T's massive infrastructure and using it as a platform to covertly tap into communications processed by other companies.
Read the whole thing here.
FREE MARKETS
Cannabis-based epilepsy drug gets approval. On Monday, the U.S. Food and Drug Administration (FDA) approved Epidiolex, a prescription drug made with cannabidiol (CBD) that can be used to treat severe epilepsy. Derived from cannabis, it helps squelch epileptic seizures without the psychoactive effects of smoking marijuana (which come courtesy of the plant's THC, not CBD).
"The difficult-to-control seizures that patients with Dravet syndrome and Lennox-Gastaut syndrome experience have a profound impact on these patients' quality of life," said Billy Dunn, deputy director of the FDA's center for drug evaluation and research, in a statement.
In addition to another important treatment option for Lennox-Gastaut patients, this first-ever approval of a drug specifically for Dravet patients will provide a significant and needed improvement in the therapeutic approach to caring for people with this condition.
But FDA Commissioner Scott Gottlieb stressed that folks shouldn't get their hopes too high about this step, saying it was important "to note that this is not an approval of marijuana or all of its components. This is the approval of one specific CBD medication for a specific use."
QUICK HITS
Republican or conservative: "You have to choose," writes New York Times columnist David Brooks.
The Supreme Court sided with American Express in a case that saw the credit card company sued by the federal government and several states.
Is this the most 2018 story of the day?
The popular Twitter account WeRateDogs has been accused of "white-washing" after changing the names of dogs submitted for rating.https://t.co/Eiy4SBP3Z3

— BuzzFeed News (@BuzzFeedNews) June 26, 201
The case for expanding telemedicine by removing government barriers.
"Orlando has stopped testing Amazon's facial recognition program after rights groups raised concerns that the service could be used in ways that could violate civil liberties," reports Reuters.
Virginia makes law to arrest & indefinitely detain without bail the partners, employees and roommates of sex workers. https://t.co/ps5mTC2ool

— Maggie McNeill (@Maggie_McNeill) June 26, 2018
In Illinois, "the Libertarian Party filed a slate of statewide candidates on Monday," reports NPR. These included gubernatorial candidate Kash Jackson, "a retired Navy veteran [who] wants to legalize recreational marijuana," along with lieutenant governor candidate Sanj Mohip, comptroller candidate Claire Ball, and attorney general candidate Bubba Harsy.
Voters in Colorado, Maryland, New York, Oklahoma, and Utah go to the polls today.
Seaweed will save us?