Reason Brings Home 5 Southern California Journalism Awards
Recognition for everything from Florida's terrible drug sentencing laws, to the efforts to legalize ecstasy, to explanations of why Trump's wall won't work.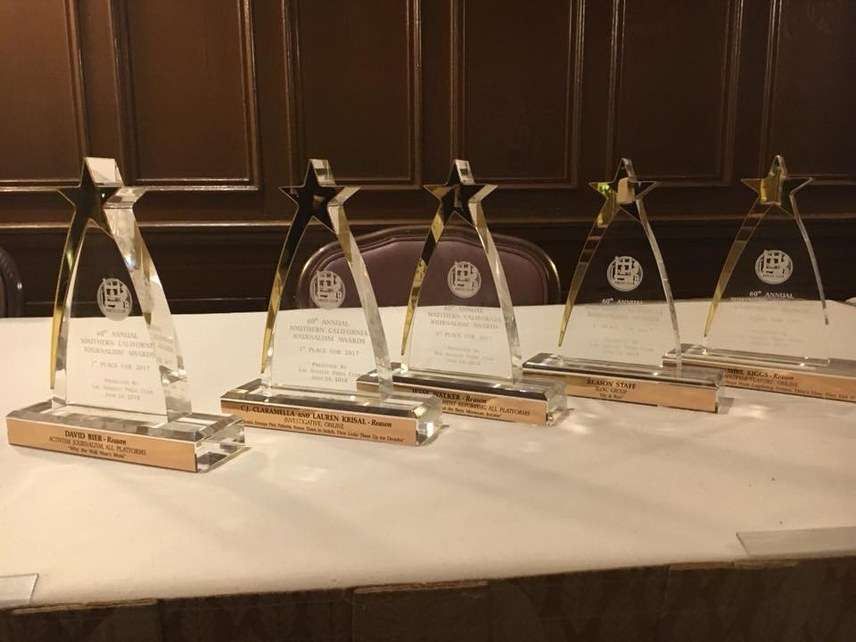 While America tilted its head at the season finale of Westworld Sunday night, journalists in Southern California gathered to hand out awards for writing and reporting. And Reason took home an armful.
Reason was nominated for 30 awards, a new record for us. At the end of the night, we walked away with five first-place plaques, six second-place certificates, and seven third-place certificates.
Here's what won first-place and the judges' comments that were shared:
Best Activism Journalism: David Bier, for "Why the Wall Won't Work"
Judges' comment: "A thorough, brick-by-brick explanation why the Trump wall won't work."
Best National Political/Government Reporting: Jesse Walker, for "The Indestructible Idea of the Basic Income"
Judges' comment: "The historical information gives a complicated issue much needed context."
Best Investigative Article: C.J. Ciaramella and Lauren Krisai, for "How Florida Entraps Pain Patients, Forces Them to Snitch, Then Locks Them Up for Decades"
Judges' comment: "Through copious research, this piece shows yet another side to the opioid crisis, where outdated laws and procedures further victimize people affected."
Best Lifestyle Feature: Mike Riggs, for "Medical Researchers Are Steps From Legalizing Ecstasy. Here's How They Did It"
Judges' comment: "This comprehensive piece on how psychedelic drugs, in fits and starts, have plodded toward legalization is interesting, informative, well written, well sourced and does an excellent job of explaining a complex subject."
Best Group Blog: Staff, Reason.
Judges' comment: "Unique viewpoints with a variety of topics keeping the reader interested in what might be happening outside their typical scope."
Those were all the first-place winners. Look below the fold for the second- and third-place entries.
Second-place awards:
Best Humor/Satire Writing: Austin Bragg, Meredith Bragg, and Andrew Heaton, for "Game of Thrones: Libertarian Edition"
Best Non-Entertainment Personality Profile/Interview: Justin Monticello, Alex Manning, and Zach Weissmueller, for "This Self-Taught Programmer Is Bringing Transparency to California Politics"
Best Criticism on Books/Art/Architecture/Design: Brian Doherty, for "The Great James Buchanan Conspiracy"
Best Investigative Story: Elizabeth Nolan Brown, for "American Sex Police"
Best Columnist: Deirdre Nansen McCloskey (for "One Woman's Adventures in Gender Crossing and Civil Disobedience," "The Myth of Technological Unemployment," and "An Economist Goes to Shanghai")
Best Minority/Immigration Reporting (print): Joe Coon, for "Bringing Bandar Home"
Third-place awards:
Best Criticism on Food/Culture: Peter Suderman, for "Government Almost Killed the Cocktail"
Best Columnist: J.D. Tuccille (for "Your Handy Guide to Camping in Forbidden Places," "RIP Jerome Tuccille, Author of It Usually Begins With Ayn Rand," and "Where Radar Cameras Fear To Tread")
Best Feature, Business/Government (over 1,000 words): Mike Riggs, for "How Washington Lost the War on Muscle"
Best News Article, Government/Politics: Eric Boehm, for "After Challenging Red Light Cameras, Oregon Man Fined $500 for Practicing Engineering Without a License"
Best Columnist: Scott Shackford, for "Chelsea Manning Showed Us the Consequences of War, and We Threw Her in Prison," "People Who Called Snowden a Traitor Shocked to Learn About All This Domestic Surveillance," and "The Government is Here to Make Sure Your Fidget Spinner Doesn't Kill Everybody"
Best Sports Commentary: Eric Boehm, for "Atlanta Braves' New Stadium Is a Disaster for Taxpayers and Fans"
Best Entertainment and Celebrity News: Elizabeth Nolan Brown, for "Hot Girls Wanted: Exploiting Sex Workers in the Name of Exposing Porn Exploitation?"
I'd like to congratulate my colleagues, and all of us here at Reason would like thank our readers, supporters, and donors for making this work possible. The recognition we received last night is a direct result of you people putting your money where your ideals are.