Phoenix's Government Might Shut Down Over High Stakes Light Rail Fight
Local business owners say a new light rail line will kill their livelihood.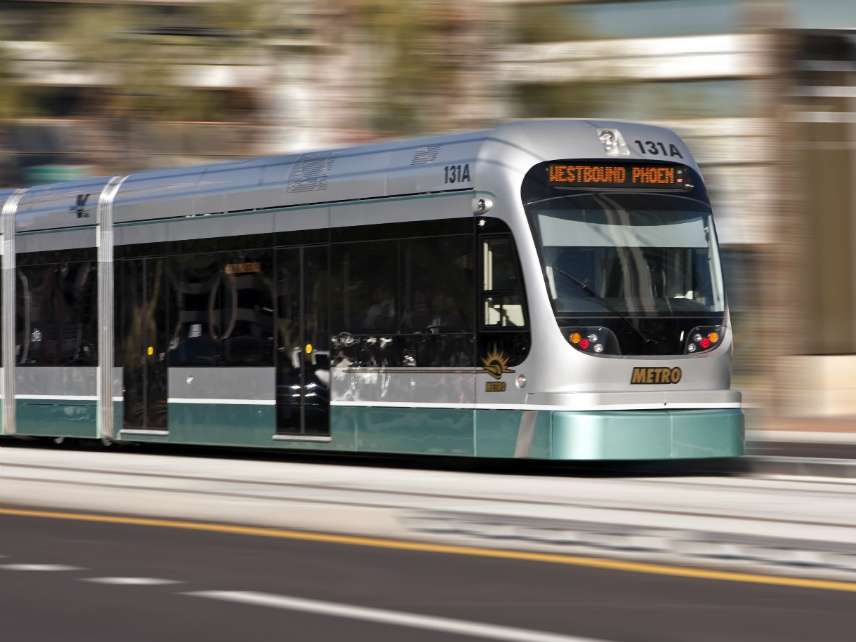 A bitter fight is breaking out in Phoenix, Arizona, between city officials eager to construct a new light rail line out to the poorer, southern reaches of the famously car-dependent city, and south Phoenix business owners, who fear the transit expansion will spell the end of their livelihoods and their community.
"They just want to get rid of us. The city of Phoenix doesn't want to listen to the people," says Byron Waldrep, the long-time manager of a south Phoenix fish and chips shop on Central Avenue, located right along where the new line is slated to go.
The past several months have seen Waldrep and other likeminded south Phoenix residents organize community meetings, circulate petitions, and provide testimony at increasingly contentious city council meetings. They are demanding that the light rail project as currently designed be stopped.
On Wednesday, they scored a temporary victory of sorts, when the eight-member Phoenix City Council—which has thus far rebuffed the group's demands to slow or change the rail project—failed to pass an operating budget. Four councilmembers voted "no" over concerns that the city was moving too fast with its South Central light rail extension. If the sixth largest city in America is going to keep its government up and running, its budget needs to be approved by July 1. "I have no idea what we do now," said Phoenix Mayor Thelda Williams after the budget vote failed.
The fight started in 2016, when the Phoenix City Council voted to accelerate the construction of the long planned 6-mile South Central light rail extension. The line was originally slated for completion in 2035; the City Council promised to have it done by 2023.
But there was a hitch. The plans for the southward extension called for tearing out two lanes on busy Central Avenue to accommodate the new light rail tracks.
This, says Waldrep, would spell death for his business and many others in the area.
"Two lanes one in each direction will kill everything," he tells Reason. "A lot of places won't make it, where they depend on having that room for having their semi-trucks, or their tow trucks, or their supply trucks."
As it became clear that half of the lanes on Central Avenue would be gutted in favor of light rail, and that this construction would shutter sections of the street for four years, businesses in the area started to organize. Led by Celia Contreras, the owner of a south Phoenix window tinting shop also on Central Avenue, they formed the group "4 Lanes or No Train," which demands that the lanes either be preserved or the rail project be abandoned completely.
Maintaining the current number of lanes, says Scott Smith, CEO of Valley Metro, the transit agency responsible for building and operating Phoenix's light rail system, is a difficult demand to accommodate.
"There has always been a challenge with extending light rail into south east," Smith tells Reason. "Many of the businesses were built 40, 50, 60years ago, so the space is somewhat tight."
This left Valley Metro with the option of either eliminating two lanes or tearing down some 60 buildings to make room for an expanded transportation corridor. They opted for the former as the less disruptive of the pair. The decision was not taken lightly, says Smith, who stresses that the new, reduced lanes will still be wide enough to accommodate service vehicles.
Nevertheless, when faced with what they see as two bad options, many South Phoenix residents have come to reconsider the desirability of light rail itself. They've found an enthusiastic ally in City Councilmember and light rail critic Sal DiCiccio.
"It's completely inefficient. It's 1800s technology in the age of Uber and Lyft and ridesharing," says DiCiccio, telling Reason the costs of light rail are simply not worth it in a car-centric city like Phoenix.
The numbers support his point: Valley Metro spent $1.4 billion building its initial 20-mile light rail line, and it saw an average of 45,000 boardings a day in May 2018, down 7 percent from last year. By comparison, segments of Central Avenue carry about 25,000 vehicles a day.
Assuming each of those boardings represents an individual rider, Phoenix's light rail system carries about 1 percent of the region's 4.5 million people each day.
In 2016 the system clocked 104 million passenger miles (the sum of all miles travelled by every train rider.) That's compared to the roughly 32 billion vehicle miles travelled on Phoenix-area roads in the same year. Going by this measurement, light rail serviced about .002 percent of the region's ground transportation needs.
Whatever it might lack in customer volume, light rail more than makes up for with the economic development it brings, says Smith.
"We've seen development in places where there hasn't been development in thirty years," Smith claims. Some $8.2 billion in investment has gone in along Phoenix's existing light rail line (three-quarters of it private investment) since construction first started in 2005. Extending light rail out to South Phoenix will give that region a slice of this prosperity, Smith insists.
In response to mounting criticism, the City Council this week voted to ask Valley Metro to study alternatives to the current two-lane configuration. They hope to find a way to make everybody happy.
DiCiccio is less optimistic. He wants to put the South Central expansion to the test on a city-wide ballot initiative.
"It's total bullshit," DiCiccio tells Reason. He maintains that light rail will be a disaster for South Phoenix. "These small businesses are going to be out of business. How do they survive on one lane in each direction?"