Trump Rails Against Elites, Hecklers in Minnesota: Reason Roundup
Plus: White House wants Labor and Education to merge.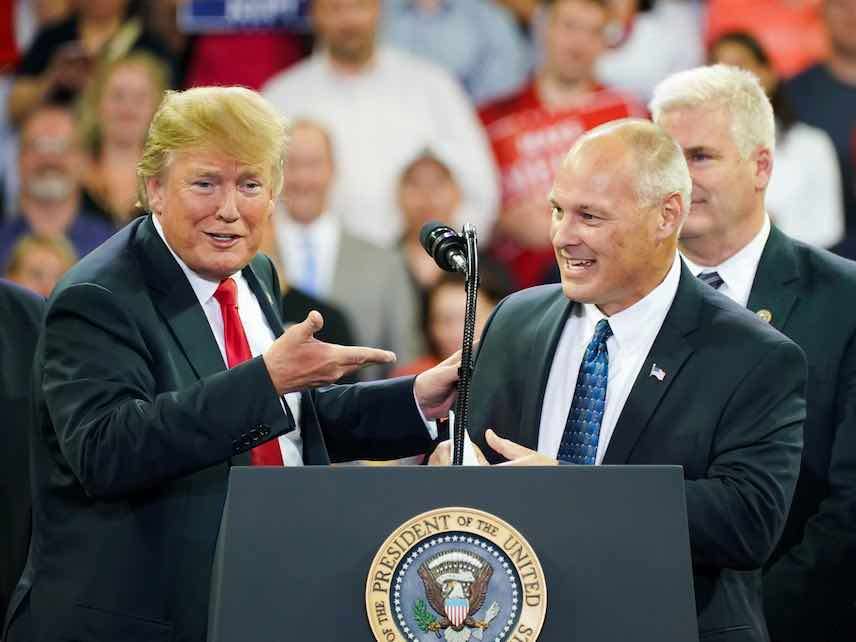 President Donald Trump rallied some of his most hardcore fans during a speech in Duluth, Minnesota, last night.
If this was a bad week for Republicans, it hardly showed on Trump's face. The president praised himself for meeting with North Korean president Kim Jong Un, promised to build the border wall, and assailed societal elites—who aren't even that elite, in Trump's view. "Why are they elite?" asked Trump. "I have a much better apartment than they do. I am smarter than they are. I am richer than they are. I became president and they didn't." (Why, it's almost as if Trump is himself one of the elite.)
Hecklers interrupted the president at least twice. Trump mocked one of them, joking that he couldn't tell whether the protester was a man or a woman.
The audience chanted "lock her up" when Trump talked about "crooked" Hillary Clinton. They also shouted, "CNN sucks!"
The speech concluded a day in which the president signed an executive order ending the routine separation of immigrant families who crossed into the country illegally. Children will now be held with their parents, barring extenuating circumstances. It's not clear what will happen to the more than 2,000 children who have already been separated.
An HHS official tells @weijia that there will NOT be special efforts made to reunite children who have already been separated from their families bc of the Zero Tolerance Policy, despite Trumps EO. Process will proceed for minors currently in the unaccompanied children program.

— Jacqueline Alemany (@JaxAlemany) June 20, 2018
According to The New York Times:
The president's four-page order says that officials will continue to criminally prosecute everyone who crosses the border illegally, but will seek to find or build facilities that can hold families—parents and children together—instead of separating them while their legal cases are considered by the courts.

But the action raised new questions that White House officials did not immediately answer. The order does not say where the families would be detained. And it does not say whether children will continue to be separated from their parents while the facilities to hold them are located or built.

Officials on a White House conference call said they could not answer those questions.
Former President Baarck Obama spoke out on Wednesday about the injustice of the Trump adminstration's treatment of immigrant children. The Obama administration also separated immigrant children from families—albeit on a much more limited, case-by-case basis.
FREE MINDS
Meanwhile, conservative pundits retreated to familiar anti-anti-Trump territory. The actor Peter Fonda tweeted a series of (subsequently deleted) vile statements about Barron and Melania Trump, White House Press Secretary Sarah Huckabee Sanders, and Homeland Security Secretary Kristjen Nielson. And conservatives pounced:
Actor Peter Fonda (@iamfonda) has since deleted his tweets calling for:
• The kidnapping & rape of the president's 11 year-old son

• Sarah Sanders children to be kidnapped

• DHS Sec Nielsen to be caged naked & raped in public while being filmed

Here they are forever: pic.twitter.com/otz5RmDKFn

— Benny (@bennyjohnson) June 20, 2018
Dear @TwitterSafety & @jack,

Does being investigated by the Secret Service for multiple kidnapping & rape threats against WH staff & children get you unverified?

Asking for the entire platform. https://t.co/7iv93uKthF

— Benny (@bennyjohnson) June 20, 2018
FREE MARKETS
The White House will propose a merger of the Education and Labor Departments, The Wall Street Journal reports:
Lawmakers have shown reluctance to embrace such plans in the past, and Congress has limited time for major legislation before the November midterm elections. Previous proposals to eliminate agencies, including the departments of education and energy, have made little headway.

Streamlining the executive branch has been a longtime conservative goal. The new plan also meshes with the administration's priority of retooling higher-education programs to train students more directly to join the workforce.
It's difficult to imagine that Republican leaders will show much enthusiasm for such a drastic change, though anything is possible in the age of Trump. And while eliminating cabinet-level departments always sounds excellent, simply merging the two bloated bureaucracies—which is the mostly likely outcome, if this happens at all—is a half-measure. And of course, libertarians would rather see both abolished outright.
QUICK HITS
Splinter doxed Stephen Miller, sharing his cell phone number on social media. Miller, a Trump adviser and alt-right adjacent figure, is widely seen as the brains behind Trump's nationalist approach to immigration.
Twitter made the (reasonable, in my view) decision to suspend users who shared the article, given that doxing violates Twitter's terms of service.
New York magazine's Jesse Singal was attacked by Lena Dunham, Jezebel, et al. for daring to write about the nuances of gender dyspohira. The Stranger's Katie Herzog comes to his defense.
Canada is legalizing recreational marijuana.
From Rep. Justin Amash (R–Mich.):
House Republicans had front row seats to @POTUS's dazzling display of pettiness and insecurity. Nobody applauded or laughed. People were disgusted. https://t.co/FvmDCxElgv

— Justin Amash (@justinamash) June 20, 2018
Correction: This post originally gave the wrong first name for Peter Fonda. The error has been fixed.