Trump, Congress Have No Idea Who Should Fix Immigrant Family Separation: Reason Roundup
PLUS: Initiative 77 passes, D.C.'s restaurant scene despairs.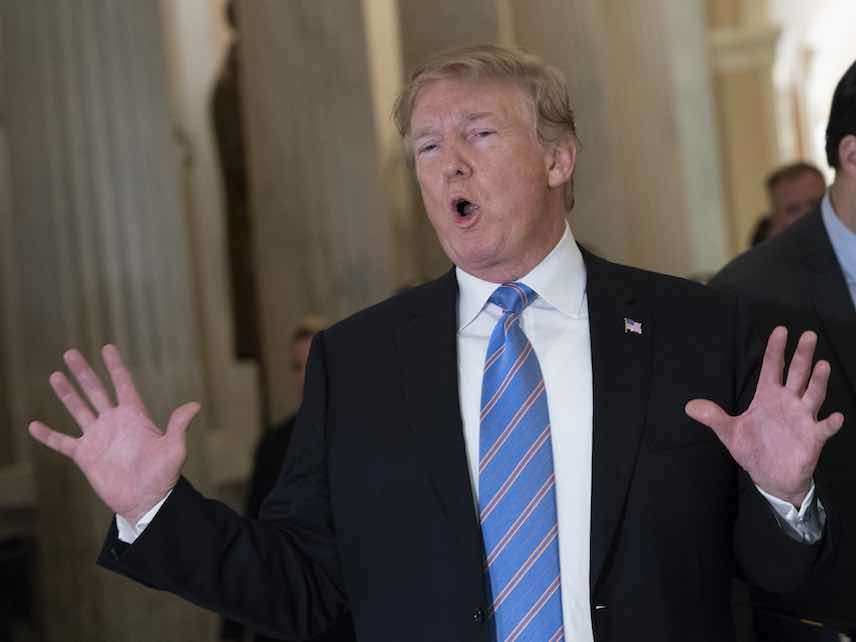 President Donald Trump met with congressional Republicans last night to discuss options for addressing the routine separation of immigrant families who enter the country illegally. But nobody is quite sure what Trump wants, which is a problem. Republicans don't want to do anything without his stamp of approval, and Democratic leadership appears to be in no hurry to fix a problem that could significantly damage Republican chances in the midterms.
"There's no need for legislation," Senate Minority Leader Chuck Schumer (D–N.Y.) said yesterday, explaining why he opposed a bill from Sen. Ted Cruz (R–Tex.) that would add additional immigration judges so that asylum cases could be heard more quickly. "Mr. President, you started it, you can stop it, plain and simple."
Top Senate Dem preemptively comes out against all GOP proposals on family separation issue. "Schumer said they want to keep the focus on Trump."

Rejecting compromise solutions looks cynical amid humanitarian crisis. Is this about the kids, or Trump? https://t.co/y0oom8ayYH

— Guy Benson (@guypbenson) June 19, 2018
Some Republicans, though, agree that the best short term fix is a presidential decree, rather than new legislation. "The White House could change it in five minutes and they should," said Sen. Lamar Alexander (R–Tenn.) "It's a mistake. It's a change in policy by this administration."
Alan Dershowitz, a Harvard University law professor who has often defended Trump in the context of the Russia investigation, told Fox & Friends that the president absolutely had the authority to end the separation policy, and should do so immediately.
More than 2,000 immigrant children are currently being held in detention facilities, away from their parents who are awaiting asylum hearings or deportation. That's because the Trump administration has taken a zero-tolerance approach to enforcing immigration law, and has pledged to prosecute every single person who enters the country illegally.
Homeland Security Secretary Kirstjen Nielsen dealt with some blowback while she was having dinner at a Mexican restaurant in Washington, D.C., last night. Activists with the D.C. chapter of the Democratic Socialists of America confronted her while she was eating. "You can't enjoy your dinner until you reunite all of those families!" they shouted at her.
And former Trump campaign manager Corey Lewandowski came under fire for his jarringly callous response to news that a 10-year-old with Downs syndrome had been separated from parents.
FREE MINDS
The College Fix has a writeup of Heterodox Academy's inaugural "Open Minds Conference," which featured panel sessions about free speech and open inquiry on college campuses:
A long, wide-ranging discussion about free speech and campus politics featured academics like Alice Dreger and John McWhorter, the latter of whom observed that, around 2014, open discussions became harder in his classes.

"It got to the point that a certain minority of students could swerve or even staunch discussion with what's called the social justice warrior ideology," he said. That ideology, McWhorter said, has become "a religion."

Dreger, who resigned her position at Northwestern University rather than withdraw a controversial article from a bioethics journal, has for years advocated ideological pluralism in higher education.

"What we need is a new kind of branding in universities, where the brand is about diversity of opinion and diversity of viewpoints," Dreger said.
Heterodox Academy was started by New York University professor Jonathan Haidt, a contributor to Reason.
FREE MARKETS
D.C. voters approved Initiative 77, which would raise the minimum wage for restaurant workers. Many in the industry—including many workers—stridently opposed the move, because tipped employees can actually earn well above the minimum wage, absent government interference. According to The Washington Post:
Restaurant associations and owners who bankrolled the opposition campaign said that the tipped-wage system helps them stay open in an industry where profit margins are slim and that the passage of Initiative 77 could lead to higher prices, layoffs and shuttered businesses. Perhaps surprisingly, hundreds of workers agreed that a higher base wage could threaten their livelihoods and mobilized against the measure.

"I can't lie, I am disappointed. I trust that the council will listen to the tipped employees of D.C. and take action to protect our voices, which have been loud and clear," said Dawn Williams, a 32-year-old server at Daikaya who said she makes more than $30 an hour. "The intentions seem good on paper, but it will hurt us and our burgeoning, diverse restaurant industry."
All is not lost for opponents of the measure, however: the city council could vote to void it. Ten of 13 city council members came out against Initiative 77, as did Mayor Muriel Bowser.
QUICK HITS
#sobrave: The co-creator of Fox's TV series Modern Family will be leaving the network in protest of Fox News' evilness—as soon as he's done making bank.
Embattled FBI agent Peter Strzok was escorted out of the building yesterday.
Trump couldn't resist taking one more swipe at Mark Sanford.
George Mason University's Tyler Cowen explains why it's also wrong—and often unnecessary—to separate American families while parents await trial.
Behold:
that terrible racism dog account had to delete this tweet, because that's not the kind of racism their followers are interested in pic.twitter.com/Vt8NnXqcnP

— Alex Griswold (@HashtagGriswold) June 19, 2018