Senate Can't Muster Votes to Trim 0.08 Percent of Federal Budget
Trump's plan to cut $15 billion in spending really would have cut only about $1.1 billion. Its rejection is depressing anyway.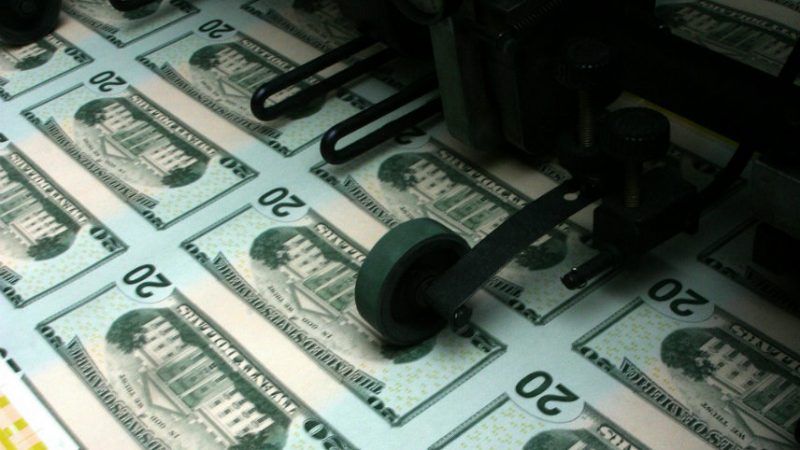 A bill backed by the White House that would have cut a modest $15 billion in federal spending authority fell two votes shy of passage in the Senate on Wednesday.
As I explained when the bill cleared the House two weeks ago, the so-called "rescission" package actually cut just $1.1 billion in federal spending, with those cuts spread over the next 10 years. The rest of the supposed cuts were the result of sweeping up unused budgetary authority from various departments and agencies in the current budget.
The $1.1 billion in spending cuts would have amounted to about 0.08 percent of the $1.3 trillion spending bill passed by Congress and signed by President Trump in March. The federal government spends 40 times as much every year fighting a pointless war in Afghanistan. It spends 100 times as much every year on fraudulent Medicaid claims. In the context of the federal budget, $1.1 billion isn't just a drop in the bucket; it's a bucket in an ocean.
In fact, according to the Congressional Budget Office's analysis of the bill, the cut in the current fiscal year would have been just $57 million. Most of the cuts would apply to the next three fiscal years, with a not-so-whopping $368 million trimmed from next year's proposed spending levels the biggest single-year slice.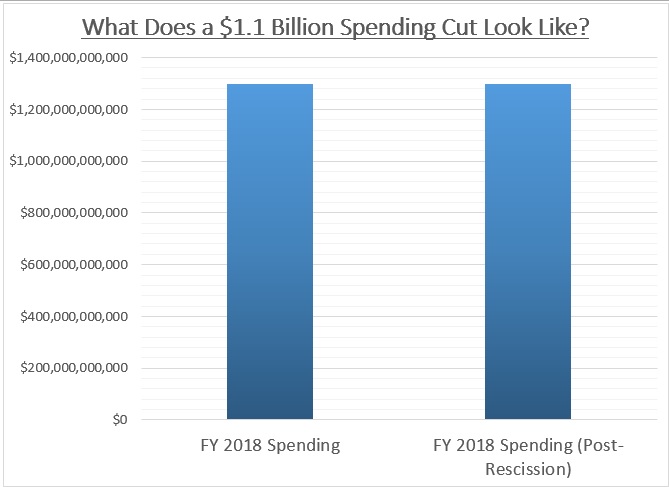 Even that cut was too much for the Senate to handle. Sens. Richard Burr (R-N.C.) and Susan Collins (R-Maine) were the only two Republicans who voted Wendesday against discharging the bill from committee. Sens. John McCain (R-Ariz.) and Jeanne Shaheen (D-N.H.) were absent. Collins told The Hill she believed Congress should "comb through" the spending cuts via the appropriations process, while Burr said he voted no because leadership would not commit to letting him amend proposed cuts to the Land and Water Conservation Fund.
That's a pretty good illustration of why cutting spending in Washington is all but impossible. The rescission bill was little more than "a modest show of good faith to taxpayers," as Bill Riggs, a spokesman for Americans for Prosperity, called it. Given the chance to demonstrate a willingness to cut just a modicum of the federal government's runaway spending, Burr and Collins found reasons to vote against the bill. There are always reasons to oppose cuts, but how can Congress make the tough decisions required to control a $21 trillion (and growing) national debt when it can't make easy decisions like this?
Probably the most politically difficult part of the rescission bill was the inclusion of $7 billion in spending reductions for the Children's Health Insurance Program (CHIP). Senate Minority Leader Chuck Schumer (D-N.Y.) seized on that part of the proposal as an opportunity to blame Trump and the GOP for "going after health care dollars that millions of children rely on, especially during outbreaks of the flu and other deadly illnesses." But the congressional authorization to spend that money expired in September, and Congress provided a new funding stream for CHIP as part of the budget deal passed earlier this year. Wiping out this spending authority would not have affected CHIP's ability to provide services to anyone.
If Republicans aren't going to be serious about fiscal discipline, Democrats are not about to take their place. "I am disappointed by this Congress' failure to even pretend it takes fiscal responsibility seriously," said Sen. Rand Paul (R-Ky.) in a statement after the vote. "It is time for Congress to grow up and acknowledge that government won't be able to do anyone any good or fund any politician's priority when it goes broke."