Trump Signs Executive Order Reversing Family Separation Policy
The administration says it will continue its "zero tolerance" approach to illegal immigration.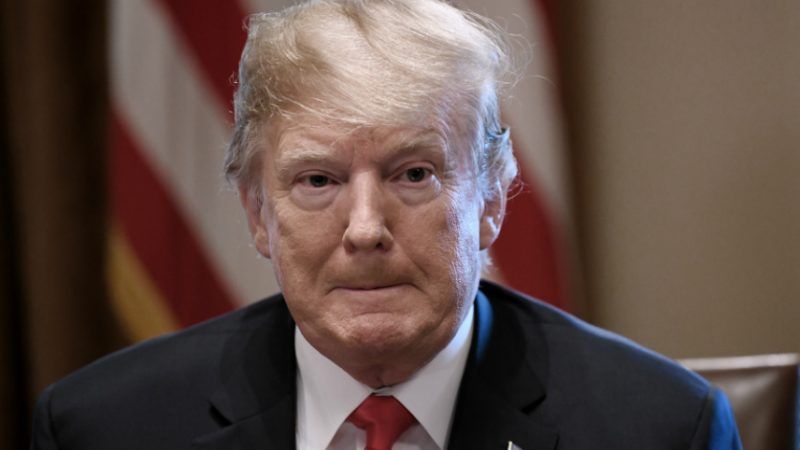 (Abaca Press/Douliery Olivier/Abaca/Sipa USA/Newscom)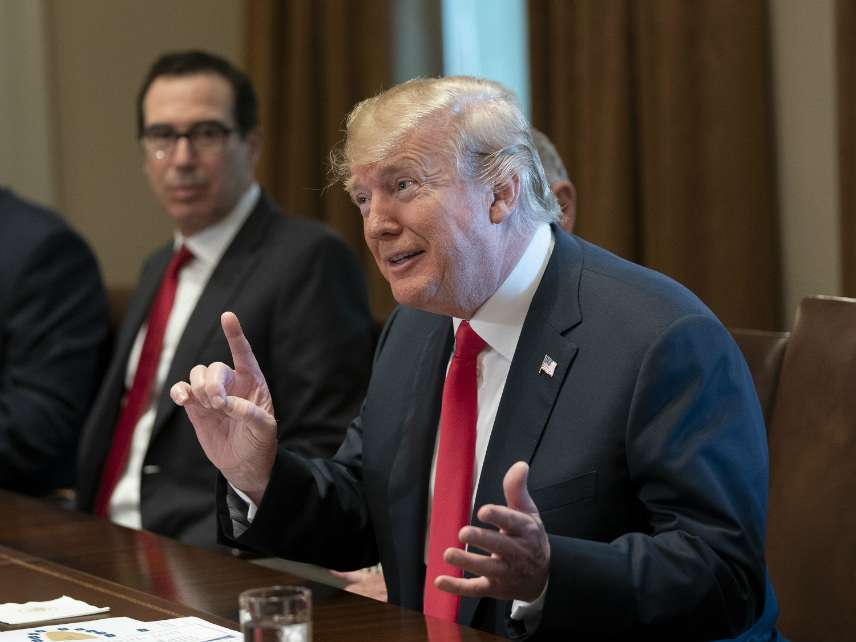 Today President Donald Trump signed an executive order that purports to end the separation of migrant families while maintaining his administration's "zero tolerance" approach to illegal border crossing. "We want security and insist on security for our country," Trump told reporters at a White House briefing. "At the same time, we have compassion. We want to keep families together. It's very important. I'll be signing something in a little while that's going to do that."
Some 2,300 children have been separated from their parents and held in cage-like juvenile detention facilities in the last month, thanks to the Trump administration's policy of criminally prosecuting every adult detained on suspicion of illegally crossing the U.S.-Mexico border. Under today's executive order, those prosecutions will continue, but the defendants with children won't be automatically separated from them. The order says "it is also the policy of this Administration to maintain family unity, including by detaining alien families together where appropriate and consistent with law and available resources."
Until today, the Trump administration had argued both that it had no family separation policy and that the law required it to break up families in order to prosecute the parents. "Congress and the courts created this problem, and Congress alone can fix it," Homeland Security Secretary Kirstjen Nielsen said at a press conference on Monday.
Trump's executive order maintains this argument while backtracking on the policy it was used to defend. "It is unfortunate that Congress's failure to act and court orders have put the Administration in the position of separating alien families to effectively enforce the law," says the order, which is titled "Affording Congress an Opportunity to Address Family Separation."
The court orders to which Trump refers require the government to place immigrant children in federal custody with an adult guardian "without unnecessary delay" (typically within 20 days) and to keep children who are in federal custody in the "least restrictive conditions" possible. Trump's executive order instructs Attorney General Jeff Sessions to request an amendment to these decisions that would allow the government to hold families in detention together while criminal charges against the parents run their course.
Two legislative proposals in the Senate would make any temporary suspension of family separations more permanent. Sen. Dianne Feinstein (D-Calif.) has introduced a bill that would bar the separation of families unless there is clear evidence that children are being abused or trafficked. Sen. Ted Cruz (R-Texas) is sponsoring similar legislation that would prohibit family separation, expand family detention centers, and provide more immigration judges to adjudicate asylum claims. Senate Minority Leader Chuck Schumer (D-N.Y.) has said legislation is unnecessary, since the president already has the authority to stop family separation.
Trump's executive order gives Nielsen the authority to construct new family detention centers as needed, and it instructs Sessions to prioritize the adjudication of immigration cases involving families. The order leaves open the possibility that some family separations could continue. The government will not detain families together when there is "concern that detention of an alien child with the child's alien parent would pose a risk to the child's welfare" or when "available resources" do not allow it. The three family detention centers the federal government currently maintains are reportedly near capacity.
Trump's order does not say whether families that have already been separated will be reunited.