Iowa Farmers Could Lose $620 Million From U.S.-China Trade War
Commodities are falling across the board, but soybean farmers are taking the brunt. What's happening in Iowa is the perfect demonstration of why trade works.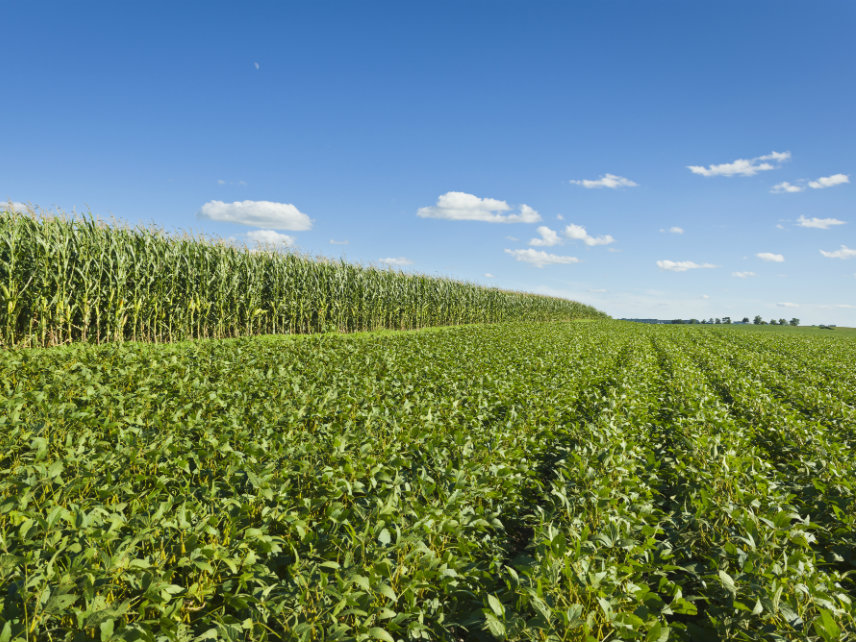 From small town Iowa farmers to big shot Wall Street traders, President Donald Trump's President Donald Trump's embrace of economic protectionism and trade war brinkmanship is raising the specter of financial losses.
Soybean farmers in the Midwest state stand to lose more than $620 million this year, according to Iowa State University economist Chad Hart, as China targets the crop with tariffs in response to the Trump administration's announcement last week that it would go ahead with a plan to slap tariffs on $50 billion in Chinese imports.
"Any tariff or tax put in place will have a significant impact, not only to the U.S. soybean market, but to Iowa's because we're such a large producer," Hart told The Des Moines Register for the paper's front-page story on Saturday. "It will slow down the market."
Even a minor slow-down adds up quick, because of the sheer size of the American soybean market. Farmers planted more than 89 million acres of soybeans across the United States in 2018, making it the most widely planted crop in the U.S. this year—yes, ahead of even the heavily subsidized corn crop—according to an annual survey by the Department of Agriculture.
If the Chinese market closes, "it could be devastating for local communities across the Midwest," said Sen. Chuck Grassley (R-Iowa) last month. "It's also important to remember that when trade barriers go up, alternative sources of goods are found, and new trading relationships develop. A temporary setback could quickly develop into a permanent loss."
America is the world's biggest producer of soybeans and the world's largest exporter of them. In 2015, nearly half of the U.S. soybean crop was exported. Meanwhile, China is the world's largest importer of soybeans, buying more than $14 billion of American-grown soy last year. China purchases 61 percent of total U.S. soybean exports and more than 30 percent of overall U.S. soybean production, according to the American Soybean Association, a trade group.
Asked about the front-page Register story during an appearance Sunday on NBC's Meet The Press, White House counsel Kellyanne Conway disagreed with host Chuck Todd's suggestion that the tariffs could create a "political problem" in the Midwest.
"Many [Midwestern farmers] are very supportive of President Trump because they like his policies when it comes to the tax cuts, the deregulation," Conway said. "This will play out over time, but he's tired of the American workers getting screwed."
The situation in Iowa is a perfect illustration of how trade between nations makes both parties better off, while erecting barriers to trade hurts both sides. The Trump administration is trying to sell their tariff plans as a way to punish China for unfair trade practices, but in reality tariffs are taxes on consumers—that is, American consumers buying Chinese products—and already the tariffs are forcing price increases across several sectors of the economy. If China is being pushed, Americans are getting hit too.
When it comes to soy, the obverse is true. China is hitting American farmers with reciprocal tariffs, which will cut off supplies to Chinese consumers and likely raise prices while creating a crisis for American exporters who will now have to find alternative markets—hence the $620 million projected loss.
Other commodities are being hit too. The Wall Street Journal reported over the weekend that benchmarks for crude oil, gold, copper, aluminum, lead, and cotton all fell at least two percent Friday after the White House announced that it would go ahead with Chinese tariffs and the Chinese government responded with threats of the same.
The commodity markets have enjoyed their best year since 2002, but it appears the tide is shifting amid fears of a devastasting trade war.
"We now have potential for a full-blown trade war," Bart Melek, head of commodity strategy at TD Securities, told the Journal. "If I was an investor who made money, I may want to cash out here."
For the farmers who have already planted this year's crop, unfortunately, cashing out isn't really an option.