As Evidence of Higher Prices Mounts, Trump Announces Yet More New Tariffs
Prices for steel, washing machines, and lumber spiked after Trump imposed tariffs on them. This time it will be different, right?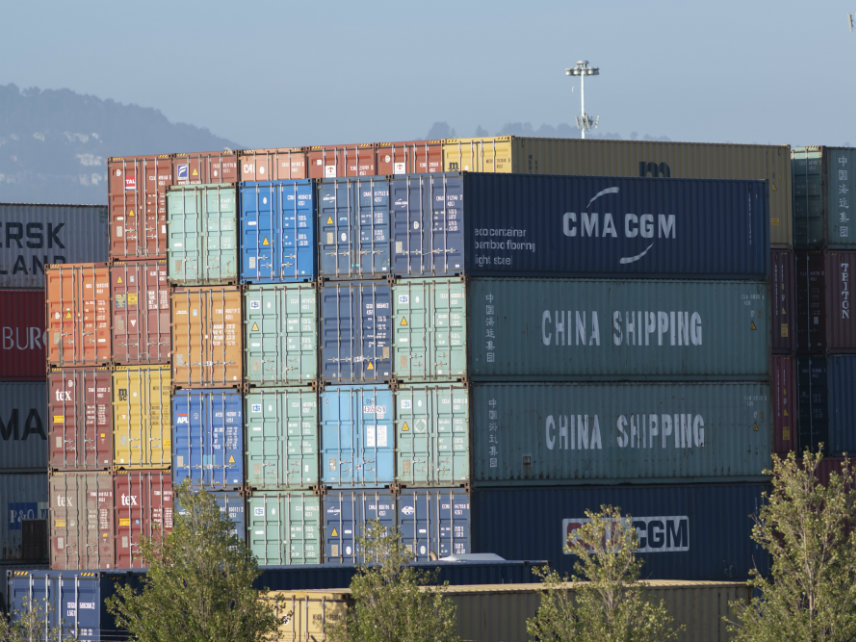 The trade war between Washington and Beijing escalated again today. President Donald Trump announced a new round of tariffs on Chinese imports, and the Chinese government immediately responded with threats of new tariffs on American goods.
Trump's new 25 percent tariffs will target $50 billion in Chinese imports across a wide variety of industries.
"These tariffs are essential to preventing further unfair transfers of American technology and intellectual property to China, which will protect American jobs," Trump claimed in a statement. "In addition, they will serve as an initial step toward bringing balance to the trade relationship between the United States and China."
As Reason has noted repeatedly, tariffs are unlikely to be an effective tool in getting China to stop infringing American intellectual property. They are also unlikely to "protect American jobs." And the trade imbalance between the United States and China is not as big of a problem as the president seems to believe it is.
But those tariffs will have an effect on the domestic economy.
"Although this trade action is often referred to in shorthand as imposing 'tariffs on China,' it is in reality a policy of 'taxes on Americans,'" points out Bryan Riley, president of the National Taxpayers Union. "It is American taxpayers—businesses and workers—who will literally pay for these tariffs."
That's why dozens of businessmen and businesswomen from across the country came to Washington, D.C., last month to beg the administration to abandon its ill-conceived plan to tax Chinese imports. Those efforts were apparently in vain.
The consequences of tariffs are not theoretical. Last year, Trump slapped tariffs on Canadian lumber, despite warnings from the construction industry that they would inflate the price of housing. That's exactly what's happened:
Who's paying for those lumber tariffs Trump imposed? We are. Homebuilders anticipate over 9k in lost jobs and a price hike on homes of over $6k @Morning_Joe pic.twitter.com/6tWPIpg9bv

— Steven Rattner (@SteveRattner) June 13, 2018
Earlier this year, the Trump administration put new tariffs on imported washing machines. Prior to the tariffs, the price of a new washing machine had fallen to an historically low level. Since then, well, this: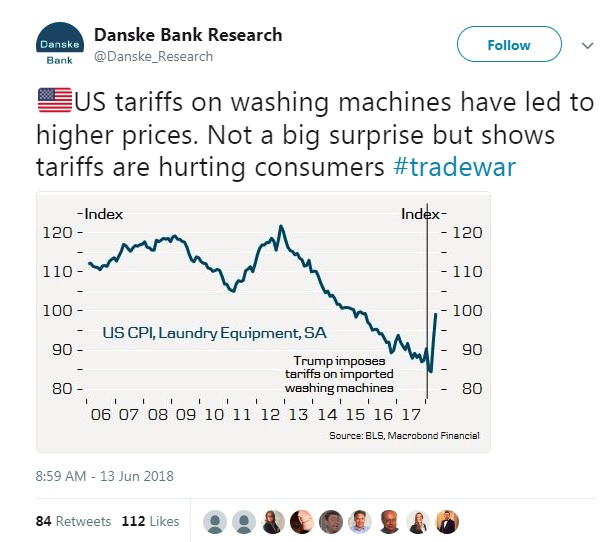 Similarly, Trump's tariffs have increased the price of steel and aluminum, which in turn has increased production costs for myriad American businesses and left those same businesses at a competitive disadvantage against foreign competitors. Another wave of tariffs against thousands of Chinese goods—not to mention the retaliatory tariffs from China—will do further damage to American farms and businesses.
As part of the tariff announcement this morning, the White House promised to "pursue additional tariffs if China engages in retaliatory measures, such as imposing new tariffs on United States goods, services, or agricultural products."
That doesn't appear to bhave deterred Beijing. Within hours of the White House's announcement, the Chinese government issued a statement threatening to "immediately introduce taxation measures of the same scale and the same strength," CNBC reports. "All the economic and trade achievements previously reached by the two parties will no longer be valid at the same time."