Pennsylvania's Governor Calls for Abolishing 13 Occupational Licenses
Does Pennsylvania need to license barbers? How about "campsite membership salespersons"? Gov. Tom Wolf says no.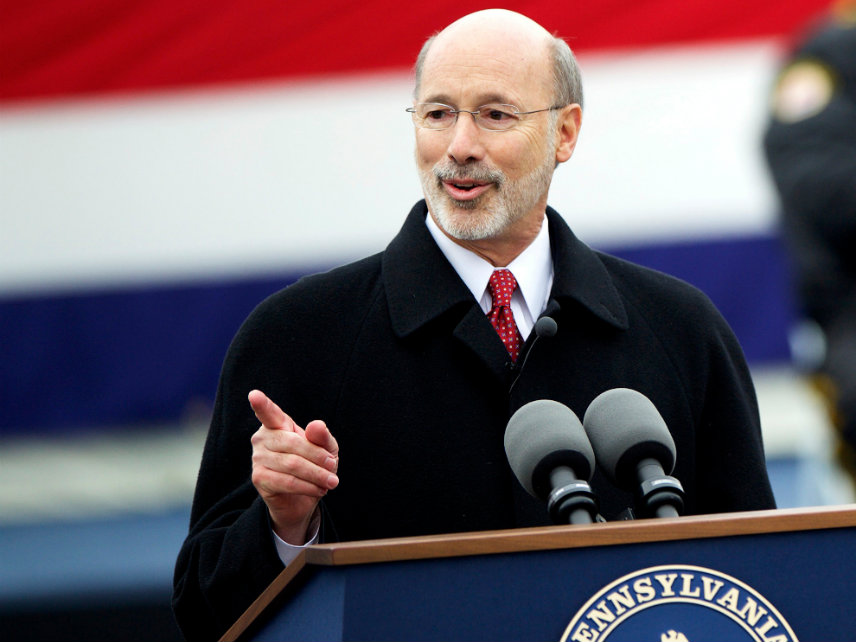 Being a barber, an auctioneer, or even a "campground membership salesperson" in Pennsylvania requires a state-issued license.
That should change, says Gov. Tom Wolf.
Wolf, a Democrat, called Thursday for the state legislature to abolish 13 occupational and professional licenses, following the completion of a year-long review of Pennsylvania's licensing laws. In place of some of those licenses, the Wolf administration says workers could be required to register with state boards. For others, such as hair-braiders, the administration has recommended eliminating the state's role entirely.
"Requiring a government license to work in certain jobs helps to keep all of us safe, but those requirements should be fair," said Wolf in a statement.
There are more than 1 million licensed workers in Pennsylvania, representing about 20 percent of the state's workforce. Wolf's proposals are more limited than the licensing reforms passed this year in Louisiana and Nebraska, but they're another sign of the rebellion against onerous licensing laws.
The Pennsylvania Chamber of Commerce welcomes policies that "remove barriers to work, simplify the process for individuals entering the workforce, and make it easier for employers to fill positions," says Gene Barr, president of the Chamber. "As with any shift in policy, the details matter. We are still reviewing the reforms outlined by the Wolf administration."
Wolf also asked lawmakers to ease licensing requirements for military spouses, who run the risk of losing their state-issued permission slips if they have to move across state lines.
As Reason has previously noted, licensing rules can be particularly problematic for military families. According to the American Legion, more than 35 percent of military spouses work in professions requiring state occupational licenses. Military families are 10 times more likely to relocate across state lines than civilian families in similar professions, according to the Department of Labor.
The state will pursue options including licensing reciprocity—accepting out-of-state licenses as legal for work in Pennsylvania—and will look to streamline in-state licensing rules for military families. Those are good places to start, but the same changes should be applied to all workers, not merely to a privileged class of individuals connected to the military.
Wolf also called for the passage of "Second Chance" legislation to ease licensing requirements for individuals with criminal records. Specifically, Wolf wants to repeal Pennsylvania's automatic 10-year ban on licensing for anyone convicted of a drug felony. The 13 state boards that rely on that ban could consider criminal history as part of an overall decision about whether to license an individual, but would not be able to block an application merely because of a drug conviction.
This is a crucial aspect of licensing reform—and one that has caught on, with at least 12 states passing similar bills this year—because having a job is the best indicator of whether someone with a criminal record will commit another crime. Blocking individuals with criminal histories from a wide range of professions is counterproductive for both the economy and the criminal justice system.
Wolf isn't pushing anything that goes beyond what other states have done, but his middle-of-the-road proposals should not face much hostility from the Republican-controlled General Assembly. Elsewhere, licensing reform has been a bipartisan project, and it will have to be the same in Pennsylvania.