Movie Review: Incredibles 2
Still super.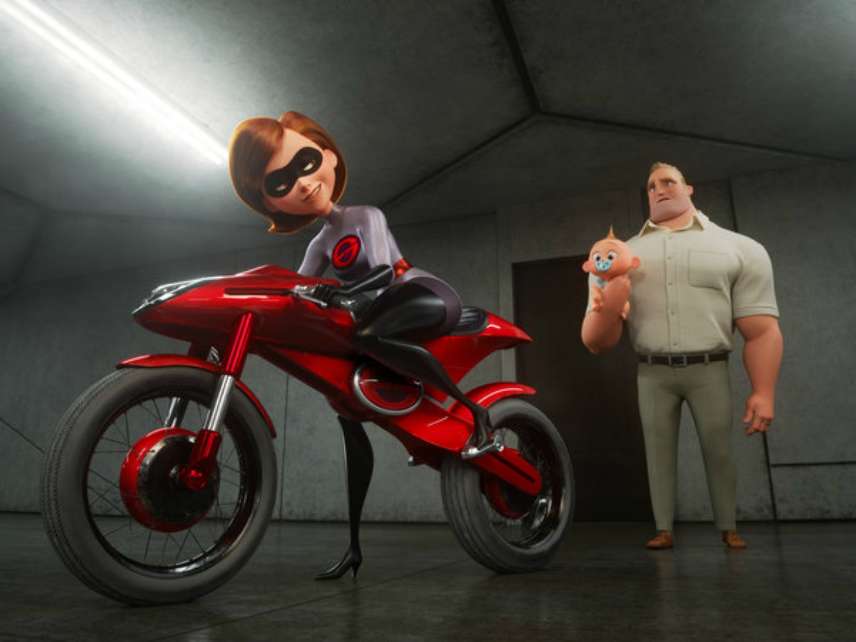 After a sabbatical of several years in live-action land, where he made Mission: Impossible – Ghost Protocol (huge hit) and Tomorrowland(not so much), writer-director Brad Bird is back at the helm of a big Pixar animated feature—for which we should offer thanks to whatever popcorn gods are in charge of such things. Bird's Incredibles 2 is of course the long-delayed sequel to his 2004 classic The Incredibles, that dazzling fusion of superhero pandemonium, familial warmth, and '60s spy-movie flourishes. This new one, I'm happy to report, brings us more of that.
However, because seeing and being knocked out by Bird's iconic super-family for the first time is not an experience that can be repeated, Incredibles 2 doesn't push quite as many pleasure buttons as its predecessor. But it comes close. And even if it once again replicates a common flaw of live-action superhero blockbusters—the overextension of endless chaotic action scenes—the movie's computer animation is of such very high quality that complaints about this seem churlish.
The movie picks up where the first film ended, in an attack by the Underminer, a blithely ridiculous supervillain equipped with an earth-boring machine. Much collateral destruction is caused, which is extra-bad because superheroes are still banned at the behest of an ungrateful populace. So the Incredibles are still on the down-low. Mr. Incredible (voiced by Craig T. Nelson) is back to his real-world identity of Bob Parr; his partner Elastigirl (Holly Hunter) is once again Bob's plain old wife Helen; and their kids have returned to their civilian roles, too—teen daughter Violet (Sarah Vowell), whose secret super-specialty is invisibility; little brother Dash (Huck Milner), who races around at super speed; and baby Jack-Jack (Eli Fucile), who…well, he hasn't displayed any powers yet.
A ray of hope penetrates the Parrs' dull muggle life when they're contacted by a tech bazillionire named Winston Deavor (Bob Odenkirk). Winston loves superheroes and wants to get the ban against them overturned. He and his sister Evelyn (Catherine Keener) run a communications company called DevTech, and they've put together a PR plan to start recording superhero exploits with bodycams, which will provide up-close demonstrations of the super-community's usefulness. However, after running some cost-benefit calculations, Evelyn decides that Mr. Incredible is too much of a rage monkey to be allowed to take part in this program, so she chooses Elastigirl to be the face of it instead. Helen can't believe this is happening, and she's exultant.
Bob, on the other hand, is deeply bummed by his demotion, and a lot more than a little jealous as his wife aces her first assignment, roaring off on a motorcycle in pursuit of a runaway train. (The acrobatic action and madly shifting perspectives here are wildly, wonderfully complex.) Meanwhile, back in the swank digs where Winston has stashed the rest of the Parr family, we see Bob—like millions of mothers throughout many millennia—being driven nuts by the ever-needy kids: Violet is mooning around over a boy she fancies, Dash wants to start fighting supervillains himself, and Jack-Jack—well, it turns out he does have special powers after all. Bob seeks babysitting help from the diminutive fashion guru Edna Mode, of all people (she's voiced once again by Brad Bird himself), and eventually he's reunited with his family, and his frost-breathing super-pal Frozone (Samuel L. Jackson), to do battle with a new menace—a mysterious villain called the ScreenSaver, who has the ability to hijack people's minds by hacking into the screens they spend so much of their lives staring into.
Yes, this is a story with social resonance—the shifting roles of men and women, our growing technological overload—but it doesn't bat us over the head with "messages." The movie charms us with its super-characters and their very human concerns, and wows us with its digital detail—the gleam of mini ice cubes in a glass, the very slight swell of a chest beneath taut Spandex. Bird is an artist so madly enamored of animation that he seems to have created one elaborate action sequence here, involving baby Jack-Jack and a frantic raccoon, just for fun. It exists for no other reason than to be incredible.