Manafort Sent to Jail over Accusations of Witness-Tampering
Bail revoked for breaking one of the fundamental rules: Don't meddle with the court case.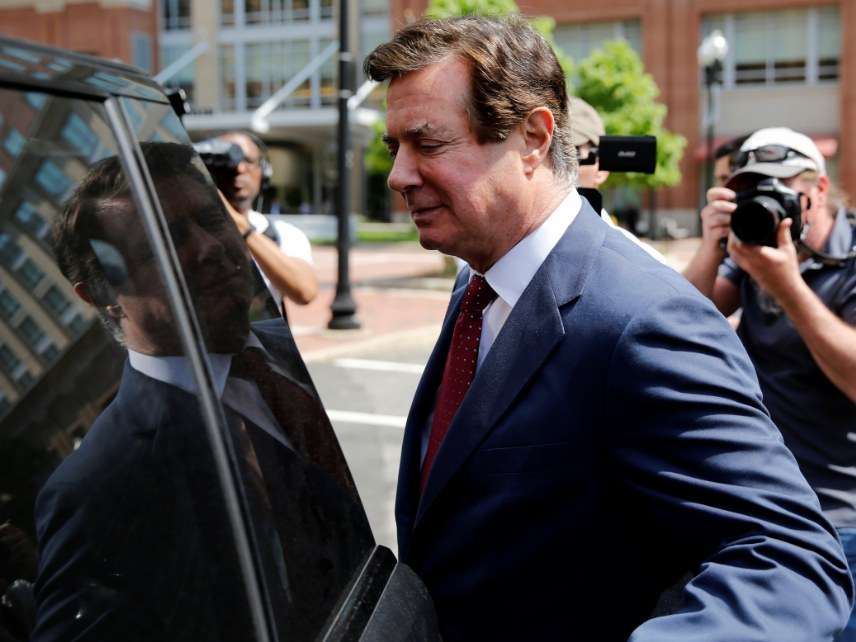 Paul Manafort, formerly President Donald Trump's campaign manager, is heading to a jail cell after a judge revoked his bail today.
Manafort faces a host of federal charges. He is accused of concealing millions of dollars in income while representing pro-Russian political interests in Ukraine, and of not properly reporting this money to the IRS. When he was initially charged in February, he was granted bail.
Bail comes with conditions, like not committing any additional crimes while you're free and not contacting or otherwise meddling with witnesses. Earlier this month, prosecutors said Manafort broke these conditions by contacting two witnesses and trying to get them to say that Manafort's work lobbying for Ukraine did not include work in the United States. They charged him with a new obstruction of justice complaint and asked for his bail to be revoked.
Today, U.S. District Judge Amy Berman Jackson agreed. The Washington Post reports:
"This is not middle school. I can't take away his cellphone," [the judge] said. "If I tell him not to call 56 witnesses, will he call the 57th?" She said she should not have to draft a court order spelling out the entire criminal code for him to avoid violations.

"This hearing is not about politics. It is not about the conduct of the office of special counsel. It is about the defendant's conduct," Jackson said. "I'm concerned you seem to treat these proceedings as another marketing exercise."
None of the current charges against Manafort connect back to Trump. (As Trump would yell, "No collusion!") It might be worthwhile to remind Trump that Manafort's charges don't connect to him, because he responded to the judge's decision by tweeting in outrage:
Wow, what a tough sentence for Paul Manafort, who has represented Ronald Reagan, Bob Dole and many other top political people and campaigns. Didn't know Manafort was the head of the Mob. What about Comey and Crooked Hillary and all of the others? Very unfair!

— Donald J. Trump (@realDonaldTrump) June 15, 2018
Manafort does not actually have a "tough sentence," or any sentence, because he has not been convicted. But Trump's typical way of misspeaking does inadvertently highlight some serious problems with America's bail system. There are, in fact, hundreds of thousands of Americans sitting in jail cells who have, like Manafort, not yet been convicted of crimes.
While judges frequently keep defendants in jail cells because of concerns that they'll interfere with the trial or because they're flight risks, many others are stuck simply because they cannot afford the financial demands of cash bail. As a result, low-level offenders often end up serving the equivalent of a short prison sentence while sitting in jail waiting for the wheels of justice to turn—or, more frequently, for the defendant to give up and accept a plea deal.
So for some people, not getting bail is equivalent to a "sentence." There is a significant reform push underway to attempt to make pretrial criminal justice less punitive and less likely to demand that people shell out money for the right to be free before their trial. Indeed, the bail reform movement is the subject of Reason's next cover story, for the August/September issue, written by yours truly.
As for Manafort, he'll be facing trial in July and September for his charges. That's a pretty speedy trial when compared to what many others experience.