Mark Sanford Loses Primary, the Nightmares Continue for Trump's Republican Skeptics: Reason Roundup
Plus: a new survey of students' opinions on due process rights, and why it's wrong to reflexively hate all men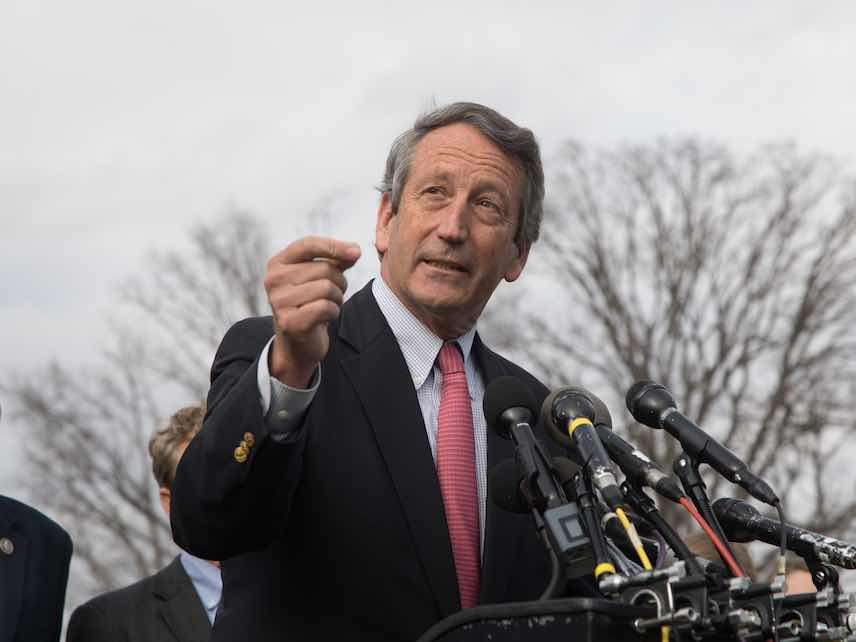 Tuesday's primary results were bad for Republicans in general, but even worse for those on the right who dare to criticize President Donald Trump. Rep. Mark Sanford (R–S.C.), a fiscal conservative whose libertarian leanings made him skeptical of Trump, lost his re-election bid to state Rep. Katie Arrington. (Arrington will face Democrat Joe Cunningham in November.) Sanford conceded late Tuesday night, admitting that "the numbers indicate I am not going to win this race."
The fact that Trump issued a tweet Tuesday afternoon imploring primary voters to pick Arrington over the "very unhelpful" Sanford probably didn't help his chances.
Mark Sanford has been very unhelpful to me in my campaign to MAGA. He is MIA and nothing but trouble. He is better off in Argentina. I fully endorse Katie Arrington for Congress in SC, a state I love. She is tough on crime and will continue our fight to lower taxes. VOTE Katie!

— Donald J. Trump (@realDonaldTrump) June 12, 2018
The former governor is best known for disappearing for several days in 2009. It turned out he had flown to Argentina to spend time with his girlfriend, with whom he was having an extramarital affair. Trump's tweet is a reference to the infamous episode, though the president is certainly in no position to criticize other married men for such mistakes.
Aside from the visit to Argentina, Sanford is remembered for vetoing pork-barrel spending and rejecting stimulus funds with the zeal of a Ron Paul groupee. And he's been increasingly at odds with Trump as of late, frequently voting against the president.
Also in Virginia, Republican voters chose Corey Stewart to challenge Sen. Tim Kaine in November. You may or may not be surprised to learn that Kaine was Hillary Clinton's vice presidential pick in the 2016 election. (Seriously, he's quite forgettable.) You also may or may not be surprised to learn that the challenger, Stewart, was previously pals with some white nationalists and is a big defender of Confederate monuments.
Elsewhere, Democrats picked up a Wisconsin state senate seat in a district that Trump won by 16 points in 2016. All in all, it was a pretty good night for the Democrats, except in South Carolina's 5th Congressional District, where admitted wife-beater Archie Parnell routed his primary opponents to clinch the Democratic nomination. He recently lost all support from the party, and his campaign staff, who resigned en masse.
FREE MINDS
The Foundation for Individual Rights in Education (FIRE) finds that a majority of students support due process protections for those accused of underrage drinking, sexual misconduct, or otherwise breaking rules on campus. The poll, which was released this morning, was conducted by YouGov:
The survey reveals that many college and university policies do not reflect student attitudes toward due process on campus. American students think their classmates deserve many of the procedural protections outlined by FIRE in the 2017 Report. In fact, in all but one situation described in the survey, a majority of student respondents supported the ten fundamental elements of due process highlighted in the 2017 Report….Not only do the vast majority of students think their classmates should have due process rights, but they also feel that these rights are important: 98 percent of students think that it is very important or important that students have due process protections in college.
The key finding: "A majority of student respondents support nine of the ten fundamental elements of due process." Respondents were less supportive of due process when it came to sexual misconduct cases, but solid majorities still backed fundamental fairness.
FREE MARKETS
The AT&T merger with Time Warner is happening—the Department of Justice lost its bid to block the sale on Tuesday. Reason's Scott Shackford describes the federal government's attempt to stop the merger as "ill-advised" and notes that the outcome is undoubtedly good news:
AT&T is a service provider buying up a content producer, making a single, stronger company that's better able to compete. This doesn't produce less competition in the marketplace.
The decision is also a blow to Trump, Berin Szoka tells Politico:
"Trump's meddling in law enforcement actions, his attacks upon particular companies, and his utter unpredictability have created the kind of legal uncertainty common in 'banana republics,'" said Berin Szóka, president the libertarian group TechFreedom. "At least in antitrust law, the courts, not Trump officials, will have the final say on what the law really is."
QUICK HITS