Robert De Niro Has a Tony Tantrum Over Trump: Reason Roundup
Plus: Trump's trade-war antagonization continues, "depressing" European leaders, and Google is making salad emojis "more inclusive."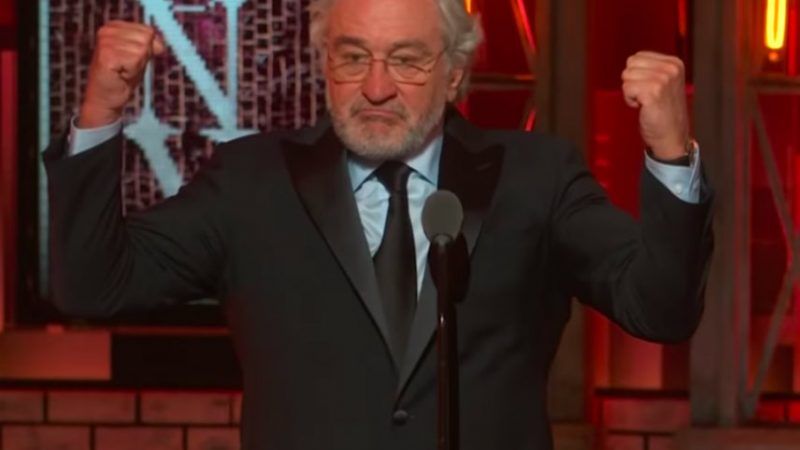 (Screenshot/Tony awards on CBS News)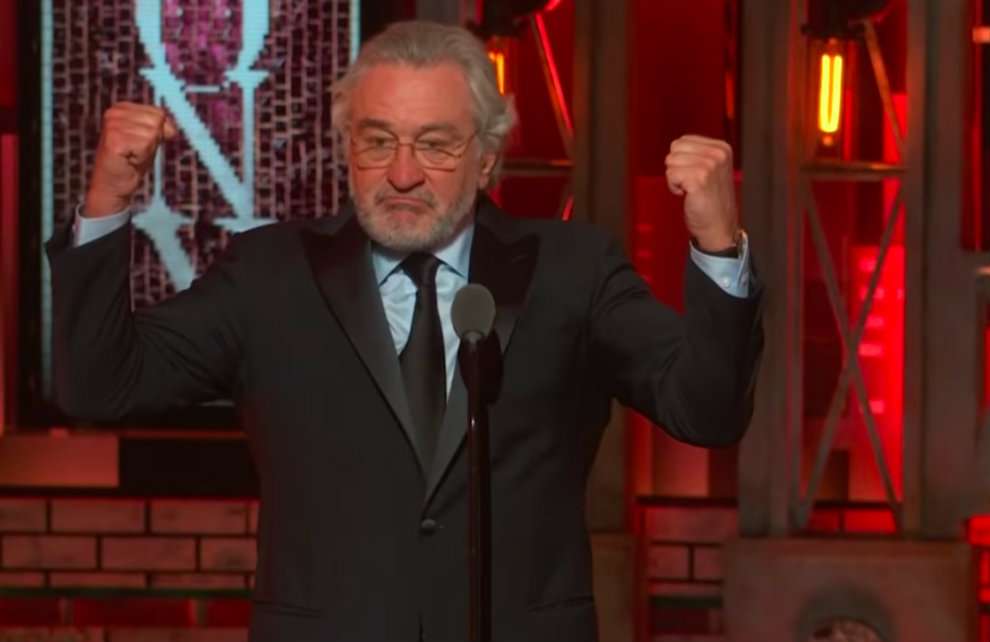 "Fuck Trump!" shouted Robert De Niro at last night's Tony Awards, pumping his fist in the air. "It's no longer 'Down with Trump, it's 'Fuck Trump.'" And with those two lines, the actor set off this week's first round of pointless culture-war posturing.
De Niro's outburst, given during his scheduled introduction of Bruce Springsteen, was greeted with loud applause from the Tony's audience and bleeped out by CBS for viewers watching along at home. But by Monday morning, the usual suspects from cable news hosts to members of Congress to JohnnyDeplorableMAGA and PatriotsPunchNazis99 on Twitter were commenting on the matter, bitterly divided over whether De Niro's words were a courageous act of truth-speaking and #Resistance or the tedious tantrum of a childish old man who mistakes cinematic moments for activism.
I can't stop thinking about that swift, incisive editorial last night. Two monosyllables. Underscoring the presidency's baseline indecency with a violation of "decency." The satire of "norms." I'd say Robert De Niro deserved a Pulitzer for if he didn't deserve a…Tony.

— Virginia Heffernan (@page88) June 11, 2018
Sorry but "F Trump" is not a political message. https://t.co/UQYSWGx8mT

— Batya Ungar-Sargon (@bungarsargon) June 11, 2018
I'm not particularly offended by the substance of Robert DeNiro's profane outburst at the Tony Awards (a bit predictable, really).

I am angry that his words, and not the winners, are now the biggest headline coming out of the Tonys. Theater deserves better.

— Peter Cook (@_Peter_Cook) June 11, 2018
Let's keep in mind that Robert De Niro already did the curse Trump on a microphone at an awards show thing in January. It's sort of his thing. https://t.co/aKqoMMvsUG

— Sopan Deb (@SopanDeb) June 11, 2018
I am no foe of celebrity activism per se, nor a strict subscriber to "there's a time and a place for politics" rules. (Some things are too important for convention or civility.) And I am no fan of our current president, his administration, his aesthetic style, or his policies. "Fuck Trump" is not a sentiment I stand against on principle.
But what De Niro did last night was not productive activism, and his was absolutely the wrong time and place for it. This is not a man who has only periodic access to the televised spotlight, as in the case of, say, some NFL football players. This was not a situation where De Niro's message counteracted another prevailing message at the event in question. And it was not as if De Niro was using his massive platform to persuade, to draw attention to an overlooked issue, to advocate for anything in particular.
Instead, De Niro's self-satisfied, virtue-signaling, substance-free outburst only served to make him and other Hollywood liberals feel good about themselves, give Trump supporters fodder for their persecution fantasies, steal the spotlight from theater at an award show supposedly dedicated to honoring it, and further convince a whole lot of ordinary Americans that there is no respite from red/blue divisions. In other words, it showed that De Niro is a lot more like Donald Trump than the actor thinks.
FREE MARKETS
A statement by the President: pic.twitter.com/Nqjis7bN0f

— Real Press Sec. (@RealPressSecBot) June 11, 2018
Here's how European and Canadian leaders have responded. A few choice responses:
It was not a surprise. The president acted and reacted in the childish way he could be expected to.—Norbert Röttgen, chair of the foreign affairs committee in German parliament

International cooperation cannot be dictated by fits of anger and throwaway remarks. Let's be serious and worthy of our people.—French President Emmanuel Macron's office

The withdrawal, so to speak, via tweet is of course .?.?. sobering and a bit depressing.—German Chancellor Angela Merkel
QUICK HITS