Trump Endorses Marijuana Federalism Bill
The president gave a hedged endorsement of a bill to exempt state-level legal weed from federal prohibition.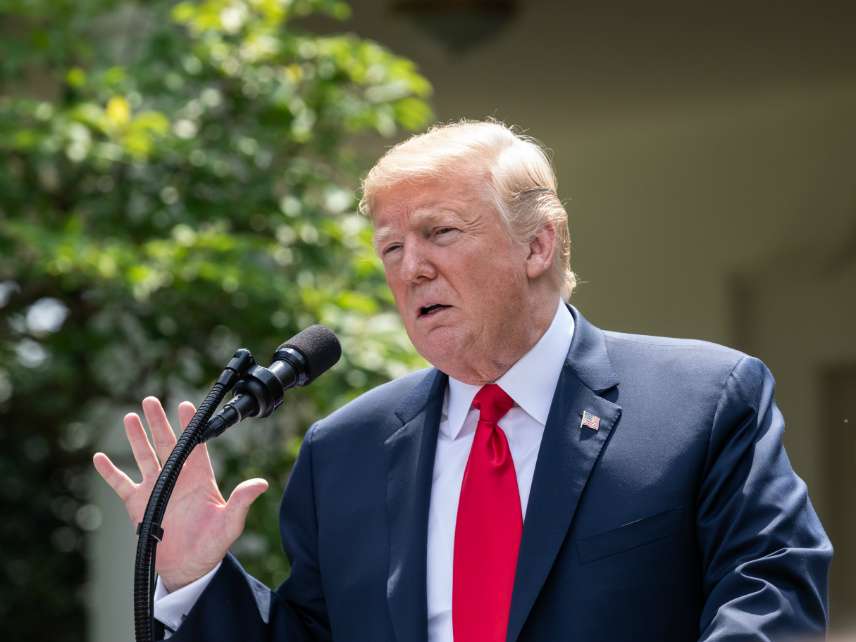 President Donald Trump gave a hedged endorsement to marijuana federalism bill this morning while speaking with reporters on the White House Lawn.
The bill in question, known as the Strengthening the Tenth Amendment Through Entrusting States or (STATES) act, was introduced yesterday by Sens. Corey Gardner (R-Colo.) and Elizabeth Warren (D-Mass.), both of whom represent states that have legalized recreational marijuana.
Their legislation would amend the Controlled Substances Act to make it inapplicable in those states, federal territories, and tribal lands that have passed some form of marijuana legalization. It would also open the financial sector to state-legal cannabusinesses, many of whom are unable to access credit, buy insurance, or even deposit cash in banks.
Asked if he supported the bill, Trump said: "I really do. I support Sen. Gardner. I know exactly what he's doing. We're looking at it, but we'll probably end up supporting that, yes."
Trump's comment "is a big deal," says Erik Altieri, executive director of the National Organization for the Reform of Marijuana Laws (NORML), a pro-legalization group. "This legislation is the first bicameral, bipartisan bill ever introduced at the federal level."
The Trump administration has had a rocky relationship with state-legal marijuana. Attorney General Jeff Sessions has been explicit in his hostility to legalization efforts. In January he rescinded Obama-era guidelines that deprioritized enforcement of federal marijuana laws in states that had legalized it.
Gardner was critical of the move at the time. The senator then spent several months in conversation with the White House, attempting to craft legislation that could win the president's support. The STATES Act is the product of that effort.
"It's a first step, but it's a big first step," says Altieri. "It would essentially codify the Rohrabacher-Farr amendment [which forbids the Justice Department from spending money going after state-legal medical marijuana efforts] but extend that" to states that have legalized recreational pot.
With Trump's seeming endorsement of the legislation, drug reformers eyes now move to Congress, where either Senate Majority Leader Mitch McConnell or House Speaker Paul Ryan could stall the bill.
"We hope these bills will be given the attention they deserve. If lawmakers base their decisions on the facts, there is no reason they wouldn't happen," says Mason Tvert of the Marijuana Policy Project.
Sessions, for his part, told Colorado Public Radio today that he has not been privy to Trump's discussions with Gardner and that he will continue to enforce federal marijuana laws as written, including in states that have opted for legalization.
This post has been updated.