John McAfee and Porn Star Cherie* DeVille Running for President in 2020, Maybe as Libertarians
The antivirus-software pioneer is flying the crypto flag, while the adult actress is running on weed, Net Neutrality, and #MeToo.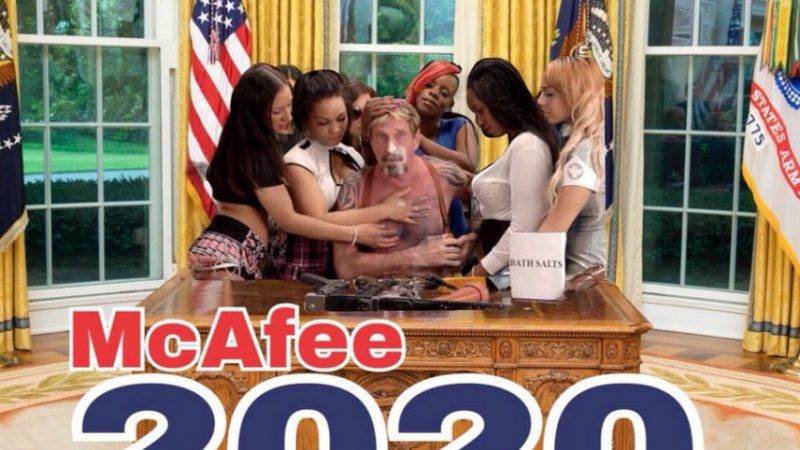 John McAfee, the third-place finisher in the Libertarian Party's 2016 presidential nominating process, announced on Sunday that he is running for the White House again in 2020, either with the L.P. or some crypto-tastic new political grouping:
In spite of past refusals, I have decided to again run for POTUS in 2020. If asked again by the Libertarian party, I will run with them. If not, I will create my own party. I believe this will best serve the crypto community by providing the ultimate campaign platform for us.

— John McAfee (@officialmcafee) June 3, 2018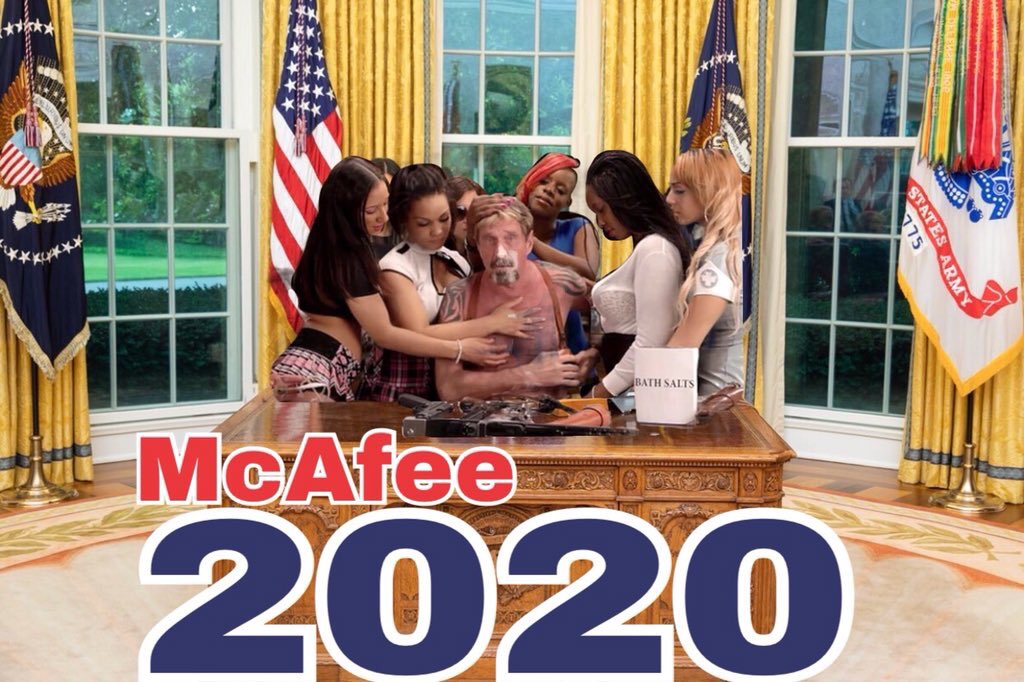 The 72-year-old McAfee, for whom the word "colorful" is comically inadequate (to see why, read these three Brian Doherty pieces: one, two, three), has since his previous run become a for-profit evangelist for competitive currencies. His candidacy, notes the crypto-focused Toshi Times, "coincides with the physical cryptocurrency he has announced, called the 'McAfee Redemption Unit' (MRU)." CNET reports that McAfee was already generating headlines recently "by announcing the creation of his own crypto-backed fiat currency that is redeemable for up to 100 minutes of facetime with him, as well as in February for revealing he made $105,000 per tweet promoting crypto projects." (McAfee said Friday that he was no longer charging money for promotions or tweets.)
"Had I been more connected with the [crypto] community in 2016," McAfee tweeted over the weekend, "I believe I could have used the debates and campaign trail to change the crypto landscape for the better. In this run I can make 'Currency Independence' a phrase that is on every [American's] lips."
Despite McAfee's late-career arrival to both electoral politics and movement libertarianism, his swagger and Vegas-style entourage definitely turned heads at the Libertarian Party National Convention two years ago (for more on which see the video at the bottom of this post). But the 2020 L.P. field is already starting to fill up, not just with 2016 vice presidential nominee Bill Weld and trouble-skirting anarchist Adam Kokesh, but with a maybe-L.P./maybe-not character even more speculative than McAfee: Porn star Cherie DeVille.
DeVille, who first made headlines last November about a possible White House run with Coolio (since abandoned), re-surfaced with a video last week promising an "honest, successful, and progressive political campaign":
As both the video and Elizabeth Nolan Brown attest, DeVille is "a mixed bag as far as libertarian leanings go." But in a follow-up Washington Examiner interview, the actress, who describes herself as a "left-leaning libertarian," said she is considering the L.P., even though she "would love to be the Democratic candidate," because "clearly my views align with the Democratic Party the best." DeVille, whose non-stage name is the equally delightful Carolyn Paparozzi, also told the Examiner that she's fond of Reason, so points for that.
Will the fame and charisma of DeVille and McAfee make Libertarians swoon? Don't count on it. Gary Johnson can certainly testify that more familiarity with the L.P. does not necessarily translate into more support—the former New Mexico governor waltzed to the L.P presidential nomination in 2012, but then needed a second ballot in 2016. McAfee stepped on some L.P. toes with his withering post-nomination criticism of Johnson, and with the opening lines of his concession speech at that convention: "When I first joined the Libertarian Party, two things stood out, very starkly," he said then. "One, 75 percent of you are men. Number two, 99.8 percent of you are white. Shame on you. Shame on you."
Say what you will about Bill Weld or Adam Kokesh (or New York gubernatorial candidate Larry Sharpe), they are out there working the Libertarian Party state convention circuit pretty hard. With that unique 50-state ballot-access prize, at a national moment in which the identities of the two biggest political parties are remarkably fluid, it seems unlikely that party activists will take too kindly to candidates flirting openly with other parties.
As Ballot Access News Editor and third-party super-expert Richard Winger told the Examiner, "Libertarians will not nominate anyone for president who hasn't run first for a lesser office, unless they are a former congressmember or a former governor." Also: "In 2016 there were over 1,300 people who told the FEC that they were running for president….People who think they can get attention by running for president are usually unaware of what a mob claims to be running for president."
My interview with John McAfee at the L.P. national convention two years ago:
* Was originally "Cynthia."