Today Is the Start of Hurricane Season. Trump's Tariffs Could Make It More Costly.
Everything from preparations through recovery will be more expensive, thanks to tariffs on steel, aluminum, and timber.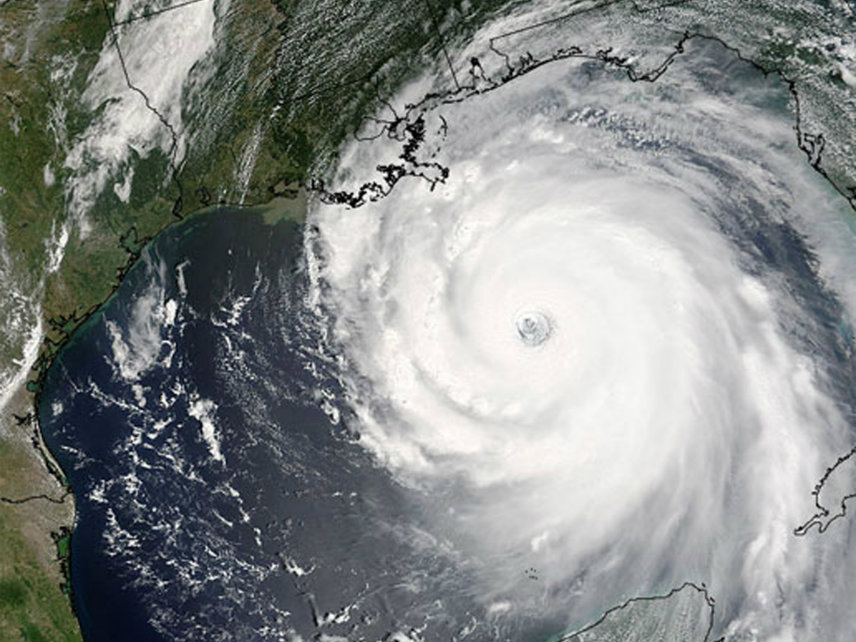 Hurricane season starts today. If any dangerous storms roll into the United States this summer, President Trump's tariffs on steel, aluminum, and Canadian timber will make them more costly.
Last year's hurricane season was the costliest in American history, with three major storms—Harvey, Irma, and Maria—making landfall in the United States. Each of those storms caused more than $50 billion in damage, a threshold that had previously been surpassed by only two storms (2005's Katrina and 2012's Sandy).
Even if we avoid a repeat of last year's weather, the tariffs are creating problems for anyone who wants to be prepared. Hurricane shutters, used to protect windows from being shattered by storms, are often made out of steel or aluminum. Shutter manufacturers are charging higher prices this year to make up for the higher costs and uncertainty created by the tariffs.
Sam Zaz, owner of Just Shutter It in Port St. Lucie, Florida, tells WPTV that supplies that cost $11 or $12 per square foot a year ago now cost him $14 or more. If prices keep going up, he'll have little choice but to pass it on to his customers.
And if a major storm does hit, driving up demand for home building materials, there are already worries that shortages could occur as tariffs disrupt international suppliers. Developers are careful to downplay the potential costs of products they are trying to sell, but some tell The Real Deal, a South Florida real estate trade publication, that tariffs could increase the price of housing by "only" 1 to 2 percent.
That may not sound like much, until you realize that it means paying around $3,000 more for a home in Miami-Dade County (median home value: $288,000)—or, worse, paying that much more to rebuild your home after it's been blown away and all your worldly possessions have been lost. Every family has an extra $3,000 stashed away in their survival kit, right?
Protectionism has already proven costly in the wake of major storms. As Reason's Christian Britschgi noted last year, Trump's tariffs on Canadian lumber (approved in early 2017 with far less fanfare than the current round of steel and aluminum tariffs) had a direct impact on the rebuilding process around Houston after Hurricane Harvey caused catastrophic flooding in August.
"It was a significant hike at the time. It was a 20 percent increase," Patrick Mayhan, vice president of purchasing for the Houston-area company Westin Homes, told Britschgi. "We had no choice but to pass that along to our retail pricing for the home. And that's a significant amount, because lumber is a big part of the cost of building a home."
Framing lumber accounts for about 18 percent of a house's final cost, according to the National Association of Home Builders. Bloomberg reported earlier this year that Trump's lumber tariff has increased the price of single-family dwellings by an average of $1,300 as "builders have started to raise their prices to keep profit margins stable."
In April 2017, the month Trump issued his tariff on Canadian timber, prices for framing lumber shot up to 20 percent higher then they had been in January of the same year. This wasn't just a temporary shock to the system or a result of speculators reacting to the tariff announcement. By March of this year, the price of framing lumber had jumped by another 16 percent, according to a price index published by the trade publication Random Lengths.
Most homes along the Gulf Coast and in other hurricane-prone regions are built with concrete and rebar in order to withstand storms. That still requires steel, but it demands far less lumber than the average American home. But last year's hurricane season demonstrates that powerful tropical storms don't always stay where they are supposed to.
Meanwhile, nearly half of America's steel imports are used for construction, and an ongoing jump in steel prices started in early March, when the Trump administration first announced its plans to lay tariffs. That spike occured despite the fact that several of America's top sources for steel were exempt from the tariff until June 1, so another leap could be coming in the near future—just in time for hurricane season.