Trump Will Hit Americans With Import Taxes on $50 Billion in Chinese Goods
Don't believe the administration's claim that this will hurt China.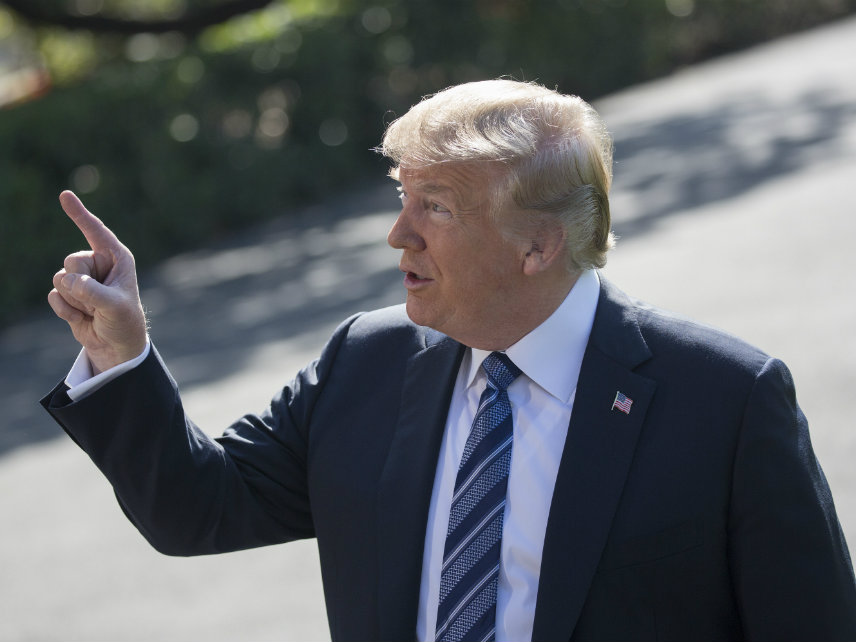 Little more than a week after backing away from the threat of a trade war with China, the Trump administration on Tuesday reversed course and announced plans to impose tariffs on some 1,300 Chinese-made goods.
"The United States will impose a 25 percent tariff on $50 billion of goods imported from China containing industrially significant technology," the White House announced Tuesday. A final list of covered imports will be announced on June 15—the preliminary list released in April included everything from biscuit ovens to airplane parts, and from flamethrowers to cash registers—and the tariffs will actually be imposed "shortly thereafter," the White House said.
This amounts to a huge increase on American consumers and businesses.*
But don't take my word for it. Instead, take John Hoff's. Hoff, the president of Global Point Technology, an upstate New York company that designs and sources manufacturing components, was one of more than 100 people to testify before the Office of the U.S. Trade Representative against the proposed tariffs. His business already pays more than $40,000 in import taxes, but would have to pay more than $1.3 million if Trump's proposed tariffs went into affect, he told the office's special tariff committee.
"Imposing these tariffs would not be punishing a Chinese company," Hoff said. "It would be punishing a U.S. company."
He was hardly the only one to deliver that message. Over and over again, the committee heard from American business owners who said tariffs would wreck their bottom lines, force price increases to be passed along to consumers, and not do much of anything to punish China.
A few days after the hearing—and after two days of negotiations between Trump administration officials and their Chinese counterparts—an armistice was declared. China made some vague promises about buying more American products with the aim of reducing the trade deficit between the two countries, and Treasury Secretary Steven Mnuchin went on Fox News to declare that the administration was "putting the trade war on hold."
The peace apparently didn't last.
What changed? Maybe this is another case of Trump simply doing whatever the last person to speak to him says. Behind the trade war, there is a more camouflaged conflict between Trump's top economic advisers, with free-traders like Mnuchin and Larry Kudlow pitted against economic nationalists like Peter Navarro. Over the long weekend, maybe the protectionists cornered the president and changed his mind.
Or maybe Trump has "thrown caution to the wind" and is following his gut on tariffs as one unnamed White House source told Axios' Jonathan Swan over the weekend.
Regardless of the reasons, this is no way to conduct foreign policy and serves only to rattle the domestic economy. Trump's quick about-face on the Chinese tariffs surprised Beijing. "This is obviously contrary to the consensus reached between the two sides in Washington not long ago," China's Ministry of Commerce said Tuesday in a statement.
Whatever it is that Trump hopes to accomplish by threatening a trade war—here's your reminder that the goals are far from clearly outlined, nor is there much evidence that tariffs are a useful tool in fighting China's admittedly bad trade practices—it's hard to see how pulling the rug out from under your negotiating partner is a step on the path towards resolution.
Worse, this tune-in-next-week-to-find-out approach to trade negotiations creates huge levels of uncertainty for American businesses.
"How are U.S. businesses to innovate and create more value for consumers when policymakers bring so much uncertainty to trade?" asks Nathan Nascimento, vice president of Freedom Partners, a pro-trade group. "While some have speculated that this routine of announcing future tariffs is a mere negotiating ploy, the reality is that they have immediate and lasting, negative impacts on millions of Americans."
CORRECTION: The headline and third paragraph of this story originally stated that tariffs on Chinese goods amounted to a $50 billion tax increase on American consumers and businesses. That is incorrect. The tariffs will be applied to $50 billion worth of imports, at a rate of 25 percent.