Trump Won't Talk to Mueller Unless He Gets a Report on Spygate: Reason Roundup
Plus: Federal snooping on social media is on the rise and 'Toke Back Mountain' beer nixed by alcohol agents.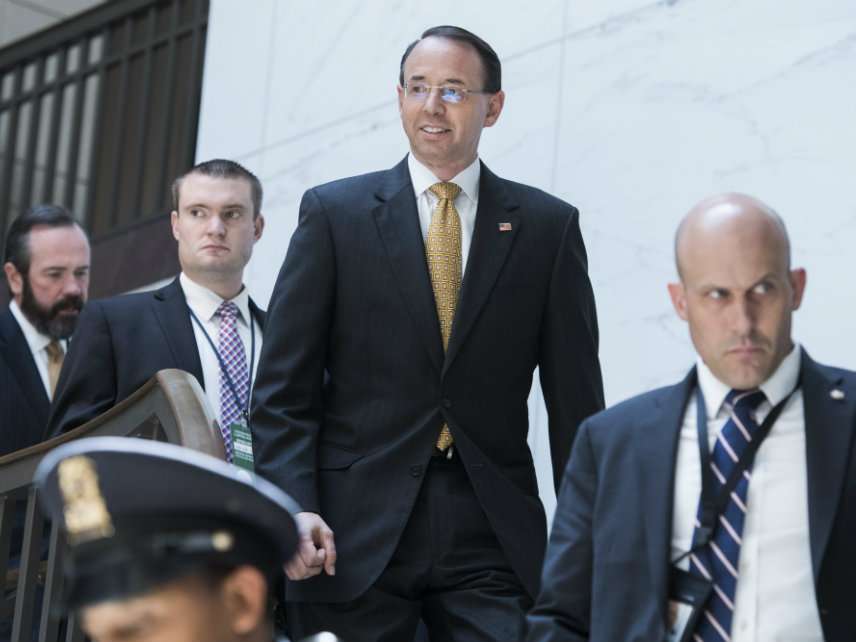 Trump won't talk 'til learning more about "Spygate" briefing. Rudy Giuliani told HuffPost yesterday that "we could probably decide by June 12 whether [President Donald Trump will] testify" before federal prosecutors about potential "collusion" between his 2016 presidential campaign and Russia. The decision, said Giuliani, hangs on how much is revealed to Trump about the Justice Department's probe into what Trump is determined to call "Spygate," involving the FBI's use of a confidential informant to talk to people within Trump's orbit as part of the bureau's Russian-influence investigation.
Giuliani also told HuffPost that if he had his druthers, the president would keep quiet. "I would not like to talk to Mueller at all. I don't see what you gain from that." However, Trump "has a strong view that he should testify," Giuliani added. "He believes he's telling the truth: He didn't collude with the Russians and he didn't obstruct justice."
Eight lawmakers from both parties met yesterday with FBI Director Christopher Wray and Deputy Attorney General Rod Rosenstein for a classified briefing on the FBI informant used to monitor the Trump campaign. Their meeting followed a Justice Department briefing for House Intelligence Chairman Devin Nunes (R-Calif.), Oversight Chairman Trey Gowdy (R–S.C.), and Rep. Adam Schiff (D-Calif.), the top Democrat on the House Intelligence Committee.
Also in the room: Trump's lawyer, Emmet T. Flood, and Chief of Staff John F. Kelly. Their presence raised immediate suspicions and outrage from Democrats, but Flood and Kelly left the room before the confidential part of the meeting began, according to a White House statement.
Emmet Flood's presence and statement at the outset of both meetings today was completely inappropriate, and I told him so. It only underscores what Rudy Giuliani said: the President's legal team expects to improperly obtain and use such information for their defense.

— Adam Schiff (@RepAdamSchiff) May 24, 2018
Democrats were unimpressed by the briefing. "Nothing we heard today has changed our view that there is no evidence to support any allegation that the FBI or any intelligence agency placed a 'spy' in the Trump Campaign, or otherwise failed to follow appropriate procedures and protocols," Schiff tweeted after the briefing.
RUDY tells @dsamuelsohn that today's briefing will inform Trump's legal defense:

"We want to see how the briefing went to today and how much we learned from it. If we learned a good deal from it, it will shorten that whole process considerably."

Exactly what Dems feared.

— Kyle Cheney (@kyledcheney) May 24, 2018
Giuliani told Politico yesterday that if "we learned a good deal from [the briefings], it will shorten that whole process considerably." As for the fact that the briefings were classified, Giuliani seemed unconcerned. "I don't want the guy's identity," he said. "I don't want classified information. What I need to know is, 'What's the basis for their doing it?' Most important, 'What did the informant produce?'"
FREE MINDS
Feds monitor social media, and the ACLU wants answers. The American Civil Liberties Union wants to know why federal authorities have been doing so much social-media surveillance. On Tuesday, the group submitted a Freedom of Information Act request "for records pertaining to social media surveillance, including the monitoring and retention of immigrants' and visa applicants' social media information for the purpose of conducting 'extreme vetting.'" The group seeks information on social-media monitoring by the FBI, the State Department, and the Department of Homeland Security.
"Multiple federal agencies are increasingly relying on social media surveillance to monitor the speech, activities, and associations of U.S. citizens and noncitizens alike," says the request:
Government surveillance of social media raises serious constitutional and privacy concerns. Most online speech reflects no wrongdoing whatsoever and is fully protected by the First Amendment. Protected speech and beliefs—particularly expression or association of a political, cultural, or religious nature—should not serve as the sole or predominant basis for surveillance, investigation, or watchlisting.
FREE MARKETS
Federal agents nix "Toke Back Mountain." The feds are cracking down on cannabis-infused brews again. The U.S. Alcohol and Tobacco Tax and Trade Bureau is going after San Francisco Black Hammer Brewing, ordering the small brewery to stop selling its "Toke Back Mountain" beer.
Toke Back Mountain is made with cannabidiol (CBD) extract derived from hemp plants. CBD is prized more for potential health benefits than giving uses a high. Alas, the beer still runs afoul of federal law.
In a bittersweet way, the alcohol agency's cease-and-desist here represents an improvement in our country's insane drug policies. Black Hammer Brewing isn't in trouble for running afoul of the federal government's persistant ban on marijuana and its non-psychoactive cousin hemp. It ran afoul of a more mundane regulation: foregoing special approval to add a "non-standard beer ingredient" to their brew.
Black Hammer Brewing says it will now apply for approval to legally sell the CBD beer.
QUICK HITS