Georgia Gubernatorial Race Features First Black Female Nominee and Man Who Pledged to Round Up Immigrants In His Truck: Reason Roundup
Plus: The FBI exaggerated encryption problems and Congress rolls back Dodd-Frank.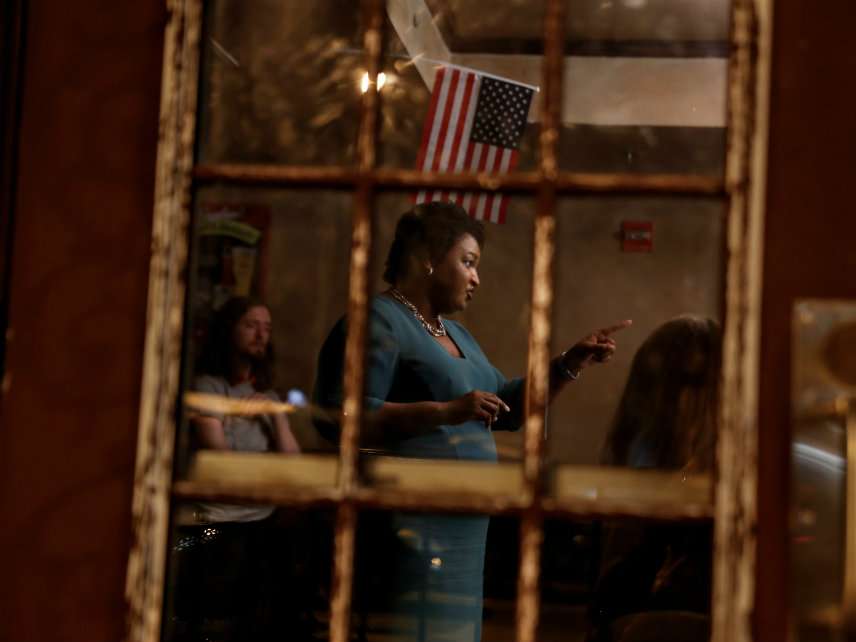 Tuesday election results. Tuesday saw primaries and runoffs in Arkansas, Georgia, Kentucky, and Texas. The most attention-grabbing result comes from Georgia, where former state House minority leader Stacey Abrams won the Democratic nomination for governor. If she wins, she'll be the first black female governor in the U.S.; she is already "the first black woman to be a major party's candidate for governor," notes The Week. "She will face the winner of a July Republican runoff between Lt. Gov. Casey Cagle and Secretary of State Brian Kemp in an election that will test whether the state's politics have shifted enough for a liberal Democrat to win after more than a decade of Republican rule."
Cagle and Kemp competed in a five-way contest notable for "the candidates [trying] to one-up each other on who would be toughest on immigration," reports NBC.
One of Cagle's ads featured images of MS-13 gang tattoos and guns being fired at the screen, while Kemp pledged to round up undocumented immigrants in his "big truck." A third contestant, state Sen. Michael Williams, outfitted an entire "deportation bus" for the purpose.
Abrams won against Stacey Evans "in a primary that pitted competing visions for the future of the Democratic Party against each other," writes Sean Sullivan in The Washington Post. Abrams "ran on a liberal platform, while Evans, also a former state legislator, rooted her pitch in being able to win over crossover voters in the general election. The AP called the race with 30 percent of precincts reporting; Abrams led with 74 percent of the vote at that point."
In Kentucky, Lexington Mayor Jim Gray—who unsuccessfully challenged Rand Paul in 2016—lost the Democratic nomination for a seat in Congress to former fighter pilot and first-time candidate Amy McGrath. Record producer Hank Linderman also won a Democratic congressional nod, in the state's second district.
Current Arkansas Gov. Asa Hutchinson fended off a challenger with 72 percent of the vote.
.@AsaHutchinson, the great Governor of Arkansas, is in a primary tomorrow. He has done an incredible job with a focus on lower taxes, border security, and crime prevention. Asa loves our military and our veterans. I fully endorse Asa for Governor!

— Donald J. Trump (@realDonaldTrump) May 21, 2018
FREE MINDS
The FBI has been lying about encrypted cell phones. A Washington Post investigation finds that the FBI "has repeatedly provided grossly inflated statistics to Congress and the public about the extent of problems posed by encrypted cellphones." The agency claimed that encryption prohibited it from accessing 7,800 phones tied to criminal investigations last year. The actual number was somewhere between 1,000 and 2,000, according to the Post.
FBI Director Christopher A. Wray has repeatedly cited the imaginary 7,800 inaccessible phones as a reason why tech companies should make "back doors" to encrypted devices that allow them to be accessed by law enforcement.
FREE MARKETS
Ditching Dodd-Frank. Congress voted yesterday to roll back several bits of the 2010 Dodd-Frank Act, thereby freeing up banks from regulations passed in the wake of Great Recession. "The bill chips away at several parts of the Dodd-Frank Act," explains Reason's Eric Boehm.
The most significant changes are targeted towards small banks. Those with less than $250 billion in assets are exempted from Dodd-Frank's so-called "enhanced prudential standards"—strict regulations regarding liquidity, risk management, and capital meant to serve as a "stress test" for banks' balance sheets. It would also exempt banks with less than $10 billion in assets from the so-called Volcker Rule, which limits speculative investments.

Other major parts of the Dodd-Frank law remain unchanged, including the Consumer Financial Protection Bureau (CFPB) and the so-called Durbin Amendment, which imposed price controls on debit card fees and has been blamed for reducing the availability of free checking accounts.
QUICK HITS
I was astonished and moved by Philip Roth's frankness about his own mortality in what I believe was his last interview https://t.co/YxSg0U05np pic.twitter.com/WjQ63jprRM

— Shuja Haider (@shujaxhaider) May 23, 2018
President Trump on his potential summit with Kim Jong Un: "See what happens, whether or not it happens. If it does, it'll be great. It'd be a great thing for North Korea. And if it doesn't that's okay too. Whatever it is, it is" https://t.co/GY7H4vkjgZ https://t.co/zWJ1cvLuJL

— CNN Politics (@CNNPolitics) May 22, 2018