More Than 7 Million Americans May Have Suspended Licenses for Unpaid Tickets and Court Fines
The practice traps the poor in a spiral of debt, hobbling their ability to pay off their fines.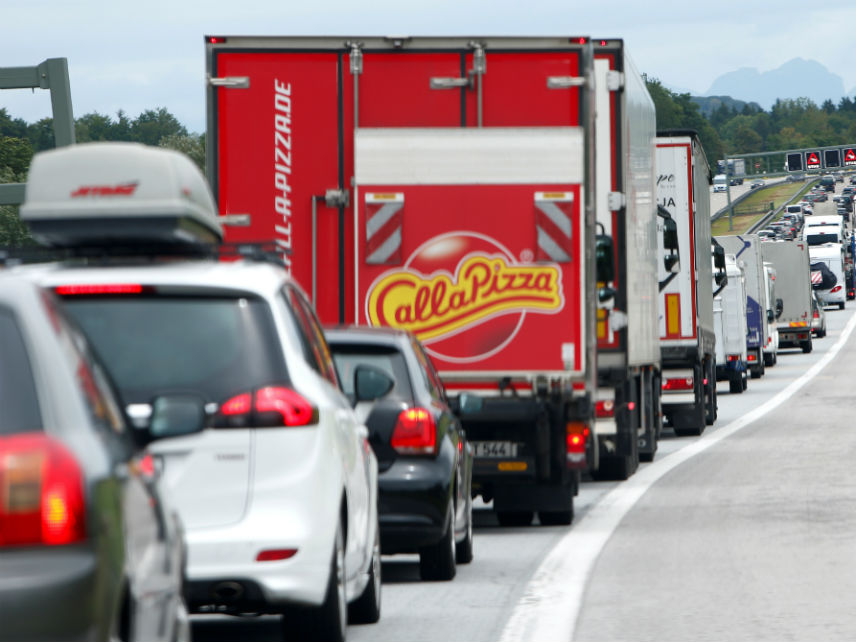 An estimated 7 million people—and mayber far —nationwide have had their drivers' licenses suspended for unpaid traffic tickets and court debts, The Washington Post reports.
Legislators passed license suspension laws to deter scofflaws. But civil liberties and anti-poverty groups argue that such laws instead trap poor residents in a spiral of debt, leaving them unable to drive to work to pay off their fines without a risk of racking up even more debt—or even jail time—for driving on a suspended license.
Forty-one states suspend licenses for unpaid traffic and court debts. The Post notes that its 7 million figure may be a significant undercount, since several states could not or would not release the information. Several states also did not track the reason for license suspensions.
As Reason reported in 2016, nearly 900,000 Virginia residents—roughly 11 percent of the state—had suspended licenses at any given time. The majority of those suspensions were for unpaid court debts. According to the Post's analysis, Virginia, Maryland, and the District of Columbia alone account for 10 percent of the suspended licenses it found nationwide.
Robert Taylor, a 28-year-old Virginia resident whose license had been suspended, told Reason that he was buried under a small mountain of debt from repeated fines. He was unemployed and unable to find a new job because of his lack of mobility.
"It's kind of like my feet are cut off," Taylor said. "I can't get anywhere. I want a job. I'll see a job, and when I find one I'm qualified for—I know I could run that store so well—but I can't get to it. Public transportation just isn't there. The bus will bring you in, but it won't take you back out. The only way to do it is to hopefully know someone who will give you a ride. So many of my friends have gotten traffic tickets that they've moved closer to town."
A report released last year from the Legal Aid Justice Center in Virginia found there were 4.2 million suspended drivers' licenses for unpaid court fines in five states alone. Only four states, the report said, require courts to determine a person's ability to pay before assessing a fine.
The practice came under scrutiny following the protests in Ferguson, Missouri, over the 2014 shooting of Michael Brown. Subsequent media reports revealed that the town padded its budget through the heavy-handed enforcement of petty fines and fees.
In a "dear colleague" letter released in 2016, Vanita Gupta, the former head of the Justice Department's Civil Rights Division, wrote that "state and local courts are encouraged to avoid suspending driver's licenses as a debt collection tool, reserving suspension for cases in which it would increase public safety."
Federal judges have not looked kindly on the practice as of late. In January, a federal judge in Michigan enjoined the practice when it's applied to the very poor, ruling that suspending licenses without ascertaining the debtors' ability to pay likely violates due process.
And last year, a federal judge in Tennessee reinstated the drivers' licenses of two residents in what may have been the first ruling of its kind. As Reason reported:
Those two Tennessee residents are Fred Robinson and Ashley Sprague. According to the lawsuit, Robinson, 32, suffers from serious medical conditions, cannot work, and barely subsists on Social Security payments. Sprague is a mother of five who makes under $3 an hour as a Waffle House server.

Both Robinson and Sprague accrued misdemeanor traffic fines of several hundred dollars, and when they failed to pay, their drivers' licenses were suspended. Both were also told, when they tried to make partial payments, that no such installment plans were allowed. In addition to their other fines, they must now pay another $200 fee to have their licenses reinstated.
"One needs only to observe the details of ordinary life to understand that an individual who cannot drive is at an extraordinary disadvantage in both earning and maintaining material resources," the judge wrote in her order. "Suspending a driver's license is therefore not merely out of proportion to the underlying purpose of ensuring payment, but affirmatively destructive of that end….Taking an individual's driver's license away to try to make her more likely to pay a fine is not using a shotgun to do the job of a rifle: it is using a shotgun to treat a broken arm. There is no rational basis for that."
A similar class action lawsuit challenged Virginia's license suspension practices in 2017, but it was dismissed on technical grounds.
In response to growing criticism, Virginia announced changes in 2017 that were intended to keep poor residents from having their driver's licenses suspended simply because of their inability to pay court fines. But a year later, nearly a million Virginians—one out of every six licensed drivers in the state—still had suspended licenses for unpaid court debts, according to the report by the Legal Aid Justice Center.
"It appears that these reforms have done little, if anything, to stem the breathtaking current of Virginians losing their licenses," the report concluded.