Gun Rights, Gun Control Advocates React to Texas Shooting
Politicians, activists rehash calls for increased security, regulation of guns.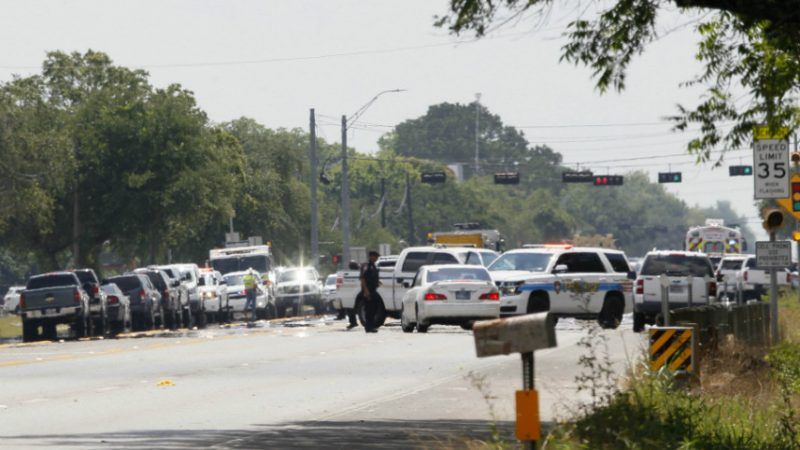 (Steven Song Xinhua News Agency/Newscom)
A school shooting this morning in Santa Fe, Texas, has provoked an outpouring of grief, condolences, and ideas about how to prevent these tragic events from happening in the future.
What comments that are available from students express shock and disbelief.
"I shouldn't be going through this. It's my school. This is my daily life. I shouldn't have to feel like that," one student told Fox News.
Dakota Shrader, Santa Fe High School student: "I shouldn't be going through this. It's my school. This is my daily life. I shouldn't have to feel like that." https://t.co/kiDgZSp1MN pic.twitter.com/acwYsesFrV

— Fox News (@FoxNews) May 18, 2018
President Donald Trump promised action earlier today while offering few specifics. "My administration is determined to do everything in our power to protect our students, secure our schools, and keep weapons out of the hands of those who pose a threat to themselves and to others," he said at an event this morning.
Conservative commenters have been arguing that schools need to be made more secure to prevent these kinds of shootings.
"We need to harden these targets, these soft targets with school resource officers," Rep. Michael McCaul (R–Texas) said on Fox News this afternoon. Similar thoughts were expressed by Texas Attorney General Ken Paxton, a Republican, who told Fox that the United States should replicate the Israeli model of armed school security.
Gun control groups have called for more firearm regulations. "It's time for America to find the courage to take on the powerful and fight for our own safety. We can't wall ourselves off from the threat of gun violence—it doesn't work," said former Rep. Gabrielle Giffords. "Nor can we simply arm ourselves against one another—that makes it more dangerous still."
I will not stand for this and neither should you. Parents shouldn't have to hug their children in the morning and worry whether they'll see them at the end of the day. We don't have to live in a country where politicians let this happen again and again. https://t.co/0dG76Gp5fb pic.twitter.com/H9LeY7sBAK

— Gabrielle Giffords (@GabbyGiffords) May 18, 2018
Parkland shooting survivor and gun control activist David Hogg expressed his rage on Twitter:
Get ready for two weeks of media coverage of politicians acting like they give a shit when in reality they just want to boost their approval ratings before midterms.

— David Hogg (@davidhogg111) May 18, 2018
Read Reason's past coverage for problems with both increased school security measures and increased gun control as solutions to mass shootings.