After Supreme Court Ruling, Sports Betting Will Become Major Issue in State Capitols
Monday's Supreme Court ruling didn't legalize sports betting, but lots of states are eager to cash-in. Will they make a smart bet?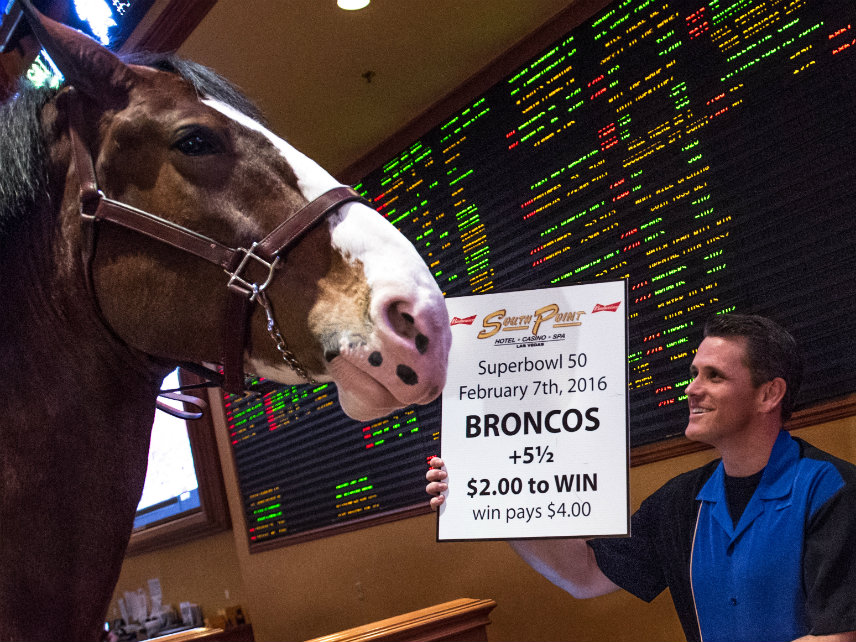 Let's get the most important thing out of the way up front. No, betting on sports did not just become legal across the United States.
The U.S. Supreme Court on Monday struck down part of a 1992 federal law—the Professional and Amateur Sports Protection Act, or the Bradley Act, as it was more commonly known—that prohibited states (except for four, most notably Nevada, that were grandfathered into the law) from legalizing sports betting. "A more direct affront to state sovereignty is not easy to imagine," wrote Justice Samuel Alito in the majority opinion. Hooray, federalism.
But unless you live in one of those states, betting on the outcome of a specific game or match is just as illegal today as it was last week—and more common forms of sports betting, like office-wide March Madness pools, still exist in something of a legal gray area depending on whether your state has specifically legalized them as a separate type of gambling.
What Monday's ruling means, as a practical matter, is that the question of whether people should be allowed to bet on sports has shifted from the Supreme Court to state capitols.
Some states are already racing to legalize. New Jersey, which was the plaintiff in the court case that overturned part of the Bradley Act, figures to be one of the first to get off the bench and into the game. And not just in Atlantic City. Monmouth Park, a horse track in central New Jersey, plans to have its sports betting operation up and running in a matter of weeks.
New Jersey's fight to legalize sports betting began with a referendum in 2012 and continued with the passage of legislation in 2014 partially repealing the statewide ban on sports betting and putting the state into direct conflict with the federal law. That law sparked the lawsuit that eventually reached the Supreme Court last year.
Other states are looking to quickly follow suit.
In Delaware, where the state's history of allowing parlay betting—that is, wagers where the better must be correct about the outcome of multiple games in order to win—on professional football games was one of the few exceptions to the federal ban, full-fledged sports betting could be operational at the state's three casinos before the end of June, Gov. John Carney, a Democrat, said Monday.
Lawmakers in neighboring Pennsylvania legalized sports betting in October, pending the outcome of Supreme Court case. "We needed to put the cart before the horse and be ready," said state Rep. Thomas Matzie (D-Beaver), who sponsored that bill, in a video statement about the Supreme Court ruling. "It only took until 2018 for us to do what should have been legal for years."
Connecticut, Mississippi, and West Virginia have also passed sports betting legalization bills within the past year, in anticipation of the Supreme Court ruling. At least 14 other states have seen bills introduced recently, according to ESPN, which has aggregated the state-level sports betting legalization bills here. It's a safe bet that more bills will be introduced in the near future, now that the federal ban is no longer standing in the way.
States are eager to get in on the game because sports betting is big business.
According to the American Gaming Association, Americans wagered an estimated $10 billion on the National Collegiate Athletic Association's (NCAA) annual men's college basketball championship tournament—widely known as "the NCAA tournament," or merely "March Madness"—but only about $300 million of that total was wagered with legitimate sportsbooks. Overall, sports betting is a $123 billion annual industry in the United States, but only about 4 percent of all bets in 2017 were made with a legal sportsbook in Nevada, according to a report released earlier this year by the Competitive Enterprise Institute (CEI), a free market think tank.
As all those wagers come out of the shadows, legal sports betting could create as many as 152,000 jobs and generate up to $5 billion in new revenue for states, according to the American Sports Betting Association.
"The Supreme Court's decision is a huge win, not just for states that want to legalize sports betting but for everyone who believe the right to make such decisions belongs to state voters," says Michelle Minton, a consumer policy expert for CEI and author of their report. "States should now consider how best to shrink the illegal gambling market, protect consumers, and allow the marketplace to offer innovative products and experiences."
The leagues will play a major role too. The National Basketball Association and Major League Baseball have taken the lead in lobbying state legislators to legalize, ESPN reported Monday, with the two leagues having "hired high-priced lobbying firms, submitted written statements and sent executives to testify in statehouses." The leagues want to make sure they get a cut of the revenues from sportsbooks, which they say is needed because they will have to fund "integrity operations" to ensure betting doesn't influence players, coaches, and officials.
In West Virginia, for example, the bill to legalize sports betting did not include any funds for the leagues, and MLB pressured Gov. Jim Justice, a Republican, to veto the bill. When he didn't, the leagues continued to push for a piece of the action, and last week Justice announced a deal that would send some state lottery revenue to major professional sports leagues and to West Virginia's two Division 1 college programs, according to ESPN.
In other words, legalizing sports betting will not be as easy as a single Supreme Court case. This week's ruling is only the beginning of a multi-tiered process that will try to keep fans, bettors, casinos, leagues, and anti-vice special interests happy. There will almost certainly be a patchwork of policies implemented across the states, with some models proving successful and others causing problems. It will be messy, but embracing federalism almost always is. New Jersey's victory over the federal Bradley Act is really the beginning, not the end, of this story.
There's one other group that will have to be satisfied, too: state policymakers looking for ways to spend the expected windfall from sports betting. Rhode Island Gov. Gina Raimondo, a Democrat, was so confident the Supreme Court would rule against the Bradley Act that she included $23.5 million in expected sports gambling revenue in her proposed budget for the next fiscal year, which begins on July 1.
One gamble, it seems, has already paid off.