Texas Health Department Considers Cracking Down on CBD
The Lone Star state's drug laws are about to get even more restrictive.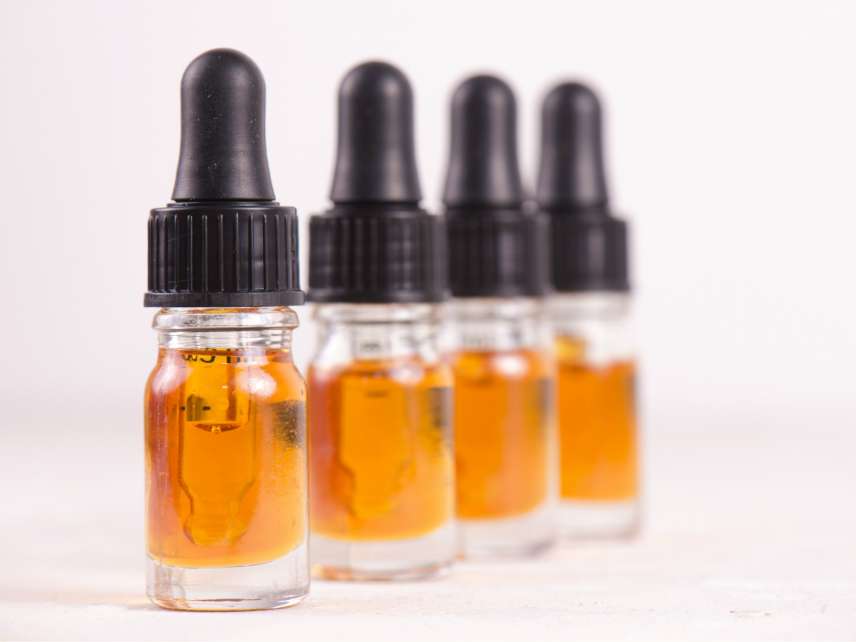 The Texas Department of State Health Services is considering a crackdown on foods and oils that contain cannabidiol, commonly known as CBD.
CBD is a compound found in cannabis. Unlike THC, the psychoactive ingredient in marijuana, it can't really get you high; it's commonly used to treat chronic pain, anxiety, depression, arthritis, and epilepsy. That doesn't mean regulators aren't coming for it, though.
If the proposal is passed, retailers who carry products containing the compound will have to either destroy their goods, send them back to retailers, or surrender them to the regulators. This will affect dozens if not hundreds of head shops all over the state that sell CBD lollipops, gummies, oils, and even smoothies. They currently operate in a legal grey area where products are prohibited federally but CBD crackdowns rarely happen, to the point where most retailers feel comfortable offering them, provided the products contain only trace amounts of THC.
No timeline for the new protocol has been released. And since this isn't a new rule, but rather an enforcement of existing federal law—which classifies CBD under the Controlled Substances Act—the decision won't be up for review by the state legislature.
State law does have an exception for medical marijuana patients with epilepsy, who would be able to continue to access CBD products as treatment under the 2015 Compassionate Use Act. But the Compassionate Use program is fairly limited in scope. In order to qualify, patients must have already exhausted other treatment options and received a recommendation from a doctor on the Compassionate Use Registry. There are only 20 doctors in the entire state who can prescribe CBD products––and Texas is home to more than 28 million people.
So even as other states legalize weed and let up on harsh criminal penalties, Texas is a long way behind. In 2016, the most recent year for which statistics are available, the Lone Star State accounted for about 12 percent of the nation's total weed-related arrests while accounting for only about 8.6 percent of the nation's population. As of 2012 data, 97 percent of total marijuana-related convictions are for possession of two ounces or less. It's estimated that, in 2010, the state spent nearly $20 million on locking people up in state and county jails due to weed-related offenses.
If state regulators decide to go after largely harmless CBD products, people with chronic conditions will suffer and taxpayers' money will be wasted as government agents cart themselves from head shop to head shop confiscating gummies and lollipops. It's a shame to think that Texas might move in this more punitive direction while so many other states are figuring out how to loosen up their drug laws.