Trump Lawyer Michael Cohen Paid by AT&T, Swiss Drug Giant, and Firm Linked to Russian Oligarch: Reason Roundup
Plus: hate-crime protection for cops, gig-economy good news, and fringe candidate losses in primary elections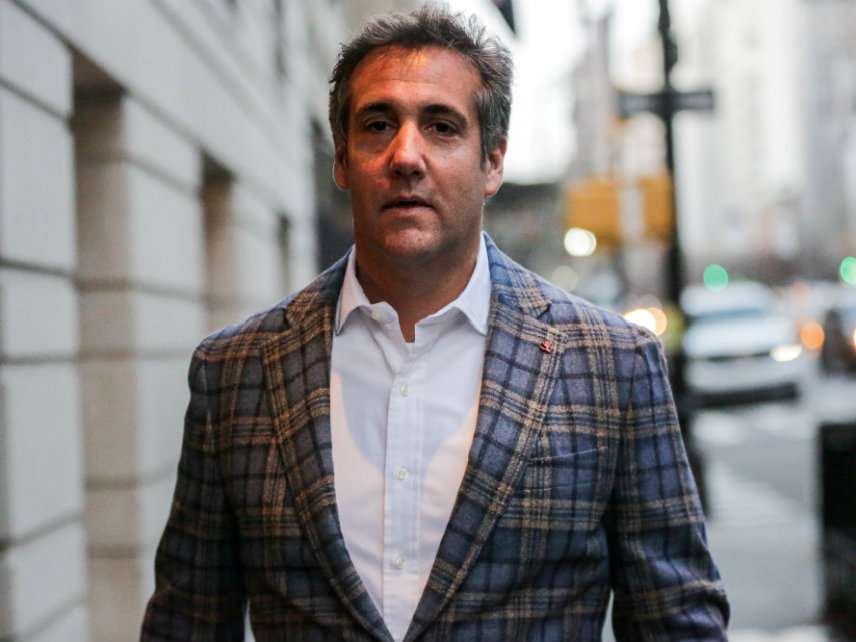 The FBI raid on Michael Cohen's office is beginning to make more sense. Tuesday night it came out that Cohen—Trump's personal lawyer and the man who made the now-infamous 2016 payment to Stormy Daniels—received funds from major companies with interests before the U.S. government and from a firm linked to Russian oligarch Viktor Vekselberg. News of all this came to light after Daniels' lawyer, Michael Avenatti, tweeted about the payments.
Avenatti shared an unsourced document titled "Preliminary Report of Findings," sending Trump reporters on a frenzy to fact-check the contents. Much of it has been confirmed.
Cohen's payment to Daniels was brokered through a shell company called Essential Consultants LLC. The company also received:
around $500,000 from Columbus Nova, an investment firm whose biggest client is controlled by Vekselberg.
$99,980 from the Swiss pharmaceutical giant Novartis.
$150,000 from Korea Aerospace Industries, which is currently competing for a multi-billion-dollar U.S. military contract.
$200,000 from AT&T, whose desired merger with Time Warner depends on federal approval.
"Transactions adding up to at least $4.4 million flowed through Essential Consultants starting shortly before Mr. Trump was elected president and continuing to this January," concludes The New York Times.
Last month it came out that "Cohen also used the company to collect $250,000 after arranging payments in 2017 and 2018 by a major Republican donor, Elliott Broidy, to a former Playboy model he allegedly impregnated," the Times adds.
A Columbus Nova statement says that the money was a fee for Cohen's consulting work and had nothing to do with the firm's relationship with Vekselberg.
AT&T claims that "Essential Consulting was one of several firms we engaged in early 2017 to provide insights into understanding the new administration." The firm "did no legal or lobbying work for us, and the contract ended in December 2017," said a company statement.
This isn't likely to be the last corporate crisis PR we're in store for here.
We are just getting started…

— Michael Avenatti (@MichaelAvenatti) May 8, 2018
Fringe candidates lose in primaries. Don Blankenship—West Virginia coal executive, open racist, ex-convict, and U.S. Senate hopeful—lost his Republican primary bid against the state's attorney general, Patrick Morrisey. Here's how the folks supporting Mitch McConnell, whom Blankenship had called "Cocaine Mitch," responded:
Thanks for playing, @DonBlankenship. #WVSen pic.twitter.com/TV1ETgQdmu

— Team Mitch (@Team_Mitch) May 9, 2018
In Ohio, "Republican Mike DeWine and Democrat Richard Cordray were expected to win in the governor's race, and it's no surprise they each won easily," says the Cincinnati Enquirer. Still, "it is somewhat surprising they both obliterated the competition, each beating candidates who tried to position themselves as being the most like Trump and Bernie."
It adds:
DeWine and Cordray are as boring as a corporate training session, so get ready for one monotonous talking point after another the next six months. But that's OK. Maybe we'll actually get a race that's more about policy and less about personality.
"Gig economy" workers largely there by choice. "The gig economy is a substantial and growing sector of the U.S. economy, comprising nearly one-third of U.S. workers, and rising quickly," writes Adrian Moore, vice president of policy here at the Reason Foundation, in a new report. Within this gig economy workforce, Moore includes an array of "alternative work arrangements," including independent contractors, workers provided through contracting firms, temp-agency workers, on-call workers, and "supplementers."
Moore says this has been and will continue to be a good thing. "Rather than threatening the entrenched traditional work model, much of the gig economy fills niches in the goods, services and labor market," which "allows more workers to serve more customers more cheaply and on their own terms, increasing the workforce and the standard of living for all," Moore writes. But to reap these benefits fully, lawmakers need to let go. Trying to force gig economy companies "to mimic the traditional workplace model harms workers and consumers," he writes:
The gig economy emerged from market-driven autonomy and flexibility for both companies and workers, and it thrives despite a few challenges. Accordingly, the market will likely address these challenges—as long as we let it.
A large 2016 study from the McKinsey Global Institute ("Independent Work: Choice, Necessity, and the Gig Economy") found that nearly three-quarters (72 percent) said they were working this way by choice, including 32 percent for whom it was their primary source of income and 40 percent for whom it provided supplemental funds. Only around 14 percent did it as a primary job because they couldn't find other work arrangements, and slightly less reluctantly did it as a part-time job because they were financially strapped.
Protect us from the "Protect and Serve Act." New legislation concerning cops and "hate crime" is underway, courtesy of the eternally busybodying Sen. Heidi Heitkamp (D-ND) and the apparently-determined-to-wreak-havoc-before-he-retires Sen. Orrin Hatch (R-Utah). Called the Protect and Serve Act of 2018, the bill would make it a federal hate crime to "to knowingly cause bodily injury to any person, or attempts to do so, because of the actual or perceived status of the person as a law enforcement officer."
We already see local cops using "resisting arrest" overbroadly to take people in. Under this law, any attempts to evade a cop—or protect oneself from them—that ended up hurting the officer could wind up as a federal hate crime. Not only could that screw a lot of people (and ratchet up prison populations and federal partnership with local law enforcement), but it's redundant: "police already have substantial protections under federal and state law, rendering this bill superfluous," as a letter co-signed by the American Civil Liberties Union, Human Rights Watch, the Leadership Conference on Civil and Human Rights, and the NAACP Legal Defense and Educational Fund points out.
The letter also notes:
This bill signals that there is a "war on police," which is not only untrue, but an unhelpful and dangerous narrative to uplift.
QUICK HITS