Customs Agents Steal Money a Nurse Saved to Build a Medical Clinic in Nigeria
CBP won't return the cash unless the owner signs an illegal waiver.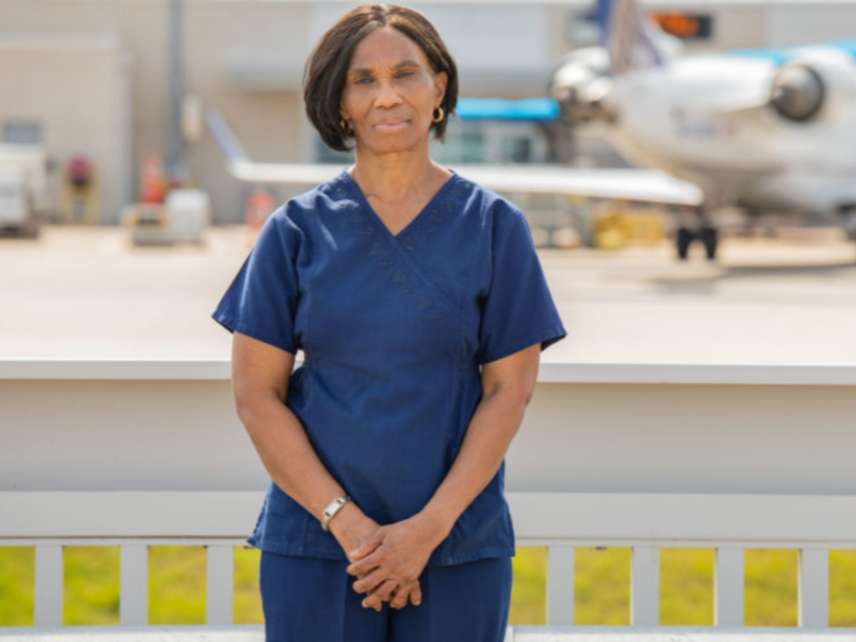 Anthonia Nwaorie says she knew travelers entering the United States with more than $10,000 in cash are legally required to report that fact to U.S. Customs and Border Protection (CBP). But the Texas nurse, who was born in Nigeria and became a U.S. citizen in 1994, says she did not realize the same obligation applies to people leaving the United States. That mistake cost her $41,377, most of which was earmarked for a medical clinic she planned to build in her native country, during an aborted trip from Houston to Nigeria last October.
Because the Justice Department declined to pursue civil forfeiture of the money, CBP was required to return it. Yet the agency has refused to do so unless Nwaorie signs a waiver forgoing interest on the money, renouncing any legal claims in connection with the seizure, assuming responsibility for claims by third parties, and promising to reimburse the government for any expenses it incurs while enforcing the agreement.
That demand is illegal and unconstitutional, according to a federal class action lawsuit that the Institute for Justice filed last week on behalf of Nwaorie and other travelers who have found themselves in the same situation. The complaint "challenges CBP's systematic policy or practice of demanding that owners of seized property waive their constitutional and statutory rights, and accept new legal liabilities, as a condition of returning property that should be automatically returned."
Nwaorie, a 59-year-old grandmother who lives in Katy, a Houston suburb, has been flying to Nigeria once a year since 2014 to operate a free, week-long medical clinic in Imo State, where she grew up. She dreamed of opening a permanent clinic there and over several years saved about $30,000 to build one on land donated by her father. On the day she was stopped by CBP at Houston's George Bush Intercontinental Airport, she was carrying that money, plus another $3,000 or so to help relatives with medical bills and cover her travel and living expenses during the trip. She also had $7,400 that her brother was sending to relatives in Nigeria.
None of that was illegal, but failing to report the money was. The lawsuit argues that Nwaorie's ignorance of that requirement is understandable, given that it is not announced by airport signs or mentioned on the most commonly consulted CBP and TSA websites offering tips to travelers. Furthermore, complying with the requirement would have been logistically difficult, since Treasury Department regulations say travelers are supposed to file currency reports "at the time of departure" with "the Customs officer in charge," who in this case was located off airport property, about seven miles from the terminal where Nwaorie was scheduled to catch her flight.
"Willfully" failing to file the form is a felony punishable by up to five years in prison. Although Nwaorie was not charged with that crime or any other offense, CBP was authorized to seize the money as "property involved in a violation" of the reporting requirement. "It put me in a very difficult…financial state," Nwaorie says in an Institute for Justice video about the case. After CBP formally notified her of the seizure, Nwaorie exercised her right to challenge the forfeiture in federal court. But the U.S. Attorney's Office in Houston turned down the case, at which point Nwaorie should have gotten her money back.
The Civil Asset Forfeiture Reform Act (CAFRA) is quite clear on that point, saying that if a forfeiture complaint is not filed within 90 days after the owner submits a claim, the government "shall promptly release the property" and "may not take any further action to effect the civil forfeiture of such property in connection with the underlying offense." In Nwaorie's case, the 90 days expired on March 12. Yet in a letter to Nwaorie on April 4, three weeks after the deadline had come and gone, Celia Grau, a CBP fines, penalties, and forfeitures officer, made it sound as if the agency was doing Nwaorie a favor by returning her money.
"Your case was referred to the United States Attorney's Office (USAO) for final determination; however the USAO has declined your case," Grau wrote. "Based on declination from the USAO, it is our decision to remit the currency seizure in full" (emphasis added). Under CAFRA, however, returning the money was not optional, so there was no "decision" for CBP to make.
Furthermore, CAFRA does not give CBP the authority to impose conditions on the return of seized property in these circumstances. Grau said Nwaorie had to sign the agency's "hold harmless agreement" if she wanted to get her money back. "Upon receipt of the Hold Harmless," Glau wrote, "we will initiate the procedures for remittance of the currency." She said Nwaorie could then expect to receive a check "within 8 to 10 weeks"—i.e., more than three months after the CBP was required to "promptly" return the money.
The language of the waiver CBP wanted Nwaorie to sign is sweeping, giving up any conceivable claim related to the seizure. That includes interest, legal fees, the cost of the ticket for the flight Nwaorie missed because she was detained by CBP, and the damage to her luggage, which CBP cut open even though she provided a key to the lock. The agreement would prevent her from challenging the CBP harassment she says she has encountered at airports since the seizure, which has included demeaning and destructive luggage searches. (The complaint says one CBP officer told Nwaorie the record of the seizure would "follow her wherever she goes.") The waiver would even bar Nwaorie from seeking records related to the case under the Freedom of Information Act.
"CBP's Hold Harmless Agreement," says the lawsuit, "requires Anthonia to surrender constitutional rights—including the right to petition, due-process rights, equal-protection rights, and property rights—in order to have her constitutional right to possess her property restored, even though CBP is automatically required to promptly return that same property, independent of this agreement, under CAFRA." The Institute for Justice argues that foisting this waiver on people like Nwaorie violates not only their statutory rights under CAFRA but also their due process rights under the Fifth Amendment, since it imposes "unconstitutional conditions" on the return of their property.
Seeking certification of a class action, the lawsuit notes that CBP "conducts at least 120,000 seizures of property" each year. "If the USAO declines to pursue judicial forfeiture or otherwise does not timely file a forfeiture complaint (and does not obtain an extension or a criminal indictment alleging the property is subject to forfeiture) in just 1%…of CBP seizures in a given year," the complaint says, "there would be at least 1,200 claimants per year for whom CBP is automatically required to return their property under CAFRA." The complaint cites David Smith, author of Prosecution and Defense of Forfeiture Cases, who "has encountered this CBP policy or practice before" and believes "CBP regularly demands that property owners sign hold harmless agreements even when CBP is required to promptly return the seized property."
Anya Bidwell, one of the Institute for Justice attorneys representing Nwaorie, says the case illustrates the inherent injustice of civil forfeiture. "Anthonia was never charged with a crime, and the government decided not to forfeit her money," Bidwell says in a press release. "But all these months later, she's still suffering from a seizure the government acknowledges should never have happened. Even when the civil forfeiture process supposedly 'works' as designed, it has disastrous effects on innocent people."