Democratic Darling Eric Schneiderman Fought for Harvey Weinstein's Victims While Allegedly Abusing His Own Sex Partners: Reason Roundup
Plus: Worrying stats in the new NSA surveillance report and the joys of "cultural appropriation."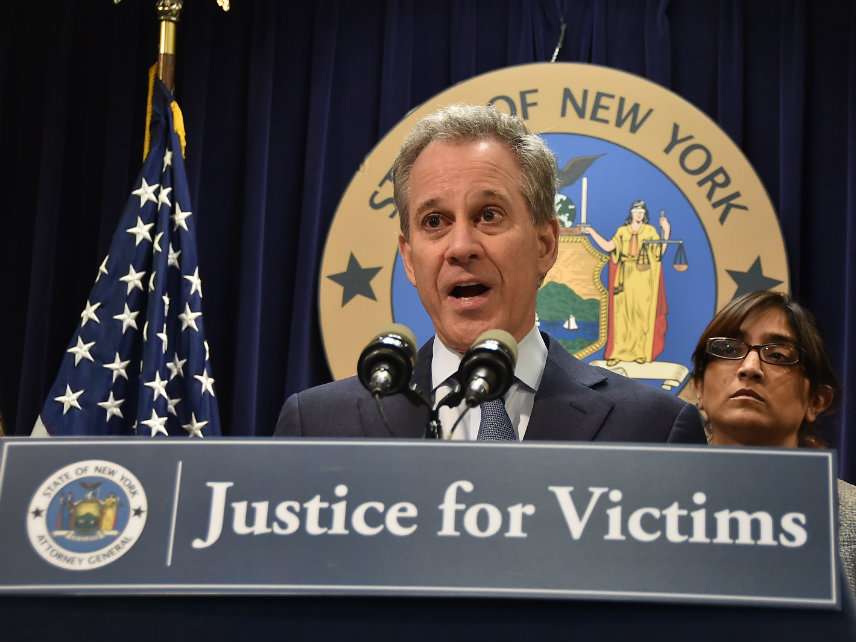 New York Attorney General claims consensual BDSM sex but resigns anyway amid allegations from four women. Eric Schneiderman pushed "justice for victims" of Harvey Weinstein…while allegedly victimizing women himself. The Democratic attorney general of New York resigned on Monday, three hours after the publication of a New Yorker story in which four women accuse Schneiderman of physical abuse.
According to the article, by Jane Mayer and Ronan Farrow, the victims had consented to romantic or sexual activity with Schneiderman but not consented to being slapped or choked during that activity.
In one especially damning bit for New York Democrats, one of the accusers claims friends in high places told her that Schneiderman—a vocal critic of the Trump administration and supposed advocate against sexual violence—was too valuable to liberal politics to out as an abuser.
On Monday evening, Schneiderman resigned amid calls for him to do so from New York's Democratic Gov. Andrew Cuomo and U.S. Sen. Kirsten E. Gillibrand. "My personal opinion is that, given the damning pattern of facts and corroboration laid out in the article, I do not believe it is possible for Eric Schneiderman to continue to serve as Attorney General, and for the good of the office, he should resign," said Cuomo.
"While these allegations are unrelated to my professional conduct or the operations of the office, they will effectively prevent me from leading the office's work at this critical time," Schneiderman said yesterday. "I therefore resign my office, effective at the close of business on May 8, 2018."
Schneiderman also denied that the actions he stands accused of were non-consensual. "In the privacy of intimate relationships, I have engaged in role-playing and other consensual sexual activity," he said. "I have not assaulted anyone. I have never engaged in nonconsensual sex, which is a line I would not cross."
But Farrow is rejecting the idea that the women in his story had consented to some sort of kinky or BDSM sex with Schneiderman. "This wasn't 50 Shades of Grey—there was no grey area at all," he told CNN on Tuesday morning.
It's now up to state legislators to pick a replacement for Schneiderman.
NSA spying on the rise. The American Civil Liberties Union (ACLU) warns of several worrying statistics in the new National Security Agency (NSA) report on its surveillance activities. For instance, in 2017, the NSA collected data on three times the number of calls than it did the previous year—that means more than 530 million call records—with no explanation for the increase. In addition, the report fails to mention how many "unique identifiers" (like phone numbers and other identifying metadata) that the agency collected, despite being required by law to report this info.
And it shows that the NSA is collecting less data that requires a court order to obtain—something that could be a good sign, suggests ACLU Legislative Counsel Neema Singh Guliani, or it could mean that the NSA is using other warrantless means to obtain wanted data.
In addition, "the number of foreign targets for certain types of warrantless surveillance has increased by the largest percentage ever reported," notes Guliani. In 2017, the number of people subject to warrantless surveillance authorized under Section 702 of the Foreign Intelligence Surveillance Act rose 20 percent, and "this data is being mined more often to look for the content of Americans' communications—despite the fact that the law prohibits the government from using Section 702 to target Americans."
"Appropriation is actually the food on which culture thrives." In the Los Angeles Times today, Alexander Nazaryan explores culture, art, appropriation, and influence in a riff on an American teen's Chinese-style prom dress that detours into Coney Island beer halls with Asian food and the back-and-forth between artists of vastly different eras.
"Pablo Picasso learned about portraiture from African masks," writes Nazaryan. "Picasso's work in turn informed Jean-Michel Basquiat, who applied similar techniques to chronicle the life of an African American male in the late 20th century. As for the qipao"—the garment that caused the recent prom-appropriation controversy—"it was appropriated by the fashion houses of Shanghai from the Manchurian people in northern China."
When we put strong taboos on enjoying elements of other cultures or incorporating them into one's work, we don't wind up with some situation in which everyone is respectful and knowledgeable about the food, clothing, and other trappings of people slightly removed from their own experiences. "The opposite of cultural appropriation is not universal reverence but, rather, segregation, a deterioration of our ability and desire to communicate with each other, a crude and insular tribalism," Nazaryan concludes. "Outrage over Daum's dress is a gift to nativists and xenophobes who have always been suspicious of Americans with skin darker than theirs, with homelands outside Northern Europe, holidays other than Christmas, and foods other than hot dogs."
QUICK HITS