Court Rejects Mueller's Request to Delay Russian Troll Farm Case While Giuliani Suggests Mueller Is Trying to Set Up Trump for Perjury: Reason Roundup
Plus: Obama-era calorie labeling law takes effect today, and Airbnb fights back against city rules that run afoul of Section 230.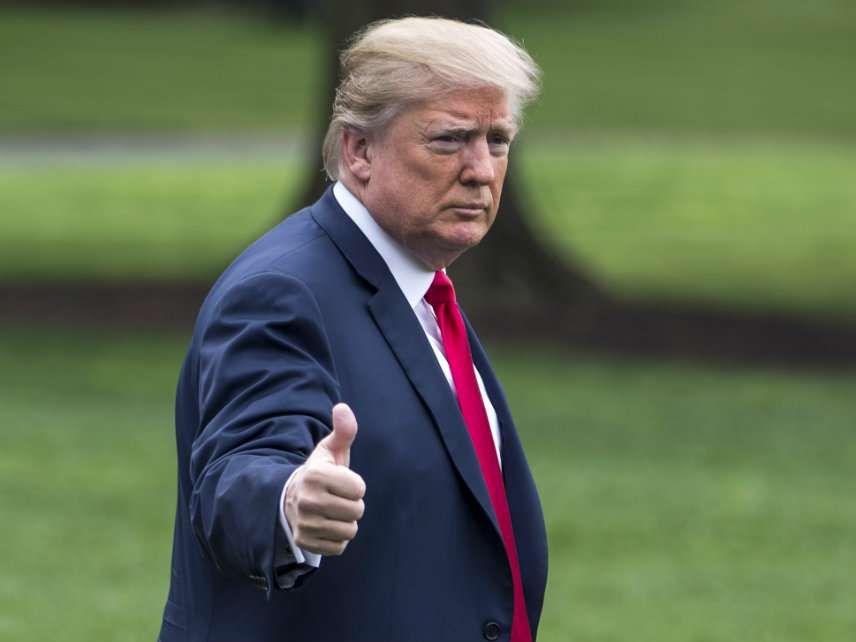 Playing catch-up on Russian trolls, porn-star payouts, and presidential liability. Possible payouts to President Donald Trump's ex-lovers, potential Russian propaganda on Facebook, and leftover 2016 election drama were mingling in full force this past weekend.
On Saturday, a federal court rebuffed special counsel Robert Mueller's request to further delay a court hearing in the alleged Russian "troll farm" case. This is the one where the Internet Research Agency, Concord Management, and Concord Catering—along with 13 of their (Russian citizen) employees—were charged for spreading so-called "fake news" during the 2016 U.S. elections. A scheduled Wednesday arraignment of Concord must go forward, ruled U.S. District Court Judge Dabney Friedrich.
None of the indicted firms or citizens were expected to play along with the U.S. legal proceedings, but lawyers for Concord Management unexpectedly came forward in April. Politico says "the move appeared to be a bid to force Mueller's team to turn over relevant evidence to the Russian firm and perhaps even to bait prosecutors into an embarrassing dismissal in order to avoid disclosing sensitive information." So far, Concord's lawyers have asked for "a slew of discovery requests demanding nonpublic details" about Mueller's special investigation.
On Sunday, pro- and anti-Trump forces took to the cable news circuit for their regularly scheduled proxy battle. On ABC's This Week, lawyer Michael Avenatti—who is representing Stormy Daniels in her case against Trump and his personal lawyer, Michael Cohen—told host George Stephanopoulos that other women had been approaching him with tales of Trump payoffs.
Women have come forward and contacted our office, George, as I've stated in the past. And we haven't completed vetting those stories, but I think at the end of the day there's going to be evidence of such payments.
Meanwhile, Rudy Giuliani—the latest sap to play legal adviser to President Trump—told This Week that it was still possible Trump would take the Fifth in the Russia investigation. "We don't have to testify" if subpoenaed, Giuliani said. Trump is "the president of the United States," and "we can assert the same privileges other presidents have."
Later Sunday, Giuliani suggested that the only reason Mueller wanted Trump to testify was to set up the president for perjury, a la investigators' tack with Martha Stewart. And showing off that anti-elitist flair for which folks so admire the Trump administration, Giuliani also mocked the idea that Americans were getting so worked up over a mere $130,000, which is "not a lot of money."
"I never thought $130,000 was a real payment," said Giuliani. "It's a nuisance payment." If Daniels had "a meritorious claim," he suggested, she wouldn't have settled for such a small amount of money.
Airbnb is running up against local laws that may be prohibited under Section 230 of the Communications Decency Act—and now it's fighting back. Along with the similar home- and room-rental site Homeaway, Airbnb has sued the cities of San Francisco and Santa Monica over ordinances that target not just residents who use these digital platforms to illegally rent out space in their homes but also the platforms themselves. "Unfortunately both efforts to enjoin them have resulted in federal district court decisions saying that Section 230 does not shield them from their reach, meaning that these local jurisdictions are fully able to hold these platforms liable if people use them to rent homes they aren't supposed to," explains Cathy Gellis at Techdirt.
The Santa Monica case is now before the Ninth Circuit Court of Appeals.
Gellis, who works for the Copia Institute, wrote a brief backing Homeaway and Airbnb's position that Section 230 prevents Santa Monica from holding them liable if some locals go against city laws and use these platforms to rent out their homes. "It was important to say so, not just to support Airbnb and Homeaway," writes Gellis, "but because if Section 230 can't apply to them, then it won't be able to apply to a lot of other platforms that depend on it." She continued:
The crux of the problem appears to stem from courts not seeing how what is at stake in these cases is actually speech, perhaps because the kind of speech sites like Airbnb and Homeaway intermediate is so specific. But even if the only expression these platforms intermediates is, "I have a home to rent," it's still speech, speech created by someone other than the platform, and Section 230 therefore still applies.
Calorie counts coming today. Starting today, chain restaurants across the U.S. are required to post calorie information on their menus and menu boards. Other nutritional information, such as fat and salt content, must be made available if customers want it.
The requirements were part of the Affordable Care Act, passed under Barack Obama. There was speculation that the Trump administration may try to block the calorie labeling rule, but that hasn't happened.
The law applies to food-serving establishments that have 20 or more locations. Fancy restaurants and fast-food chains alike are obviously implicated, but so are convenience stores, bodegas, movie theaters, vending machines, and even food delivery services.
QUICK HITS
Family members of four people killed in a March drone strike in Yemen are protesting the U.S. Department of Defense's assertion that their relatives were al Qaeda terrorists, insisting that they were innocent civilians erroneously targeted by the Pentagon.
A former Kentucky judge who worked on Trump's campaign in Kentucky has been sentenced to 20 years in prison for child sex trafficking.
Reanimated pig brains are now a thing.
The "number of hate crimes in Chicago dropped 16 percent in 2017 from the year before," according to new data.
Extreme anti-abortion activism is on the rise in America. While 2017 saw a decrease in vandalism against abortion clinics, it saw a significant increase in incidents of trespassing (from 247 in 2016 to 823 last year), obstruction, and threats involving clinic protesters.
NXIVM leader Keith Raniere pleaded not guilty to federal sex trafficking charges on Friday. Raniere's lawyer said everything Raniere's sex "slaves" did was consensual. "There are well-known groups of men who brand themselves," his attorney, Marc Agnifilo, told the court. "A group of women do that and suddenly they're victims."
"The Trump administration's crusade against illegal immigration tends to grab the headlines, but it obscures the equally concerted attack on the legal variety," laments the Washington Post editorial board.
Here is the latest barely coherent morning Twitter rant from our glorious leader:
The Russia Witch Hunt is rapidly losing credibility. House Intelligence Committee found No Collusion, Coordination or anything else with Russia. So now the Probe says OK, what else is there? How about Obstruction for a made up, phony crime.There is no O, it's called Fighting Back

— Donald J. Trump (@realDonaldTrump) May 7, 2018