New York Attorney General Schneiderman Resigns Amid Physical Abuse Allegations
The anti-Weinstein crusader apparently had some problems of his own.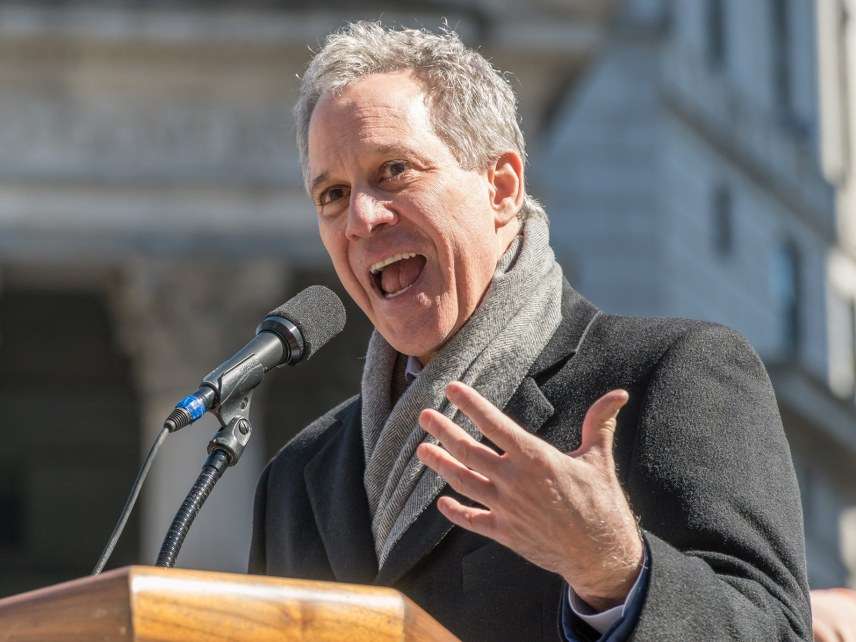 Just hours after the New Yorker published a bombshell story featuring four women accusing New York Attorney General Eric Schneiderman of physical and emotional abuse, he has announced his resignation.
The vivid story, reported by Jane Mayer and Ronan Farrow, details several stories of Schneiderman getting drunk and slapping women hard enough to leave marks, and in one case, apparently injure her ear. He threatened them, warning them not to talk about his treatment of them.
Farrow had previously exposed the stories of Hollywood movie magnate Harvey Weinstein's alleged abuse and assault of women. And in this latest story, the reporters note that Schneiderman has used his position as attorney general of the state to try to file a civil rights suit targeting Weinstein.
Two women, Michelle Manning Barish and Tanya Selvaratnam, both previously dated Schneiderman and have agreed to speak on the record about how he treated them, and the mockery he made of the feminism he pretended to espouse. Farrow and Meyer report:
Schneiderman's activism on behalf of feminist causes has increasingly won him praise from women's groups. On May 1st, the New York-based National Institute for Reproductive Health honored him as one of three "Champions of Choice" at its annual fund-raising luncheon. Accepting the award, Schneiderman said, "If a woman cannot control her body, she is not truly equal." But, as Manning Barish sees it, "you cannot be a champion of women when you are hitting them and choking them in bed, and saying to them, 'You're a fucking whore.'" She says of Schneiderman's involvement in the Weinstein investigation, "How can you put a perpetrator in charge of the country's most important sexual-assault case?" Selvaratnam describes Schneiderman as "a Dr. Jekyll and Mr. Hyde" figure, and says that seeing him lauded as a supporter of women has made her "feel sick," adding, "This is a man who has staked his entire career, his personal narrative, on being a champion for women publicly. But he abuses them privately. He needs to be called out."
Initially, Schneiderman released a statement and a tweet (from his personal account, not his attorney general account) insisting that this was all consensual sex play:
Statement from Eric T. Schneiderman:

"In the privacy of intimate relationships, I have engaged in role-playing and other consensual sexual activity. I have not assaulted anyone. I have never engaged in non-consensual sex, which is a line I would not cross."

— Eric T. Schneiderman (@Schneiderman) May 7, 2018
We'll probably end up learning more about the nature of his relationships, but even if Schneiderman had a fondess for kinkier sex acts, what the story describes makes it clear that the women do not see themselves as participating in consensual play.
It wasn't long before New York Gov. Andrew Cuomo was calling for Schneiderman to resign. Just a couple of hours after the story broke, Schneiderman relented:
NY AG resigns pic.twitter.com/DZ31H4qSIC

— Jake Tapper (@jaketapper) May 8, 2018
Weinstein was far from the only high-profile legal crusade Schneiderman pursued to make sure he stayed in the public eye, particularly in connection with progressive causes. He was one of the masterminds of a team of state attorneys general who attempted to subpoena documents from nonprofit think tanks (including the Reason Foundation) in an effort to try to get evidence that ExxonMobil was concealing what it knew about fossil fuel use and climate change. He publicly extolled a bill severely restricting the use of Airbnb room rentals, a bane of the heavily unionized hotel industry. He pushed Uber to cap its surge pricing during emergencies, one of those controls that regulators argue helps consumers but in reality reduces the market supply.
Weinstein prosecution aside, people who support free minds and free markets are not likely to miss the man. But knowing New York politics, he'll probably be replaced by somebody with very similar views.
Update:
I hope @PreetBharara is willing to serve as the new Attorney General of NY, and that the NY Legislature will have the wisdom to choose him.

— Laurence Tribe (@tribelaw) May 8, 2018