Bill Cosby Is Facing 30 Years in Prison After Being Found Guilty of Rape: Reason Roundup
Plus: Court says bars can kick out Trump supporters, and leaders of North and South Korea share a historic handshake.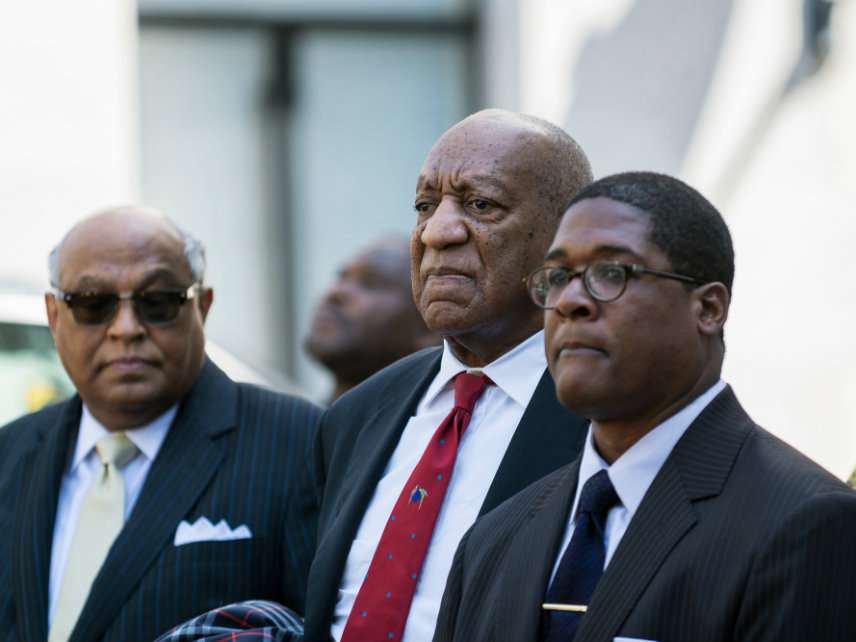 Bill Cosby now faces up to 30 years in prison after being found guilty yesterday of drugging and raping a woman in 2004. The result of yesterday's retrial was far from certain. Cosby delivered a deadlocked jury ending in mistrial in June 2017, the last time this case came to court. And for decades, he has dodged both legal and social repercussions for the sexual misconduct and violence alleged by at least several dozen women.
Cosby's conviction "is not just a victory for the 62 of us publicly known Cosby survivors" but "also a victory…for all sexual assault survivors, female and male," one of Cosby's accusers, Lili Bernard, told reporters outside the courtroom.
"There was every reason to believe Cosby wouldn't be found guilty," writes Buzzfeed's Scaachi Koul. "Cosby was in his late seventies before the allegations against him actually coalesced into a widely followed news story in late 2014, largely because a male comedian, Hannibal Buress, started talking about them. Cosby's costars and family were actively defending him in public, as were other celebrities."
After the verdict, Cosby erupted at one prosecutor who suggested he should be denied bail because he was a flight risk who owned a plane. "He doesn't have a plane, you asshole!" Cosby shouted.
Cosby's sentencing will take place in the next 60–90 days.
The news of Cosby's conviction has given rise to a charged and celebratory mood among accusers of another powerful Hollywood entity, Harvey Weinstein, and other celebrities vocal in recent #MeToo campaigns:
America loved Bill Cosby. Nobody ever loved Harvey Weinstein. Thank you to all the courageous women who came forward and changed the world. #TruthPrevails

— Asia Argento (@AsiaArgento) April 26, 2018
You're next, Harvey. We're coming for you. All of you. #TimesUp https://t.co/pW15XLvHmL

— Amber Tamblyn (@ambertamblyn) April 26, 2018
Cosby is guilty. I'm sorry if you loved a lie. His victims can now exhale. Thank you judge and jury. Thank you society for waking up.

— rose mcgowan (@rosemcgowan) April 26, 2018
And a lot of people couldn't resist laying into Cosby's gentlemanly public image, with lectures to other comedians about curse words and to poor black communities about baggy pants and how their problems were all their own fault.
Remember when Cosby lectured other comedians not to curse? https://t.co/VdPrgEpGNO

— Jake Tapper (@jaketapper) April 26, 2018
And now Bill Cosby. Another leader of Black "social consciousness" has now been found guilty of sexually violating women.

Watching the women he abused walk out the court in tears is tearing me up.

— George M Johnson (@IamGMJohnson) April 26, 2018
The judge unsealed Cosby's depositions where he admitted to drugging women because of Cosby's role as a "public moralist." He was brought down in part by his own desire to lecture poor black people for moral turpitude, while decades of sexual assault allegations were hidden.

— Adam Serwer (@AdamSerwer) April 26, 2018
Cosby accuser Victoria Valentino on what she'd say to Cosby: "Pull your damn pants up" #inners pic.twitter.com/Qc9geVaqge

— All In w/Chris Hayes (@allinwithchris) April 27, 2018
Heard a man on tv reminiscing about the Cosby of old, & expressing bewilderment over the duality of such a revered paternal figure also being a predator & rapist. Yep. You're starting to get the point, buddy.

— Andy Richter (@AndyRichter) April 26, 2018
The New York Times' Wesley Morris notes that Cliff Huxtable's groundbreaking normalcy on The Cosby Show helped create the cognitive dissonance many have faced in hearing about Bill Cosby's sexually predatory antics.
"America's Dad" is what we called Bill Cosby. And we called him that because, well, what a revolutionary way to put it. Through him, we were thumbing our noses at the long, dreary history for black men in America by elevating this one to a paternal Olympus. In the 1980s he made the black American family seem "just like us."…Mr. Cosby made blackness palatable to a country historically conditioned to think the worst of black people. And to pull that off, he had to find a morally impeccable presentation of himself and his race. This is what Sidney Poitier, his friend and movie partner, was always up against: inhabiting the superhumanly unimpeachable. But Mr. Cosby might have managed to pull a fast one, using his power and wealth to become the predator that white America mythologized in a campaign to terrorize, torture and kill black people for centuries. Mr. Cosby told lots of jokes. This was his sickest one.
OK for bars to boot Trump supporters, says court. It's OK for a bar to kick out someone based on their political beliefs, the Manhattan Supreme Court ruled on Thursday, responding to a case in which a man claims he was kicked out of a New York City bar for wearing a "Make America Great Again" hat. Upon talking to the staffer trying to boot him, the man, Greg Piatek, was allegedly told that "anyone who supports Trump—or believes in what you believe—is not welcome here."
MAGA is not a creed, court says, and being thrown out of a bar for wearing a MAGA hat is not against NY & NYC human rights laws https://t.co/On4ShtOdIS pic.twitter.com/dmLlgdM6UC

— New York Law Journal (@NYLawJournal) April 26, 2018
Piatek's lawyer told the court that "the purpose of the hat is that he wore it because he was visiting the 9/11 Memorial." This, they argued, made the hat "part of his spiritual belief," since he was "paying spiritual tribute to the victims of 9/11."
New York state and city anti-discrimination law covers spiritual and religious beliefs but not political beliefs. But the judge didn't buy their 9/11 spirituality and MAGA-hat claims. "Plaintiff does not state any faith-based principle to which the hat relates," Justice David Cohen concluded, tossing the case.
War is over—maybe. In a Friday morning summit, the leaders of North Korea and South Korea agreed to "a nuclear-free Korean Peninsula through complete denuclearization," thereby ending the Korean War.
KOREAN WAR TO END! The United States, and all of its GREAT people, should be very proud of what is now taking place in Korea!

— Donald J. Trump (@realDonaldTrump) April 27, 2018
The Koreas are "linked by blood as a family and compatriots who cannot live separately," said North Korea's Kim Jong Un. Now, the Koreas "will be united as one country."
But the "Panmunjom Declaration for Peace, Prosperity and Unification on the Korean Peninsula" agreement signed by Kim and South Korean President Moon Jae-in was short on specifics. "In a sense, the vague joint statement… kicks one of the world's most pressing issues down the road to a much-anticipated summit between Kim and U.S. President Donald Trump in coming weeks," writes AP's Foster Klug.
The handshake that made history. pic.twitter.com/JB09Ce9mHt

— BBC News (World) (@BBCWorld) April 27, 2018
"He's either very sick or very dumb," President Trump tweeted Friday morning about former FBI director James Comey.
To stop sex trafficking, stop arresting sex workers.
It's a new crime-fighting era, folks:
Confirming reports, two sources tell me police tracked down the alleged East Area Rapist/Golden State Killer by running crime-scene DNA against consumer genealogical websites, giving them possible relatives of the target, then building a pool and narrowing from there.

— Demian Bulwa (@demianbulwa) April 26, 2018