Stormy Daniels Lawsuit Sees Michael Cohen Taking the Fifth and Trump's Lawyers Heading Back to Court: Reason Roundup
Plus: protecting online speech from meddling lawmakers, why TV prices are set to soar, and a very bad Sentencing Commission nominee.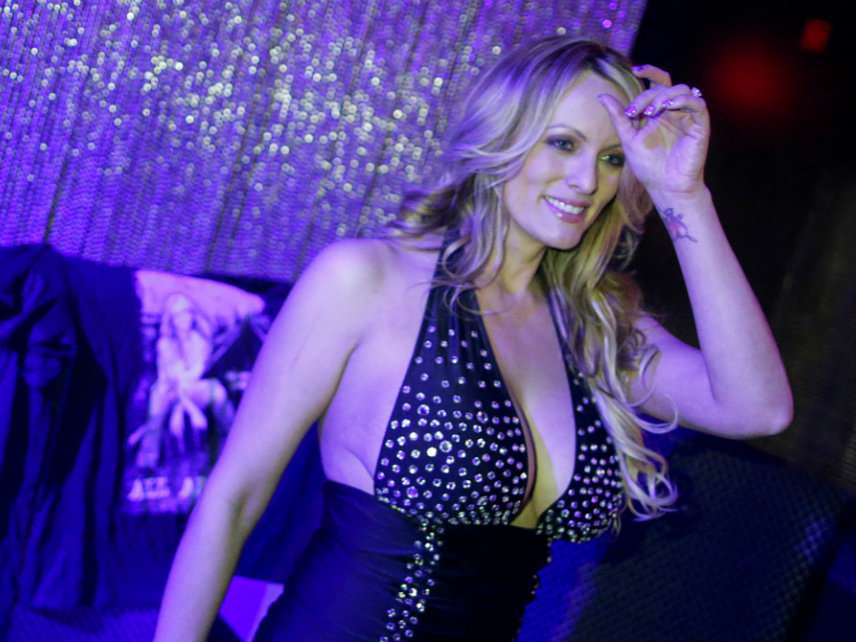 "Based on the advice of counsel, I will assert my 5th Amendment rights…" It looks like President Trump may be right about his "fix-it" guy and personal lawyer Michael Cohen. Trump said last week that he was confident Cohen wouldn't "flip" on him (a statement that's implication of guilt either went over Trump's head or level of care). On Wednesday, Cohen invoked his Fifth Amendment right against self-incrimination in a civil lawsuit filed by Stormy Daniels over alleged hush money paid by Cohen to keep quiet about a decade-old tryst with Trump.
"Based on the advice of counsel, I will assert my 5th Amendment rights in connection with all proceedings in this case due to the ongoing criminal investigation by the FBI and U.S. Attorney for the Southern District of New York," declared Cohen.
In addition to Daniels' lawsuit, Cohen now faces a federal investigation. Testifying in the civil suit—in which Daniels seeks to void the contract brokered by Cohen on the grounds that one party (Trump) claims to have no knowledge of it—could come back to bite him (or Trump) in the criminal case.
"Talking, when you're the subject of an investigation, when they are thinking that this contract was a federal crime … is incredibly reckless," lawyer Ken White (better known around these parts as Popehat) told NPR. "The only sensible thing to do is shut up and not make it worse."
That's not been Trump's opinion on pleading the Fifth, at least not in the past. "The mob takes the Fifth," Trump said at one 2016 campaign rally. "If you're innocent, why are you taking the Fifth Amendment?"
Here was Daniels' lawyer's response:
This is a stunning development. Never before in our nation's history has the attorney for the sitting President invoked the 5th Amend in connection with issues surrounding the President. It is esp. stunning seeing as MC served as the "fixer" for Mr. Trump for over 10 yrs. #basta

— Michael Avenatti (@MichaelAvenatti) April 25, 2018
Trump's lawyer is scheduled today to tell the court how the president, who is also named in Daniels' lawsuit, plans to respond. U.S. District Judge Kimba Wood "scheduled a noon conference to hear how lawyers are preparing to review large amounts of data for attorney-client privilege after the April 9 raids on Trump's lawyer, Michael Cohen," notes the Associated Press. The lawyer has previously said in a letter that Trump "will make himself available, as needed, to aid in our privilege review on his behalf."
Protecting online free speech from Congress. Today, Congress is slated for a showdown on "The Filtering Practices of Media Platforms." Like any foray by legislators into technology, the efforts are unlikely to lead anywhere good. But it's an important topic, as digital publications and platforms face shifting legal liabilities for their content monitoring and filtering practices in the wake of FOSTA becoming law.
"Public attention to this issue is important," suggests the Electronic Frontier Foundation (EFF), as "calls for online platform owners to police their members' speech more heavily inevitably lead to legitimate voices being silenced online." EFF submitted a statement to the House Judiciary Committee, which will conduct today's hearing, arguing against Congress encouraging stricter online censorship.
We all want an Internet where we are free to meet, create, organize, share, associate, debate and learn. We want to make our voices heard in the way that technology now makes possible. No one likes being lied to or misled, or seeing hateful messages directed against them or flooded across our newsfeeds. We want our elections free from manipulation and for the speech of women and marginalized communities not to be silenced by harassment.

But we won't make the Internet fairer or safer by pushing platforms into ever more aggressive efforts to police online speech. When social media platforms adopt heavy-handed moderation policies, the unintended consequences can be hard to predict. For example, Twitter's policies on sexual material have resulted in posts on sexual health and condoms being taken down. YouTube's bans on violent content have resulted in journalism on the Syrian war being pulled from the site. It can be tempting to attempt to "fix" certain attitudes and behaviors online by placing increased restrictions on users' speech, but in practice, web platforms have had more success at silencing innocent people than at making online communities healthier.
TV prices could soar under Trump's tariffs. After years of tumbling prices, we can expect to start seeing televisions get more expensive again. President Trump's proposed tariffs on all sorts of Chinese imports would include a 25 percent tax on TVs and parts used to make them. The Consumer Technology Association predicts the Chinese TV tariff would not only raise rates for Chinese-made TVs by 23 percent but cause a price hike of 4 percent on all TVs sold in America. In 2017, 35 percent of all imported flat-screen TVs and components came from China, the association says.
See, this is Fake News. This is one-sided, government-approved propaganda being spread uncritically and unquestioningly by private news sources who refuse to report both sides of the story. https://t.co/6uLq7ywiUX

— Mistress Matisse (@mistressmatisse) April 25, 2018
National Association of Criminal Defense Lawyers (@NACDL), with funds from Charles Koch Foundation among other sources, launches 4th Amendment Center to "create a new, more durable [4th Amendment] for the digital age." https://t.co/xmLnOUtYN0 pic.twitter.com/A6Bv42R7lR

— Orin Kerr (@OrinKerr) April 25, 2018
LOOKING FORWARD
Bad news for sentencing reform in Trump commission nominee. Trump has nominated William "Bill" Otis to the U.S. Sentencing Commission, the non-partisan group tasked with "reduc[ing] sentencing disparities and promot[ing] transparency and proportionality in sentencing" through data collection, analysis, and dissemination. Cato researcher Jonathan Blanks thinks this is a bad idea, noting that during Otis "has continuously lambasted bipartisan efforts to reduce sentences and remains a stalwart proponent of the 'tough on crime' rhetoric of the 1980s, warning of great crime waves that will follow widespread sentencing reduction. Otis marshals no empirical evidence for his claims—because there isn't any."