EPA Administrator Scott Pruitt's Taste for Swampdweller Perks Is Distracting from His Deregulatory Agenda
Hated by activists, he should have known that he needed to be squeaky clean in his personal and professional life.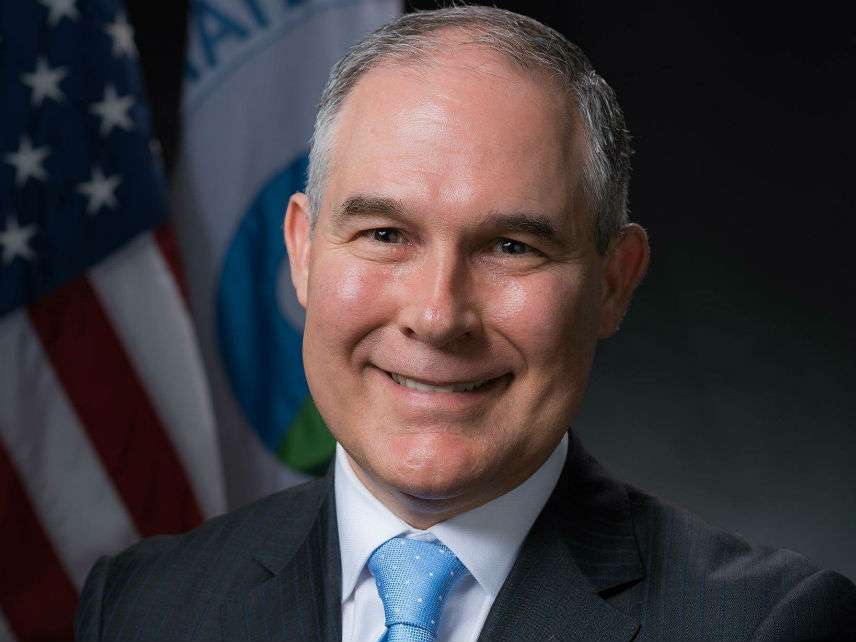 Environmental Protection Agency Administrator Scott Pruitt's taste for swampdweller perks is undermining his mission to rein in EPA regulatory overreach. Pruitt is under various investigations for installing an expensive soundproof telephone booth in his office; regularly traveling first class on airlines; being accompanied by a security detail even on personal trips; and renting a D.C. condo from a Washington lobbyist. He justified his first-class air travel and 24-7 security guards on the grounds that folks in coach would say rude things to him. Surely dedicated public servants like Pruitt must be protected against hearing unpleasant criticism from voters!
Hated as he is by progressives and environmental activists for his deregulatory views, Pruitt had to have known that he would be under the minutest of scrutiny; consequently he needed to be squeaky clean in his personal and professional life in order to effectively carry out a deregulation agenda.
Despite these personal screw-ups, Pruitt has been pursuing salutary attempts to rein in his agency. For example, Pruitt has launched a process that aims to reduce the reach and scope of the Waters of the United States (WOTUS) rule. Under the Obama administration, the agency claimed that it had authority to regulate non-navigable upstream water sources like farm ponds and intermittent streams since they could carry pollution down to navigable waters like lakes and rivers. These new rules brought nearly half of Alaska and a total area in the lower 48 states equivalent to the size of California under the Clean Water Act's jurisdiction.
Earlier this week, Pruitt announced that the EPA would no longer use "secret science" in formulating its regulations. The new rule will "ensure that the regulatory science underlying Agency actions is fully transparent, and that underlying scientific information is publicly available in a manner sufficient for independent validation," according to the EPA press release. The EPA release further noted:
This proposed rule is in line with the scientific community's moves toward increased data sharing to address the "replication crisis"—a growing recognition that a significant proportion of published research may not be reproducible. The proposal is consistent with data access requirements for major scientific journals like Science, Nature, and Proceedings of the National Academy of Sciences as well as recommendations from the Bipartisan Policy Center's Science for Policy Project and the Administrative Conference of the United States' Science in the Administrative Process Project.
Environmental activists fear that the new rule would disallow studies that could be used to promulgate regulations that aim to protect the public health from real pollution dangers. For example, the Washington Post reports:
Gretchen Goldman, an expert on air pollution and the research director for the Center for Science and Democracy at the Union of Concerned Scientists, said of the move by Pruitt and his allies: "The goal was always to stave off science-based policies, not to promote transparency. What they're doing now is couching that language in ways to confuse the public and make this sound innocuous."
Perhaps. But as I reported earlier on a congressional bill that sought to mandate greater transparency with regard to regulatory science:
I do not doubt the cynical motives of some supporters of this bill, but I also do not doubt the equally cynical motives of its opponents. [Some opponents are] right that some good studies that use confidential information might be excluded. The solution, however, is to spend more time devising study protocols that do not rely on confidential information. One should keep in mind just how shockingly bad a lot of epidemiology studies are and how lax peer review is. Which then brings up the question: Is regulatory science an oxymoron?
In any case, shame, shame on Pruitt for letting his taste for taxpayer-financed luxury distract him, Congress and the public from the important agenda of cutting back on costly and unnecessary EPA regulations.