The War on Waze
Politicians cause traffic jams, scapegoat an app.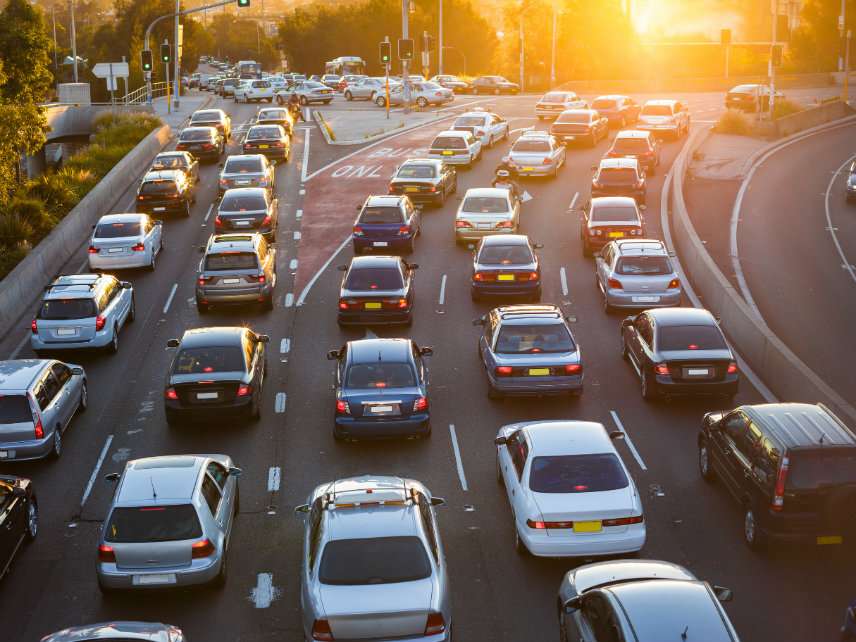 From coast to coast, prickly local residents are up in arms about commuters clogging their once-quiet neighborhood streets with bumper-to-bumper traffic, all to shave a few minutes off their daily commute.
This white-hot rage has largely fallen on Waze, a navigation app that alerts motorists to alternative routes on residential roads, away from the clogged and congested highways. The media have been quick to play up this angle. "Navigation Apps Are Turning Quiet Neighborhoods Into Traffic Nightmares," cried one New York Times headline from last year. "Waze, please stop ruining Los Angeles," implored GQ in 2016. Similar stories have popped up in USA Today, CityLab, and countless local papers.
Capitalizing on this resentment are local politicians, who are happy to shift the blame for traffic congestion onto Waze's shoulders and are now experimenting with strategies for blunting the app's effectiveness and punishing its users.
The epicenter of this fight is the nightmarishly congested Los Angeles, where the city government is mulling a lawsuit against Waze.
Last week City Councilmember David Ryu imploring the city's attorney to take some form of unspecified legal action against the app. "Waze has upended our City's traffic plans, residential neighborhoods, and public safety for far too long," he thundered in a press release. "If we do nothing, Waze will lead us on a race to the bottom—where traffic plans are ignored and every street is gridlocked."
It is true that it is inefficient to shift large amounts of traffic from L.A.'s highways and boulevards to neighborhood streets not designed to carry that kind of flow.
But Adrian Moore, a transportation expert at the Reason Foundation (the nonprofit that publishes this website), points out that these criticisms are a remarkable exercise in blame-shifting. Rather than causing traffic jams, Waze is giving drivers some opportunity to escape worsening congestion on city highways that planners and politicians have proven ineffective at addressing.
"Cities and states are not adequately managing their transportation systems and so they experience severe congestion, things don't work the way they're supposed to, including neighborhood streets," says Moore. "It's not really the app's fault, it's the congestion's fault."
The cause of worsening congestion, says Moore, is pretty simple: more people wanting to drive on the same amount of road.
This description fits Los Angeles pretty well. In 2001, Los Angeles County boasted 21,085 lane miles of maintained highways. In 2016, that number had not budged much, growing to only 21,826 lane miles. In the same period of time, the number of vehicle-miles traveled by Los Angeles commuters rose by some 10 million per day.
Consequently, congestion has gone nowhere but up. The TomTom Traffic Index estimates that congestion made Angelenos' commute times 45 percent longer in 2016, up from 31 percent in 2008. In 2017, the average L.A. commuter spent 102 hours in rush hour traffic, making it the most congested city in the world.
Prior to the rise of smartphones and navigation apps, commuters were more or less resigned to a fate of long, slow slogs on clogged highways. Now more and more commuters are being directed down previously unknown short cuts through neighborhood streets.
The predictable result has been a backlash of neighborhood residents against the commuters and their apps. At first this resistance was a purely grassroots phenomenon. One Los Angeles woman put up an angry sign aiming to shame commuters passing through her neighborhood. App users in places as diverse as Takoma Park, Maryland, and Tel Aviv, Israel, have reported fake accidents and speed traps in an attempt to fool Waze into redirecting traffic.
This has proven an ineffective strategy. Erroneous information reported to Waze is quickly contradicted by other app users finding free-flowing conditions, and the offending user is then suspended from the system.
But where private individuals have failed, the government is now stepping in. Their bizarre strategy: making those neighborhood streets worse to drive on.
Fremont, a Silicon Valley suburb that abuts the heavily congested Interstate 680, delayed traffic signals on its main boulevards and imposed rush-hour turn restrictions in an explicit attempt to scare away Waze users. The New Jersey town of Leonia—situated at the base of the heavily trafficked George Washington Bridge, which connects drivers to Manhattan—has taken this approach to an extreme by banning non-residents from driving on its roads.
Where they are not trying to scare drivers off certain roads, cities have been trying to coax them out of their vehicles by dropping speed limits and converting car lanes into bike paths and splurging on public transportation. Los Angeles has been leading the way with these kinds of "road diets," with city officials turning over whole lanes of its busy boulevards to bikers.
Often these plans have backfired.
Leonia's blanket prohibition has managed to reduce traffic on its residential streets. It's also managed to reduce traffic to its local businesses, with some reporting as much as a 40 percent drop in sales. The town is now being sued for closing off public roads to members of the public.
San Francisco spent $3.1 million to make a busy intersection in the Glen Park neighborhood more bus- and bike-friendly. In response, drivers skipped the intersection—to use narrower nearby roads.
Los Angeles has gone through a similar experience with its road diets. Instead opting for bikes and public transit—relied on for about 6 percent of the city's commutes—drivers have bailed off the boulevards and onto residential roads.
"If traffic doesn't flow any better on them then on the neighborhood streets, what's the incentive not to drive on the neighborhood streets?" says Moore.
Unless traffic flows better on these four- and six-lane boulevards and arterial roads, they will continue to be congested, and navigation apps will continue to direct people into residential areas.
Doing this, says Moore, requires a mix of road redesign to better handle thru traffic, congestion pricing (whereby drivers pay a variable toll depending on the number of cars on the road on existing road capacity), and building new roads to meet demand.
One possible objection to congestion pricing is that it might have the same effect as congestion: Drivers could react to new tolls by taking residential shortcuts. This is a fair concern, but there are reasons to think tolls could still reduce the number of people traveling through people's neighborhoods, even if it doesn't reduce the problem entirely. The drivers taking these shortcuts do not typically take residential and arterial roads for their entire trip. Thet're just trying to get around a particularly congested section of highway—the approach to the George Washington bridge, for instance. If congestion pricing is applied to a long enough section of road, most drivers would end up paying the tolls. Those who choose to do otherwise will suffer the consequence of longer travel times.
Some metro areas are already putting these ideas to the test. Washington, D.C., has built what are known as queue duckers—basically lanes that duck under an intersection—on some of its heavily trafficked roads, allowing motorists simply passing through an area to skip waiting and lights, thus improving traffic flow. Bakersfield, California, and Tampa, Florida have tried out similar designs.
L.A. and D.C. have likewise implemented a limited sort of congestion pricing in a couple of badly congested freeway lanes, but the idea's implementation is still very much in its infancy.
Ultimately, Moore says, Los Angeles needs to redirect its transportation dollars away from a little-used public transit system—which eats up about half of the city's transit budget—and into building more roads and adding lane-miles to meet increasing demand.
"When you are spending only about 50 percent of your money on a system that is carrying 90 some percent of your travel, how can you be surprised that's it not working well?" he asks.