Joy Reid Blames Mystery Hackers for the Anti-Gay Stuff on Her Old Blog
The MSNBC host kind of sucked on gay issues 10 years ago. So did most Democratic moderates.
To the extent that I know who MSNBC host Joy Reid is, it's generally due to some really dumb tweets like this one:
"Classical liberal" is an accurate term for a person who supports New Deal economics and social modernity but does not identify as socialist https://t.co/2a6tGqkljh

— Joy Reid (@JoyAnnReid) November 5, 2017
To be honest, it wasn't until I started getting pulled into libertarianism many years ago that I even heard the term "classical liberal" myself. But I also wouldn't presume to confidently define terms that I'm unfamiliar with. It's not clear if she even knows how wrong she was, despite the reams of responses from people correcting her, and the tweet remains online.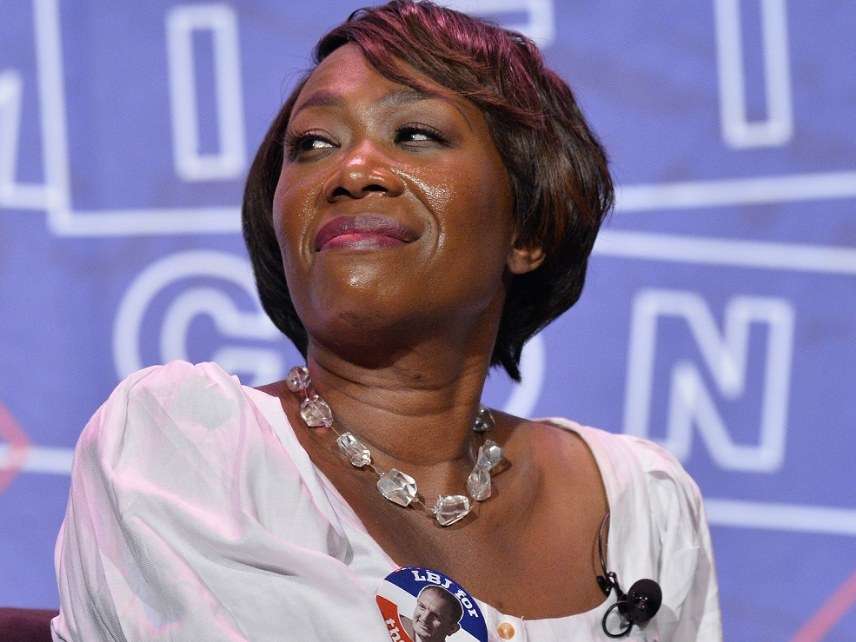 But she has deleted some decade-old blog writing from when she was a radio host in Florida, and now it's coming back to haunt her.
Mediaite has taken note of some homophobic posts from Reid's blog back around 2005 through 2007. Rather than taking responsibility for the posts and apologizing, Reid, via a cybersecurity consultant, is claiming that the now-defunct site was hacked or somehow manipulated to make it appear that she had written commentary that indicated discomfort with gay affection and gay marriage.
Reid has an admitted history of gay-baiting from the left as a way to attack politicians on the right. She apologized back in December when old blog posts were unearthed in which she frequently speculated that Charlie Crist, a former Republican governor from Florida, was gay. She's far from the only person to make such speculations, but she did it in a nasty, sarcastic way to attack those she saw as ideological opposition.
Back when those Crist posts were unearthed and exposed, she responded, "It was insensitive, tone deaf and dumb. There is no excusing it—not based on the taste-skewing mores of talk radio or the then-blogosphere, and not based on my intentions."
This time, though, she's insisting the newly unearthed homophobic posts were not written by her and that somebody went through the effort to manipulate the history of the site's content—even interfering somehow with the pages archived on the Wayback Machine—in order to "taint [her] character with false information."
Here is Mediaite's summary of some of the uncovered blog posts (and there's a Twitter thread by the person who unearthed the content here):
A 2006 Reid Report post included a compilation of the top five "totally not gay celebrities of the year," which was a satirical attempt—albeit, a lazy one—at suggesting everyone on the list was secretly gay. Singer Clay Aiken and CNN pundit Anderson Cooper both made the list, which—if the publishing date is correct—was posted years before they had come-out publicly.

In another post dated to 2005, the author said Cooper is the "gayest thing on TV" and noted that they have it "on good authority that Cooper is totally gay." He didn't come out publicly until 2012.

Other mentions on the list included the stars of Brokeback Mountain, the previously noted film that the author didn't see because "two male characters having sex" was "too out there."
I have no way of definitively determining whether these posts are real or fake. I certainly wasn't reading her blog at the time.
But if some shadowy force was going through the effort to destroy Reid's reputation, it apparently put in the time to make sure the posts were relevant to the discussions of the time. Who remembers NBA basketball star Tim Hardaway's anti-gay comments from 2007 anymore?
At The Intercept, Glenn Greenwald points out that the baiting, attacking language in the posts Reid insists are fabricated resembles the kind of language she had admitted and apologized for.
Greenwald also rapped the left for ignoring the story, but that seems to be shifting. Mainstream media outlets are picking it up, particularly because the organization that handles the Wayback Machine put out a statement yesterday that it can find no evidence of tampering with their versions of the posts. Furthermore, the well-known national LGBT advocacy and support organization PFLAG has announced that it's withdrawing an award it had planned to give Reid for her support of LGBT issues in the media.
There are two cultural trends the Reid story puts on display. The first is the overwhelming desire in the current culture war to claim the scalps of your ideological foes. We saw it most recently with Kevin Williamson, when those who disagree with Williamson's conservatism managed to get him fired from The Atlantic almost immediately after he was hired. Reid and Reid supporters are in fact using this cultural trend as a defense, stating outright that this is all part of an attempt to get her fired.
The second cultural trend is a weird attempt to purge from history that a good number of liberals have only recently come around on certain gay issues. The scandal isn't really what Reid said 10 years ago. The scandal is that there was an audience for it among Democratic partisans as little as 10 years ago. That history makes some people squirm. It's a reminder that, for all the attacks on conservatives for being anti-LGBT, the Democratic Party didn't fully embraced same-sex marriage until one whole president ago.
Reid's defensiveness is strange, because it's not like gay people—even gay progressives—have forgotten. It took a lot of hard work by gay activists (and gay people just willing to live their lives openly) to change straight people's attitudes and make them less uncomfortable at the prospect of gay couples and families. Now that those attitudes have shifted, some leaders (both political and cultural) want to act as though they were "evolved" all along.
In the event that anybody cares (they do not), I'm not interested in claiming Reid's scalp here, even if it turns out she's lying about her old blog being hacked or manipulated. An NBC spokesperson said this afternoon that they are not planning to take her off the air.